About this Event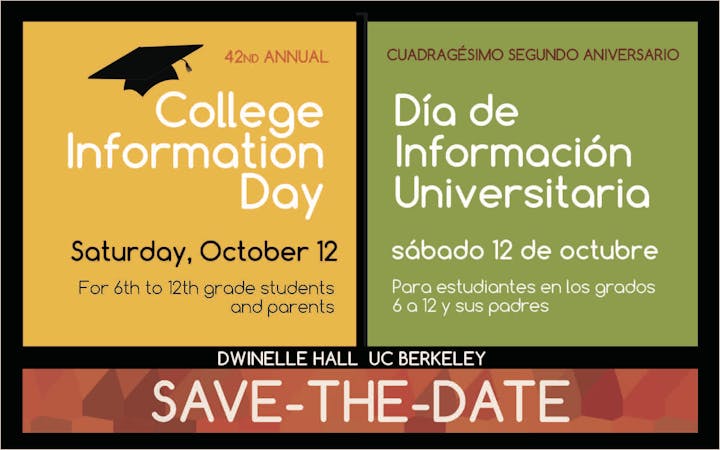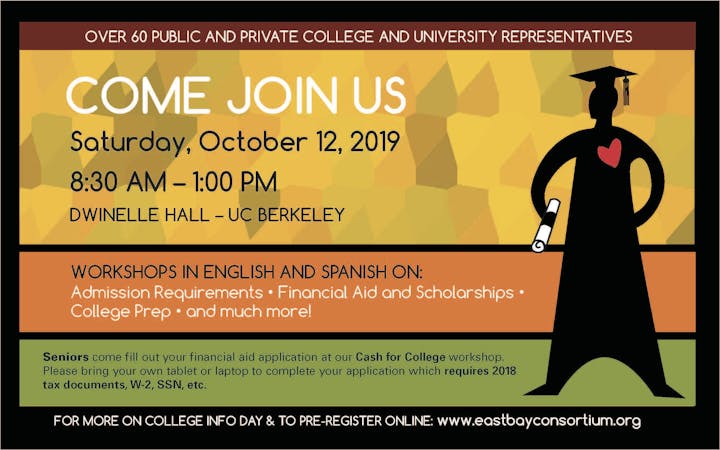 East Bay Consortium/Cal-SOAP is hosting their 42nd Annual College Information Day - a FREE college and career event for middle and high school students and their families. More than 50 public and private colleges and universities will be represented, including those within the UC system, California State University, in-state and out-of-state Private Institutions, Historically Black Colleges and Universities, and Community Colleges.
Workshops on admission requirements, financial aid and scholarships for documented and undocumented students, and requirements to be a transfer student, will be offered in English and Spanish. A Cash for College workshop to help seniors complete the financial aid applications, FAFSA or CA Dream Act, will take place throughout the event.
College Information Day will take place on Saturday, October 12, 2019 from 8:30am to 1:00pm at the UC Berkeley campus at Dwinelle Hall. For more information, please visit the East Bay Consortium website at www.eastbayconsortium.org or call us at (510) 879-1586.
________________________________________________________________________________________________
Free Cash for College Workshop for Seniors!
Everyone is Welcome!
When it comes to financial aid for college, there's something for everyone, regardless of your age, income, grades, or immigration status. Submit your FAFSA or CA Dream Act Application between October 1st and March 2nd and the Cal Grant GPA by October 1st to be considered for a Cal Grant and other aid, even if you are not sure which college you will attend yet.
Get help with your applications at our FREE Cash for College workshop.
What to bring to the Cash for College workshop:
Student and Parent Social Security #'s (and Alien Registration #'s if you are not a U.S. Citizen), if applicable
Your family's 2018 federal tax forms like 1040, W-2, bank statements, etc. You will not have to reveal this information to anyone, but you will need it to complete the forms
________________________________________________________________________________________________
Colleges that have attended past events:
Academy of Art University
Azusa Pacific University
Butte College
California College of the Arts
College of Alameda
Colorado State University
Concordia University Irvine
Contra Costa College
CSU: Chico State
CSU: East Bay
CSU: Humboldt State
CSU: Fresno State University
CSU: Maritime
CSU: Sacramento State
CSU: San Francisco State
CSU: San Jose State University
CSU: San Luis Obispo
CSU: Sonoma State University
CSU: Stanislaus
Dominican University of California
FIDM: Fashion Institute of Design & Merchandise
Fresno Pacific University
Hawaii Pacific University
Holy Names University
Loyola Marymount University
Mills College
Missouri University of Science & Technology
Northwestern Polytechnic University
Notre Dame de Namur University
Pacific Oaks College
Saint Mary's College of California
Samuel Merritt University
San Francisco Art Institute
Soka University of America
Southern Oregon University
UC Berkeley
UC Davis
UC Irvine
UC Los Angeles
UC Merced
UC Riverside
UC San Diego
UC Santa Barbara
UC Santa Cruz
University of Nevada, Reno
University of Redlands
University of San Diego
University of San Francisco
University of Southern California
University of the Pacific
University of Vermont
William Jessup University
Northern Arizona University
Simpson University