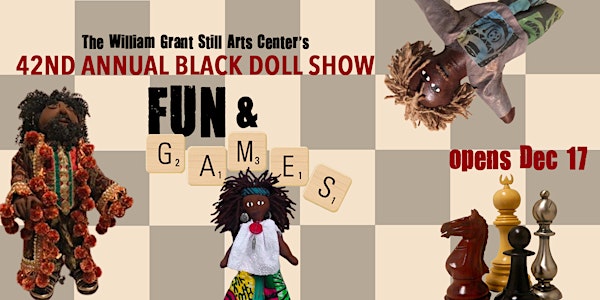 42nd Annual Black Doll Show Opening reception
42nd Annual Black Doll Show Opening reception : Dolls of Hope Doll Making Workshop with Dr. Cynthia Davis
By William Grant Still Arts Center
Date and time
Saturday, December 17, 2022 · 3 - 6pm PST
Location
William Grant Still Arts Center 2520 South West View Street Los Angeles, CA 90016
About this event
Opening reception and Dolls of Hope Doll Making Workshop with Dr. Cynthia Davis
"Fun and Games - The 42nd Annual Black Doll Show" is an exploration of ancestral games and
how play can help us think deeper and archive histories. This year we are looking for dolls,
quilts, games and images/videos that fit our theme of historic games. Ethnographic studies in
Africa allow us a peek into how games are part of social negotiations within various African
cultures and Afro-Creole societies in the Americas. The investigation of games and social play
indicates three main concepts in anthropological and archaeological theory: identity, agency,
and power. In examining, through dolls, the history and culture of gaming in the Black diaspora,
we seek to highlight the ways that the oppressed have established in-group power dynamics
and identity through games and play.
We are excited to have you join us as we have fun creating dolls with the extraordinary Dr. Davis
and her Dolls of Hope.
**Spaces for doll workshop based on availability