4/28 WCS Events pres. 10yrs of MoHo Music w / EVAN LANDES and NYC's RUBEN T...
Description
$5.00 B4 11:30pm RSVP!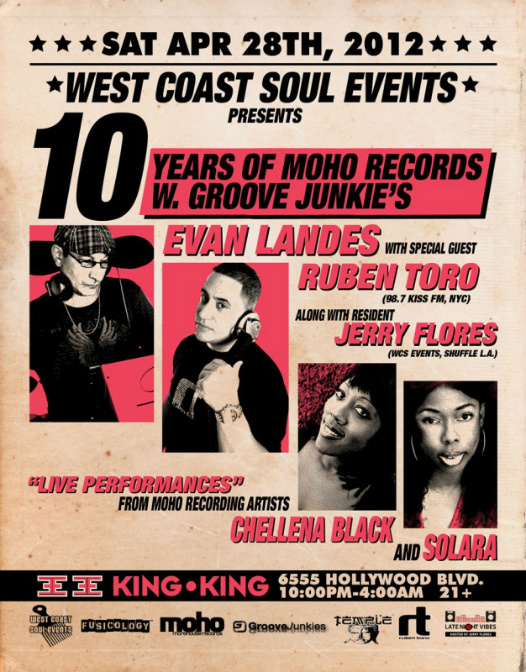 On April 28th, West Coast Soul Events is hosting the 10 year Anniversary of one of the best House Music Labels, PERIOD! MOREHOUSE RECORDS will be celebratring a decade of bringing you some of the WORLDS BEST House Tunes!
The Groove Junkies, EVAN LANDES will be on the decks, spinning the HOUSE tunes that'll keep you on the Dance Floor! But THAT'S NOT ALL! It couldn't be a real celebration without a LIVE PERFORMACE!
MoHo Recording Artists, CHELLENA BLACK will be performing MoHo's latest SMASH RELEASE, "God Bless The Child" http://www.traxsource.com/index.php?act=show&fc=tpage&cr=titles&cv=142834

and 'SOLARA, sing "Pulled Me Through"! http://www.beatport.com/track/pulled-me-through-feat-solara-gjs-blissed-out-mix/1451423

I'm not finished! We have also brought in a NYC Radio LEGEND! RUBEN TORO (98.7 KISS FM NYC)! Ruben Toro is the Host of NYC's #1 Saturday Night Radio Show, "KISS Club Classics"! And when I say He's a DEEP HOUSE DJ, I MEAN IT! http://www.987kissfm.com/airstaff/rtoro.aspx
This will be a fun night of Friends, Music and Dancing! Reserve your Space on the Dance Floor, NOW!!
--------------------------------------------------------------------------------------------------------------------------------------------
WEST COAST SOUL EVENTS
website: http://wcsevents1.eventbrite.com/
Twitter: www.twitter.com/WCSEvents
Facebook: www.facebook.com/groups/WCSEvents
Podomatic: www.wcsevents.podomatic.com