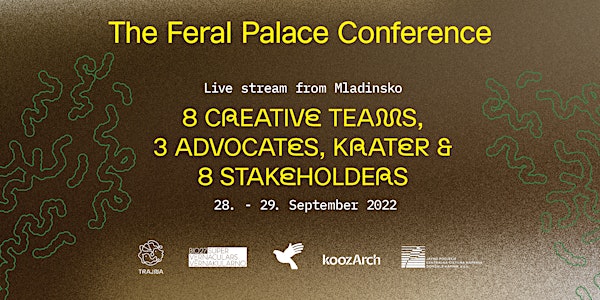 The Feral Palace Conference
The Feral Palace Conference will take place at Krater & Mladinsko in Ljubljana, onsite and online from September 28. - 29.9. 2022
When and where
Location
The Mladinsko Theatre 11 Vilharjeva cesta 1000 Ljubljana Slovenia
About this event
The Feral Palace Conference
The Feral Palace conference presents perspectives on seeing and valorising untamed urban territories readily overlooked by the existing spatial planning. Starting from a specific case of a Krater's ecosystem soon to be extinct by the Palace of Justice – conference sparks a trans-disciplinary debate around multispecies spatial justice, rights of spontaneous nature in the cities, living-soil archives, evacuation of ecosystems, plant-inclusive cybernetics, etc.
Following the spring mentorship program, the autumn conference premierly features creative work of eight diverse collectives coming from nine countries, in front of institutions representatives (Institute for Nature Conservation, Chamber of Slovenian Architects, University of Ljubljana, Urban Planning Institute of the Republic of Slovenia) to create an authentic space of collaboration, where framework of administrative regulations is faced with its lively counterpart – multispecies Krater context.
We are thrilled to announce that Klaas Kuitenbrower (Practice of Zoönomy), Debra Solomon (Multispecies urbanism), Rok Kranjc (more-than-human transformations), Gaja Mežnarić Osole & Danica Sretenović (Feral Palace initiative) are joining us live from Slovensko Mladinsko gledališče.
The stream
The whole event will be live streamed, please be aware that the links for the stream for Wednesday and Thursday are not the same!
Wednesday: Practices of Care - roundtable: https://youtu.be/2mP4G9WN3W4
Thursday: The Feral Palace Conference: https://youtu.be/Hj4q-EhyQk0
Call for support
You can donate to our initiative through Paypal.
The Feral Palace is a situated urgency, relying on practices of reciprocity and care, experimental pedagogies, and the formation of a research community. It is a voluntary work, running on our dedication to expand the understanding of Krater's site as well as to create research opportunities for our local community of practice. Due to the incoming crises, we were unable to access the financial support from the sponsorships, which put our organization into scarcity mode. The conference still runs without registration fees, following the priority to produce publicly accessible high quality content. We do invite those of you who feel able to contribute, to support the conference with a donation of your choice. It will help mitigate the highly precarious position which till this moment has enabled our work on this important transdisciplinary research.
The Programme (all time C.E.T)
The Feral Palace conference mediates extractive operational logic by offering interventions, speculations, declarations - archive of possible futures in place of a single future of Krater's extinction. Framing critical questions with potency to shift the inevitable (the Palace of Justice) into previously unseen position (the Feral Palace) brings forth otherwise non-existent imaginaries of multispecies-sensitive futures of the rewilded Krater's site.
Join us at the conference at Slovensko Mladinsko Gledališe! In case you can not access the venue, we will provide the link to the live stream prior to the event.
Please note that the field workshops Practices of Care will be held on Krater site only. For attending the workshops follow the Eventbrite registration form and select the box: 'I would like to attend the on site workshop sessions on 28th of September at Krater' at the 'Where can we meet you?' section.
28. September 2022: Practices of Care
Krater site, offline
9.30: Welcome
Matevž Čelik, Secretary of State for culture
Gaja Mežnarić Osole and Danica Sretenović, curators of the programme
10.00 – 15.00: Practical Workshops at Krater
To attend the workshops follow the register button!
Zoönomic Year Cycle: Klaas Kuitenbrouwer
At the workshop, participants will get acquainted with the Zoönomic Year Cycle, a method that makes legible as well as actionable the development of a multispecies community of human and non-human life in the zoöp. They will explore the zoönomic annual cycle of 4 steps: (1) Demarcating, (2) Observing & sensing, (3) Characterising and (4) Intervening and perform a rough baseline assessment of the ecological integrity of Krater and its relation with the surroundings. By learning how to strategise for Krater's multispecies justice, the participants will grasp the basic methodology of the Zoöp, an innovative governance model for cooperation between human and nonhuman life. The maximum number of participants is limited to 15.
Radical Observation: Exercises XLI and XLII: Debra Solomon
Conceptual Anthropedogenesis and Surface Area Contemplation (towards combating defragmentation) respectively
Debra Solomon (Urbaniahoeve) works with locals to transform underused public space urban greens into high value nature through community biodiversity creation. In order to disseminate knowledge about the soil as a living ecosystem, Urbaniahoeve has developed a praxis for creating an awareness of the living soil as a material and relational space through a series of exercises titled Radical Observation and Radical Imagination. These exercises stem from the need for a common language amongst people with diverse educations and backgrounds. Radical Imagination Exercise XLI – Conceptual Anthropoedogenesis and Radical Imagination Exercise XLII – Surface Area Contemplation enable common notions of soils and ecosystems as material-relational spaces. These exercises are not spiritual acts, rather a praxis of material and relational awareness and understandings. This is a workshop for laypeople and experts leading groups in developing common languages to communicate and act upon ecosystem urgencies. The maximum number of participants is limited to 15.
Experiential Multispecies Futuring with AI: Rok Kranjc
In this workshop, participants will explore speculative design and experiential futures as potentially powerful levers for shifting imaginaries toward multispecies justice and interdependence. After an initial review of the theoretical underpinnings and some prominent examples of experiential futures in a multispecies context, they will use these methods to collectively develop radical ideas for the future(s) of the Krater site and the Feral Palace. Finally, they will employ the help of an AI to visually fast-track these ideas into compelling »windows to the futures«; ones that will be able to prompt multi-layered public discussions and meaningfully stretch the boundaries of the possible. The maximum number of participants is limited to 15.
Feral Species and Ecosomatics Manifesto: Feral Palacers; Sieta van Horck (NL), Andreja Benedejčič (SI), Rens Spanjaard (NL), Tina Božak (SI)
17.00 – 19.30: Practices of care, round table - live stream
Slovensko Mladinsko Gledališče, online & on site
The introductory panel is dedicated to showcase the impact of civic engagement in the management of degraded green spaces. Featuring the practices of care: Onkraj gradbišča, Krater, Urbanihoeve. The panel will be moderated by Katja Martinčič, architect and Idrija city urbanist.
29. September 2022: The Feral Conference - live stream
Slovensko Mladinsko Gledališče, online & on site
10.30: Welcome
His excellency Mr. Johan Verboom, Netherlands Ambassador to Slovenia
Gaja Mežnarić Osole and Danica Sretenović, curators of the programme
Intro: The Feral Palace
10.45 – 11.15: Danica Sretenović and Gaja Mežnarić Osole: The Feral Practice – Intervention & Mediation
The Feral Palace program shifts the referential system of thought from urban policies that address ground as an inanimate abstraction regulated by plot size, predetermined land use, and ownership to the ground inhabited by multispecies communities acting above, below, and within the Earth's crust while enabling micro- and macro-scale urban regeneration.
First session: Krater's justice protocols
11.15 – 11.45: Keynote 1: Klaas Kuitenbrouwer: The Practice of Zoönomy
'Potentially, the result of The Feral Palace program is an intervention in the development plans of the Palace of Justice.' - Klaas Kuitenbrouwer
11.30 – 12.00: How to Spontaneous Nature
by Gaja Pegan Nahtigal (SI), Aja Golob (SI), Zala Metlika (SI), Tatjana Kotnik (SI)
General public, urban planners, and legal entities seem to divide nature very strictly into good nature versus bad nature. One that is planned, wanted and worthy of protection and one that is unplanned, unwanted and a nuisance - Krater is perceived as the latter.
12.30 – 13.00: Strategies of Evacuation
by Jana Vukšić (CRO, NL), Filipa Valenčić (CRO), Iskra Vukšić (CRO, NL), Lotte van der Woude (NL), Urška Škerl (SI)
The eviction process is a violent intervention in which not all organisms can keep up.Strategies of evacuations should be a vital part of every new construction project, if the construction can't be avoided.
13.00 – 13.30: Soil Protocols
by Zuzana Jančovičová (SK, NL), Justyna Chmielewska (PL, NL)
Impressive timeline of Krater soil history presents urban soil as an ever evolving living organism, focusing on its rights and three potential scenarios for the future of Krater: human-centered, soil-centered and multispecies centered.
13.30 – 14.00: Soil as a Living Archive
by Jane Pirone (US), Barbara Adams (US), Hala Abdel Malak (US)
How could we make the rich and exuberant multispecies micro-entanglements beneath the paved over site visible? By making the aliveness of soil audible and visible through recordings and visual renderings, Terra Testimony aims to generate multispecies communities of sense. Through sound and image, we will explore the ways in which the soil archives the conditions for life.
14.00 – 15.00: lunch break
Second session: Krater's Multispecies community
15.00 – 15.30: Keynote 2: Debra Solomon, curator of the Dutch pavilion at the 2021 architectural biennial in Venice: Mitigating Landscape Fragmentation
'Krater is one of the most biodiverse spaces in the city of Ljubljana, which is why replacing it with a park would be an ecological travesty.' - Debra Solomon
15.30 – 16.00: Redefining Cybernetics Conference
by Zsuzsanna Szegedi (US), Jana Stankić (SI), Zoltan Puzsár (HU), Benedek Lits (HU)
Between 1946 and 1953, the Macy Conferences examined communication between living and nonliving - humans, animals and machines. They were the birthplace of cybernetics from which cognitive science was born, but the research did not include plants, which greatly impacted formation of contemporary thought.
16.00 – 16.30: Feral Mediation
by Angelo Renna (IT), Katherine Boles (US), Xavier Acarin (SP)
Exploring mediation as a form of multispecies justice we are looking to co-design a set of relations that aim to resolve disputes. Elaborating on the feral as the questioning of the boundaries between domesticated and wild, we are proposing the Feral Palace as a space of multispecies mediation beyond binaries, speculative yet possible.
16.30 – 17.00: Exercises in Multispecies Democracy
by Ola Korbańska (DE), Iwo Borkowicz (DE), Lara Jana Gabriel (SI), Lidija Pranjić (SI), Ajda Biček (SI)
A set of exercises in the act of protest stretch the strict and organized way we deal with nature within a city space. There is a need for human beings to take a step back in order to allow for multispecies justice - Krater is an amazing example of what can happen if we withdraw for some time.
17.00 – 17.30: Forbidden Vernaculars
by Krater community (SI)
About the Feral Palace Initiative
Danica Sretenović, architect and curator and Gaja Mežnarić Osole eco-social designer and co-founder of NGO Trajna joined to create space for questioning established management strategies in connection with our disturbed urban ecologies. This alliance introduces multi-species thinking strategies across the fields of design-ecology, participation, law, and critical reading of contemporary spatial production. The Feral Palace pedagogy introduced an overseen set of conditions, forming a new context: map of species and their interrelations, soil histories, legislative concept of zoöp, multispecies urbanism, etc. The vibrant learning environment was set up to connect ecologists, lawyers, designers, biologists, architects and landscape architects from 9 countries to produce critical narratives of the Feral Palace.