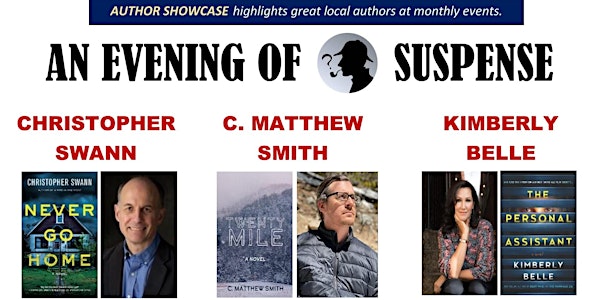 An Evening of Suspense: Christopher Swann, C. Matthew Smith, Kimberly Belle
An Evening of Suspense with authors CHRISTOPHER SWANN, C.MATTHEW SMITH, AND KIMBERLY BELLE, discussing their books &recent recognitions.
When and where
Location
Alpharetta Library 10 Park Plaza Alpharetta, GA 30009
About this event
SPECIAL MODERATOR: AUTHOR EMILY CARPENTER
CHRISTOPHER SWANN
Christopher Swann is a novelist and high school English teacher. A graduate of Woodberry Forest School in Virginia, he earned his Ph.D. in creative writing from Georgia State University. He has been a Townsend Prize finalist, longlisted for the Southern Book Prize, and a winner of the Georgia Author of the Year award. He lives with his wife and two sons in Atlanta, where he is the English department chair at Holy Innocents' Episcopal School.
Winner, Georgia Author of the Year 2022
Townsend Prize for Fiction Finalist 2018
Georgia Author of the Year Finalist, 2021 and 2018
Southern Book Prize Long List 2018
Southern Living Best Southern Books of 2017
Praise for NEVER GO HOME
Swann has upped the ante with the unforgettable and beautifully flawed Susannah Faulkner. Ladies and gentlemen, Jack Reacher ain't got s*#t on this woman. By far the best Swann novel yet.
Brian Panowich, award-winning author of Bull Mountain and Tiny Daggers
Equal parts brutal and tender, Never Go Home is a fast-paced page-turner with a bad-ass heroine I'd hitch a ride with anytime. From page one, I was hooked.
Tara Laskowski, award-winning author of One Night Gone and The Mother Next Door
KIMBERLY BELLE
Kimberly Belle is the USA Today and internationally bestselling author of eight novels, including the forthcoming The Personal Assistant (release 11.29), The Marriage Lie, a Goodreads Choice Awards semifinalist for Best Mystery & Thriller, and the #1 co-authored Audible Original, Young Rich Widows. Her books have been published in some 20+ languages and have been optioned for film and television. A proud graduate of Agnes Scott College, Belle divides her time between Atlanta and Amsterdam.
Praise for THE PERSONAL ASSISTANT (release 11/29)
"Kimberly Belle's latest features her usual ingredients for success: a chilling premise encompassing a worst fear, an imperfect heroine who rallies to save her children and herself, and a story that pulses with suspenseful twists propelling the reader to the explosive end. The Personal Assistant is Belle at her best. A chilling, fast-paced read. I loved it!" —Kaira Rouda, USA Today, Amazon Charts bestselling author of The Next Wife and The Widow
"A missing assistant to an Instagram influencer, a mysterious dead body, and a nesting box of family secrets drive this cat-and-mouse thriller to a deliciously unexpected finale. A great page-turning read!" —Wendy Walker, bestselling author of Don't Look for Me
"Kimberly Belle has delivered another twisty, tense and terrifying tour de force! The Personal Assistant shows the consequences of living in an online world where nothing is as it seems, turning the glamor of an insta-worthy life into a nightmare. If you ever had dreams of being an Instagram influencer, this book will have you thinking again. Unputdownable and impossible to forget." —Julie Clark, New York Times bestselling author of The Last Flight and The Lies I Tell
"The Personal Assistant has everything I look for in a book – an intriguing premise, a suspenseful plot and a theme that has me questioning my own choices and behaviour. Under the shifting sands of perspective, I never knew who to trust. A masterful novel that I read in an afternoon. I will be recommending to everyone." —Sally Hepworth, New York Times bestselling author of The Younger Wife
"The Personal Assistant is a riveting view into the dark side of the social media influencer world. Alternating narratives, each more fascinating than the last, will keep you flipping pages in a race to the finish. Master storyteller Kimberly Belle weaves an unforgettable tale of subterfuge and betrayal that will leave you wanting more. I loved it!" —Liv Constantine, bestselling author of The Last Mrs. Parrish
"A cautionary tale about what happens when you make an enemy in the social media age, The Personal Assistant is smart, timely, and humming with suspense. You won't be able to stop reading this killer novel until you reach the final jaw-dropping page." —Heather Gudenkauf, New York Times bestselling author of The Overnight Guest
"Kimberly Belle has done it again! She's written another gripping, propulsive page-turner packed with never-saw-that-coming shocks and surprises, with a plot that asks, How much is too much to give away about ourselves?" —Kate White, New York Times bestselling author of The Second Husband
"A thoughtfully written, suspenseful story of intertwined lives that draws the reader quickly along to an unexpected ending." —Kirkus Reviews
"A captivating and propulsive thriller about the dark side of social media. The Personal Assistant is smart, original, and twisty. Prepare to be addicted!" —Jeneva Rose,bestselling author of One of Us is Dead
"Deliciously addictive, binge-worthy, and wholly unpredictable, this juicy thriller consumed my entire weekend! Both a searing and terrifying examination of influencer culture as well as a propulsive, compulsive read with twist after jaw-dropping twist, Kimberly Belle's The Personal Assistant will be this winter's buzziest thriller!" —May Cobb,author of My Summer Darlings
"Belle delivers twist after twist and constant surprises in this riveting novel of domestic suspense. Who can you trust online — and in your own home? What happens when the trolls you expect in your living-out-loud existence as a social media influencer are right behind you, breathing down your neck in the real world? Pacy, compelling, and utterly breathless, The Personal Assistant never lets up as Belle expertly ratchets up the suspense chapter by chapter through the shattering conclusion." —Lisa Unger,New York Times bestselling author of Secluded Cabin Sleeps Six
C. MATTHEW SMITH
When Matt Smith entered college, he intended to be a writer. A two-decade detour into the legal profession intervened, but better late than never, he figures. He still has to pay the bills, but for the past four years, he has put his spare time to different use. His first short story was a Daily Fiction selection for Mystery Tribune. Other stories have appeared in and are forthcoming from Mystery Weekly, Close to the Bone, and Mickey Finn: 21st Century Noir Vol. 3 (Down & Out Books).
Matt's debut crime novel, Twentymile, set in and around Great Smoky Mountains National Park, is out now from Latah Books. It has garnered praise from respected publications such as Foreword Reviews, which called it a "disturbing, potent thriller." Edgar Award winner James A. McLaughlin (Bearskin) said Twentymile is "an accomplished first novel from a talented and fully-formed writer," and bestselling author Diane Les Becquets (Breaking Wild and The Last Woman in the Forest) called it "a beautiful and brutal and extraordinary debut."
Matt graduated from Davidson College with a degree in English and from the University of Georgia School of Law. He lives in Newnan, Georgia—just south of Atlanta—with his wife, son, and father-in-law. He is a member of the Atlanta Writers Club and Sisters in Crime.
Praise for TWENTY MILE
"[A] taut, page-turning thriller . . ."
—Atlanta Journal-Constitution
"Twentymile is packed with everything I love: A strong, female character; a wilderness setting; gripping storytelling; masterful writing. Smith captures powerfully and deeply the effects of the past and what we do to one another and ourselves for the sake of ownership and possession, for what we wrongfully and rightfully believe is ours. I loved every word. A beautiful and brutal and extraordinary debut."
—Diane Les Becquets, bestselling author of Breaking Wild and The Last Woman in the Forest
"Original, intelligent . . Twentymile is an accomplished first novel from a talented and fully-formed writer."
—James McLaughlin, Edgar Award winning author of Bearskin
"In C. Matthew Smith's engrossing novel Twentymile, a park service biologist turns up dead in the Great Smoky Mountains National Park, and discord regarding annexed land fuels a treacherous chase....a disturbing, potent thriller about ownership and trespassing, as well as unrealized dreams and aggression."
—Foreword Reviews
"Twentymile is a moody, atmospheric tale of family, vengeance, and anger too-long held, all set in the heart of the Great Smoky Mountains. Ultimately, it is the story of reaching for- discovering and recovering- home, and how such a complicated yearning can play out on both sides of the law."
—Steph Post, author of Miraculum, Lightwood, and A Tree Born Crooked
"Smith's spellbinding debut takes readers on a murderous journey through the backwoods of Great Smoky Mountains National Park. . . A thrilling and evocative tale."
—Scott Graham, National Outdoor Book Award-winning author of Canyonlands Carnage
"A highly enjoyable read suited best to those who like their thrillers to simmer for awhile before erupting in a blizzard of action and unpredictability with a future promise of grander adventures."
—Kashif Hussain, Best Thriller Books