Live Music, Sweetwater 420 beer blended with the atmosphere at Grant's Eagles Nest! Macon Georgia's best kept secret.
About this Event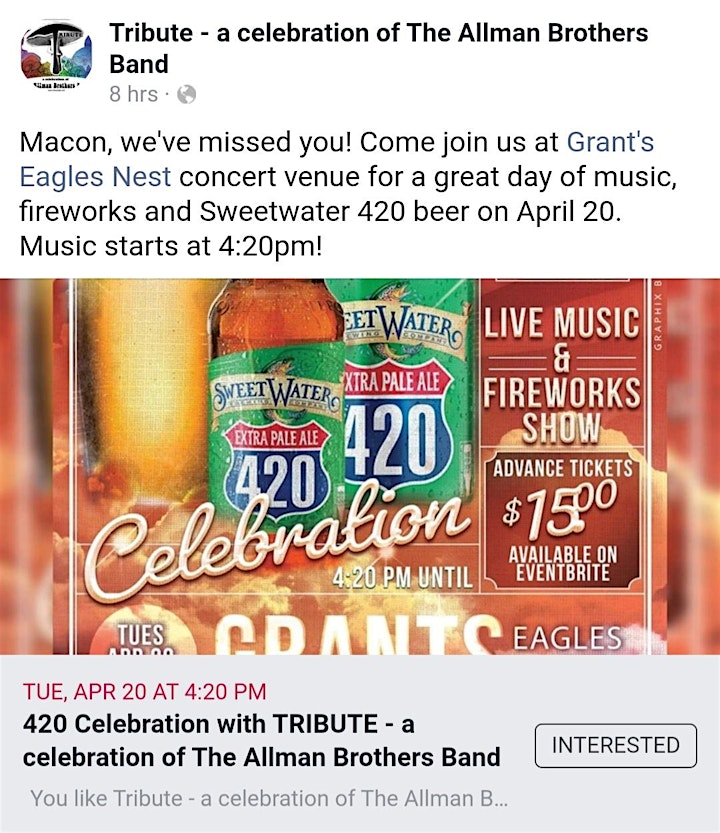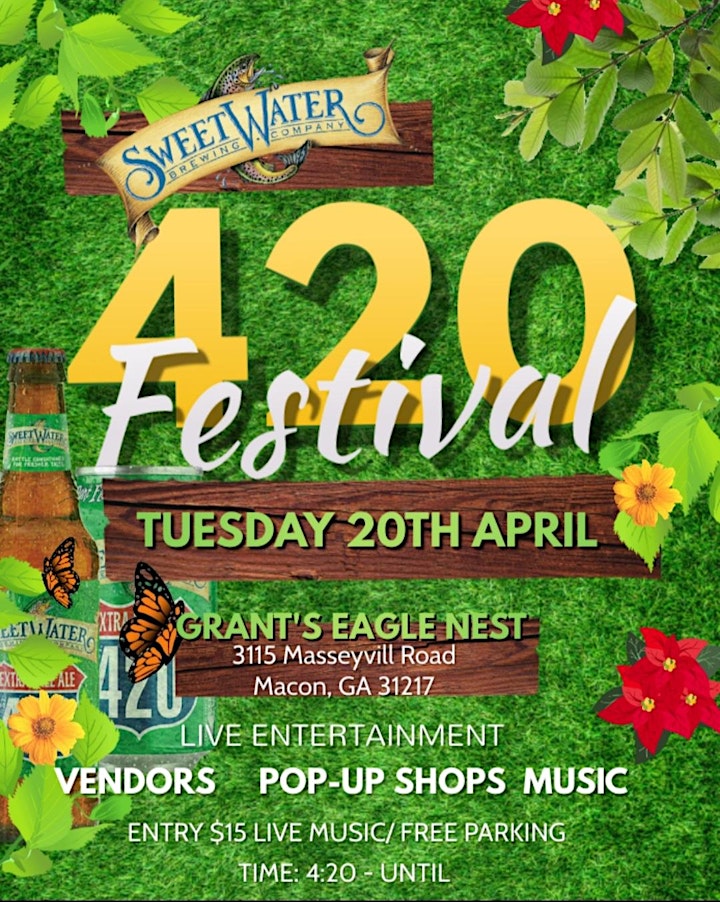 Grant's Eagle's Nest Presents Middle Georgia's 420 Music Celebration
Join us for food, fun, music, fishing & fireworks!
A few of 420 Music Celebrations featured vendors:
Chef Jones
Street Eatz
Ace Hookah
TMOLDS
+21 Doors Open: 4pm
Music ArtistShowcase:
Tribute-Allman Brothers Band
Cash's Juke Joint Band
Party with DJ Ric Flare
Drinks, Bootles & Hookah!
Tribute Allman Brothers Band
https://tributeabb.com/
Cash's Juke Joint Band
https://www.cashsjukejoint.com/
Location: Grant's Eagles' Nest, 3115 Masseyville Road, Macon, Ga 31217
https://www.facebook.com/pages/category/Performance---Event-Venue/Grants-Eagles-Nest-1617116245195863/
1st Annual Middle Georgia 420 Music Celebration
"Rolling Papers & Smoking Accessories
Come Catch a Major Vibe with Us
Tues. 4/20/21
Join Virtually
Features:
Pop Up Shops
LIVE Performances
We are working diligently to have safe and fun event. We are grateful for our patrons, guests, staff and community. Your health and safety dictate our actions.
The blend of unique Water, Music and Happy Vibes at Macon Ga little secret. Grant's Eagles Nest.
This is a rain or shine event.
All sales final. No refunds or exchanges.
The ticket holder hereof voluntarily assumes all risks incidental to the event, including bodily injury and death, whether occurring prior to, during or following the event. The holder releases the venue, promoters, participants, organizers, Eventbrite, and their respective subsidiaries and affiliates and each of their respective officers, directors, agents, partners, employees, service providers and representatives from any claims related to, arising out of or incidental to the event or the holder's presence thereat.
Management reserves the right, without the obligation to provide a full or partial refund, to refuse entry to or eject any person for any reason deemed necessary in the sole discretion of management for the safe and orderly operation of the event (including disorderly, vulgar or abusive conduct) or for the enforcement of policies applicable to the event (including these terms or other posted policies).
NO REFUNDS OR EXCHANGES EXCEPT AS REQUIRED BY APPLICABLE LAW AND PERMITTED BY MANAGEMENT OF THE EVENT. ARTISTS SUBJECT TO CHANGE. EVENT DATE AND TIME SUBJECT TO CHANGE.
The ticket holder consents to the use of his or her image, likeness, actions and statements in connection with any recorded audio, photograph, video or other publication of the event. Certain items may be prohibited by the policies of management, venue, promoters, participants or organizers. The holder consents to any potential searches while onsite (including upon entry to the event) for any prohibited items and the seizure of such items if found. In case of seizure, such items shall not be returned.
Event Waiver
I assume all risks associated with this event, including but not limited to: falls, contact with other participants, the effects of the weather, including high heat and/or humidity, traffic and the conditions of the road, all such risks being known and appreciated by me. I understand that bicycles, skateboards, baby joggers, roller skates or roller blades, animals, and personal music players are not allowed in the race and I will abide by all race rules.
Having read this waiver and knowing these facts and inconsideration of your accepting my entry, I, for myself and anyone entitled to act on my behalf, waive and release the Grant's Eagles Nest, event volunteers, their representatives and successors from all claims or liabilities of any kind arising out of my participation in this event, even though that liability may arise out of negligence or carelessness on the part of the persons named in this waiver. I grant permission to all of the foregoing to use my photographs, motion pictures, recordings or any other record of this event for any legitimate purpose.