Come celebrate 420 the DOPE way at Playhaus. Paint a custom doormat with Kicky Mats, smoke hookah+more, sip, take pictures, and vibe.
About this Event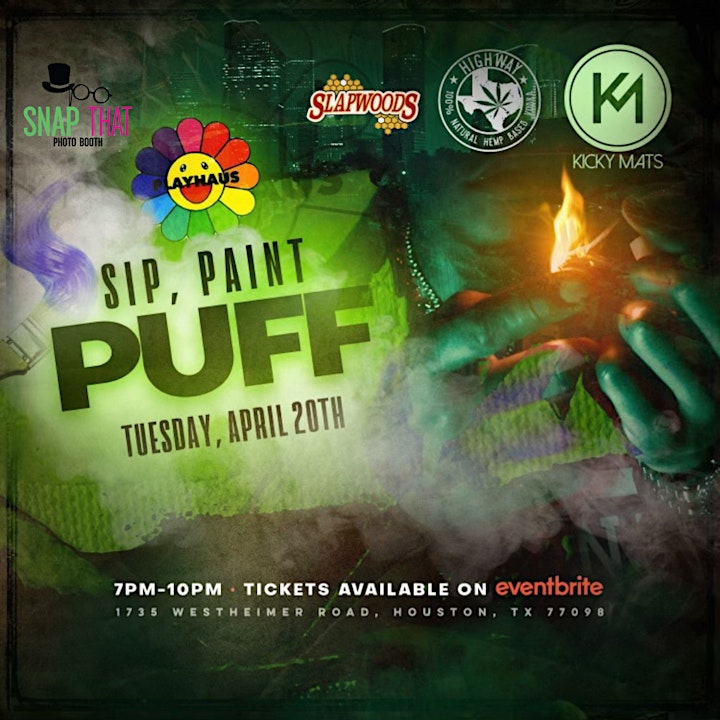 COME CELEBRATE 420 WITH PLAYHAUS AND KICKY MATS AT SIP, PUFF AND PAINT!
Sip, Puff and Paint is a one of a kind 420 Event for you and your crew to enjoy. This is your chance to enjoy all the vibes at Playhaus, paint a dope doormat with Kicky Mats, smoke hookah+ and enjoy good music/vibes at the same time!
Tuesday April 20, 2021
7 PM-10 PM
at Playhaus (1735 Westheimer, Houston, TX 77098)
Feel free to show up dressed to impress! There will be photo areas set up for you to get the cutest pics to post on your social media.
We will have meals available for purchase on site by private chef.
Each Sip, Paint and Puff ticket includes:
-entry into Playhaus (see pics below)
-doormat by Kicky Mats for each individual to paint while puffing and drinking
-Complimentary drinks sponsored by Highway Vodka and Boozer's Bartending
-Complimentary merch from our sponsor Slapwoods
-360 Photobooth by Snap That Photobooth
+ WAAAAAAY MORE! ITS 420, PULL UP (in Uber or Lyft preferably :) lol)
PLEASE NOTE: GENERAL ADMISSION TICKETS INCLUDE THE SAME THING, EXCEPT THE DOORMAT
MAT OPTIONS: (see pics below)
-Sorry We're Stoned
-Check Ya Energy
-Keep Blazing Stay Amazing
-You Know The Vibes
-Remain Humble Hustle Hard
-Murakami flower
This is a unique experience you don't want to miss!
This event is brought to you by Houston's very own:
Playhaus (IG: @playhaus.two) www.playhaushtx.com
&
Kicky Mats (IG: @kickymats) www.kickymats.com
For more information email: kickymats@gmail.com