Description
Were going back to VEGAS BABY & the takeover is REAL! You are invited to join the livest group of party people from all over the U.S as we all come to Vegas and takeover the famous strip for 5 Days 4 nights for 420 which is known as the Cannibus smokers holiday
Non-stop parties , Litt Party Bus equipped with Open Bar , All White Pool Party , Roof Top Happy Hours and Nightclub Takeovers at some of vegas top Party Pools and famous night clubs. This trip is strictly for the PARTY PEOPLE or what we call "TEAM NO SLEEP". So bring your crew and lets takeover Las Vegas this 2019!!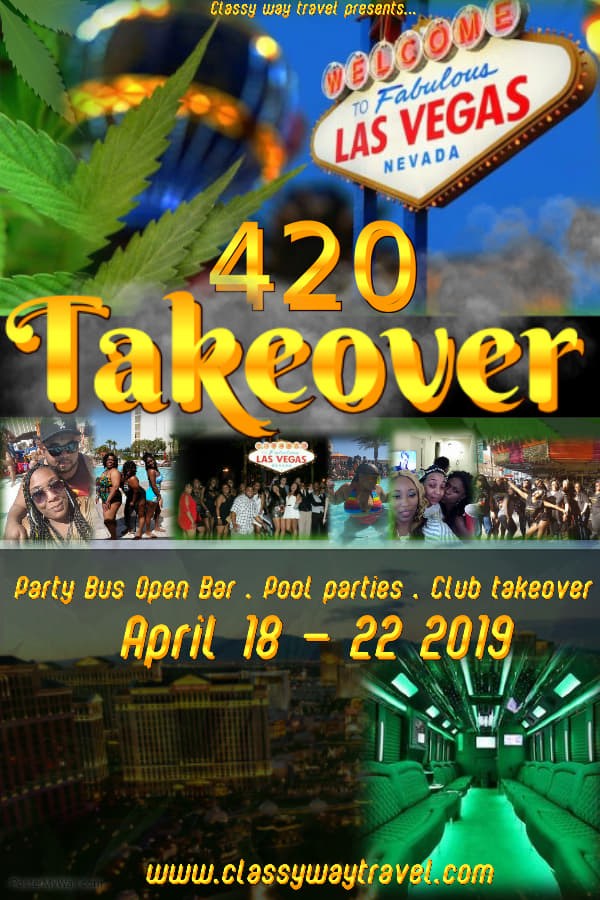 IF YOU DID NOT VISIT OUR WEBSITE BELOW TO PURCHASE YOUR VIP 420 PARTY PASS TO ENJOY ALL THE 420 #LITT PARTIES AND ENTERTAINMENT WE HAVE IN STORE.YOU HAVE OFFICIALLY MISSED OUT!!!
WE HAVE SOLD OUT OF OUR VIP PASSES FOR - $150 PER PERSON
REGISTERING FOR FREE ON EVENTBRITE IS NOT YOUR CONFIRMATION, YOU MUST HAVE PURCHASED YOUR VIP PARTY PASS ON OUR WEBSITE!!!!!
FOR MORE DETAILS VISIT OUR WEBSITE https://classywaytravel.wixsite.com/420lasvegastakeover
JOIN US ON FACEBOOK: https://www.facebook.com/classywaytravel/
FOLLOW US ON INSTAGRAM: https://www.instagram.com/classywaytravel/
SUBSCRIBE TO OUR YOUTUBE CHANNEL: https://youtu.be/kEBeffgJK_w