About this Event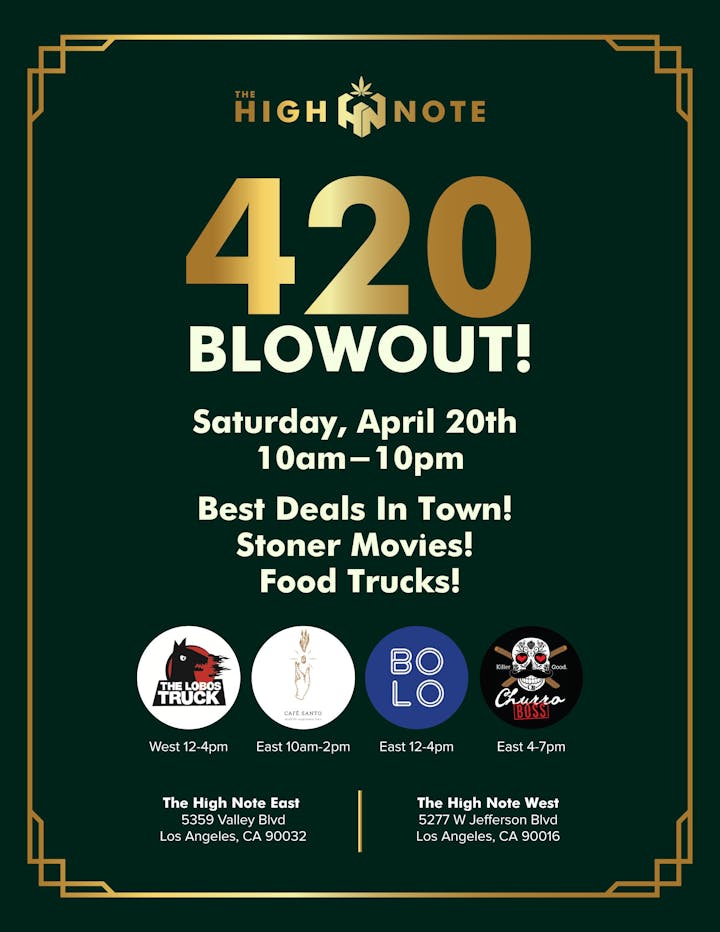 Celebrate 420 in style at The High Note this Saturday, April 20th, from 10am-10pm!
We'll have the best deals in town, vendor demos, classic stoner movies, food trucks, and more.
For a full schedule of deals and brand promotions, visit our website www.TheHighNote.com.
FOOD TRUCK SCHEDULE
The High Note (East): 5359 Valley Blvd. Los Angeles, CA 90032
10am-2pm: Café Santo
12-4pm: Bolo Chicken Sandwiches
4-7pm: Churro Boss
The High Note (West): 5277 W. Jefferson Blvd. Los Angeles, CA 90016
12-4pm: The Lobos Truck
Make a purchase in-store, receive a voucher for the food trucks.
DEALS
- FLOWER -
$1 Prerolls with any in-store purchase.
Buy any 1/8th, get a $2 Syndicate Preroll.
Buy Exotic or Top Shelf 1/8th, get 1g flower for $2.
- VAPES & CONCENTRATES -
Dompen Vapes: Buy 1, get 1 for $1
BLOOM Vapes: Buy 1, get 1 for $1
LucidMood: Buy 1 pen, get 2nd for a penny.
Jetty Extracts: 50% off Disposables
Sunday Goods: Buy 1 Pen, get 7 pack for $1
Moxie + Josh D Farms: Moxie Cartridge + Josh D Farms Preroll for $30
Select Oil: Buy 1 Weekender, get 1 for $4.20. Buy any Cartridge, get a battery for $4.20.
ACE's: Cake Batter Wax 1/2 gram for $8
Cresco: $15 off Resin Wax and $10 off Resin Cartridges
- EDIBLES -
Buy any 2 edibles, get 3rd for $1.
25% off Cheeba Chews.
Dollar Dose: A dime per Lozenge with purchase (Limit 5 per person)
Offer ends 4/20/2019 at 10 PM PST. Offer is valid in-store at The High Note locations only. Offer cannot be used on previous purchases. The High Note has the right to end any promotion at any time. Other restrictions may apply. Must be 21+ or 18 with valid medical card.