Description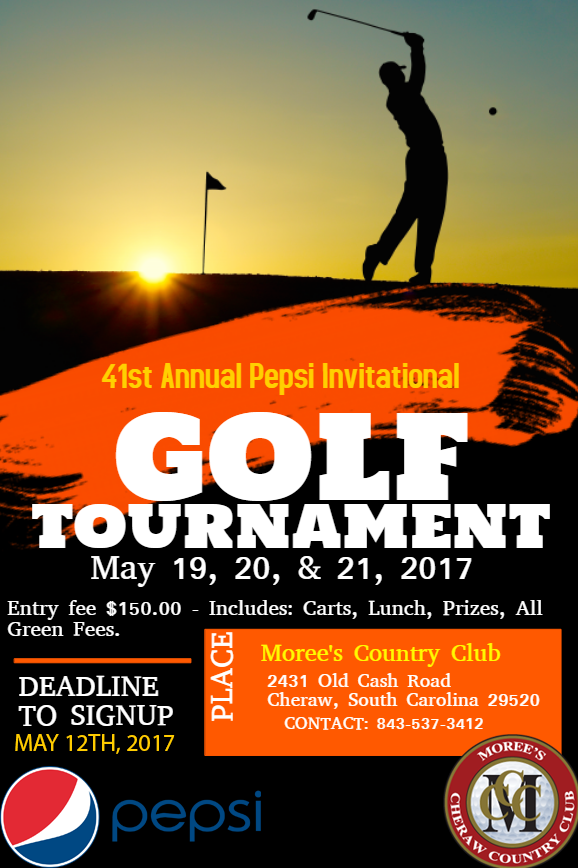 MOREE'S CHERAW COUNTRY CLUB
41ST ANNUAL PEPSI INVITATIONAL
ENTRIES ACCEPTED ON FIRST COME -- FIRST SERVE BASIS
Applicants must be 18 years of age.
No applications accepted after May 12, 2017
Online Entry Fee $159.24 - Includes: Carts, Lunch, Prizes, All Green Fees - Does Not Include Carts For Practice Round.
After purchase, please email the following to MoreesCherawCC@outlook.com:
Name:
Home Course
Address:
Phone #
Email
ENTRIES WILL BE ACCEPTED BY MAIL OR ONLINE ONLY.
HAND DELIVERED ENTRIES WILL NOT BE ACCEPTED.
Tee times begin at 8:00 a.m. each day.
Tournament Format: The tournament will be divided into A, B, C & D Divisions based on handicap.
Prizes: Five Prizes awarded in each flight- total of 40 prizes - 8 Flights. Closest to the pin prize each day.
Registration: Registration desk at clubhouse entrance. Report 30 minutes prior to teetime.
Practice Privileges: Practice Rounds available to players from Monday, May 8,through Thursday, May 18 for $20.00 per round. Contact Pro Shop before arriving for starting times. Phone(843) 537-3412. Carts must be returned before 7:30p.m. on Thursday.
Conditions/ Schedules: Field Limited to 216 players.
USGA rules plus supplemental Local Rule Sheet will govern play.
Inclement weather: In case of bad weather, any completed round will determine winners.
Decisions of Tournament Committee shall be final. Carts required. No walkers allowed.
Lunch: Friday 11:00 a.m. - 3:00 p.m. Do not try to eat after nine holes. Eat before or after your
All players are expected to abide by the rules of Moree's Cheraw Country Club.
Lodging available at Moree's Cheraw CC and Moree's Sportsman's Preserve.