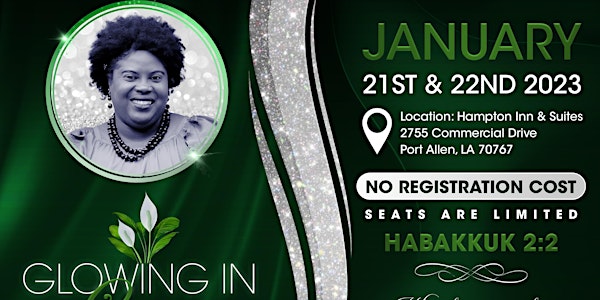 2-Day Ladies of Vision Experience
2-Day Ladies of Vision Experience
When and where
Location
Hampton Inn & Suites Baton Rouge/Port Allen 2755 Commercial Drive Port Allen, LA 70767
About this event
No matter what season of life you are in, God has given you a dream and a vision for your life that He desires for you to fulfill.
We ask the questions; Where do I begin? When am I possibly going to find time? What if I fail? What if I succeed? I don't have the education. I don't have the money. I don't have the support. I'm too old. I'm too young. So many questions and so many doubts hold us back from taking the first step.
At the Ladies of Vision Experience, you will learn how to take the necessary steps to achieve your dreams one step at a time and one day at a time. You will learn how to write your vision down, how to take the first step in making your dreams become a reality and how to speak the Word of God over your life as you work to create the life you see for yourself. You have to see it before you see it!