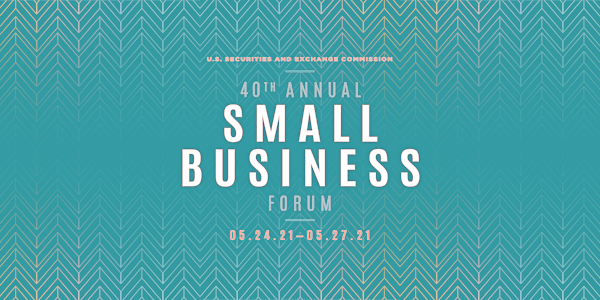 40th Annual SEC Small Business Forum
The Forum is a unique event where members of the public and private sectors gather to provide feedback to improve capital raising policy.
About this event
The Office of the Advocate for Small Business Capital Formation is hosting the SEC's 40th annual Government-Business Forum on Small Business Capital Formation virtually from May 24 through 27, pursuant to the Small Business Investment Incentive Act of 1980. NEW this year, we are soliciting your policy recommendations in advance of the event. Once you register, we will email you with instructions on how to submit your recommendations.
The event will include four 90-minute sessions over four consecutive days:
Monday, May 24 at 1:00 p.m. EDT
Finding Your First Dollars: Navigating Your Way to Raise Early Rounds
Tuesday, May 25 at 1:00 p.m. EDT
Doing Your Diligence: How Savvy Early-Stage Investors Build Diversified Portfolios
Wednesday, May 26 at 1:00 p.m. EDT
Diversifying Capital Allocators: Tools for Emerging and Smaller Funds and Their Managers
Thursday, May 27 at 1:00 p.m. EDT
Small Cap Insights: Perspectives on Smaller Public Companies