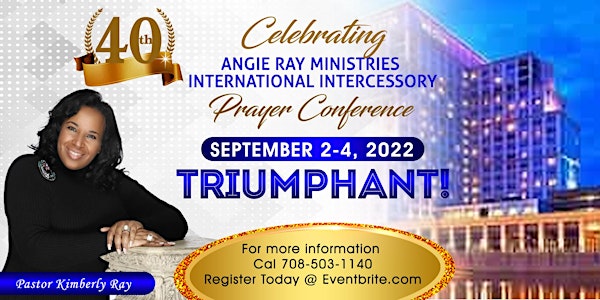 40th Annual International Intercessory Prayer Conference
Event Information
Location
Westin Lombard Hotel
70 Yorktown Center
Lombard, IL 60148
What a joy it will be to gather for the "Triumphant" Intercessory Prayer Conference 2022!
About this event
Dear Beloved Friends,
When we consider the faithfulness of God it creates tremendous gratitude. As we reflect upon so many wonderful memories, we pause to celebrate triumphant spiritual experiences. Our hearts rejoice because of the extraordinary blessings that God has bestowed upon this ministry.
It is with great delight that I extend this heartfelt personal invitation to you. Join us for our 40th International Intercessory Prayer Conference, September 2-4, 2022. This time of love and fellowship will commemorate our 40th consecutive Prayer Conference.
This year's conference is designed to minister triumphant solutions to the challenges of life through the power of God's word and personal intercessory prayer. The Ray Sisters, The Church on the Rock family and I will be available to minister to you during this conference.
Everyone who has attended past conferences or expressed a desire to come, this is a clarion call. Now is the time! Rejoice with us, be edified and strengthened by another powerful outpour of the Holy Spirit.
Lastly, I would like to extend a special invitation to those "1,000 Women in White" who attended our first Intercessory Prayer Conference. To every former International Intercessory Prayer Guild and Angie Ray Ministries member, join us Saturday night, September 3rd at 7:30pm for a glorious family reunion. This will be an exciting time for us to pray and fellowship together again.
What a joy it will be to gather for this Triumphant Prayer Conference!
With Love,
Pastor Kimberly
CONFERENCE REGISTRATION includes:
VIP Seating, Formal Luncheon and More!
Early Registration: $140.00
Registration August 1 $150.00
Triumphant Luncheon (Only) $100.00
Teen Registration (Ages 12-17) $60.00
Children's Registration (Ages 5-11) $40.00
All Services will be held at the Host Hotel
Westin Lombard Hotel
70 Yorktown Center ~ Lombard, IL. 60148 ~ 630.719.8000
Hotel Reservations cost only $119.00 Per Night Plus Tax
Room Block Under Angie Ray Ministries
All evening services are free and open to the public!
Contact Us
Date and time
Location
Westin Lombard Hotel
70 Yorktown Center
Lombard, IL 60148
Refund policy