On Jan 17th at 12 p.m. EST the Madam Walker Legacy Center will present a virtual conversation with pioneer, Cathy Hughes of Urban One, Inc.
About this event
Join us virtually on January 17, 2022 at 12:00 p.m. EST as we present our 40th Annual 'Day of Celebration' for Dr. Martin Luther King Jr.
This years event will feature a conversation with media pioneer, Cathy Hughes, Founder & Chairperson of Urban One, Inc.
Register today! Tickets are free for this virtual event!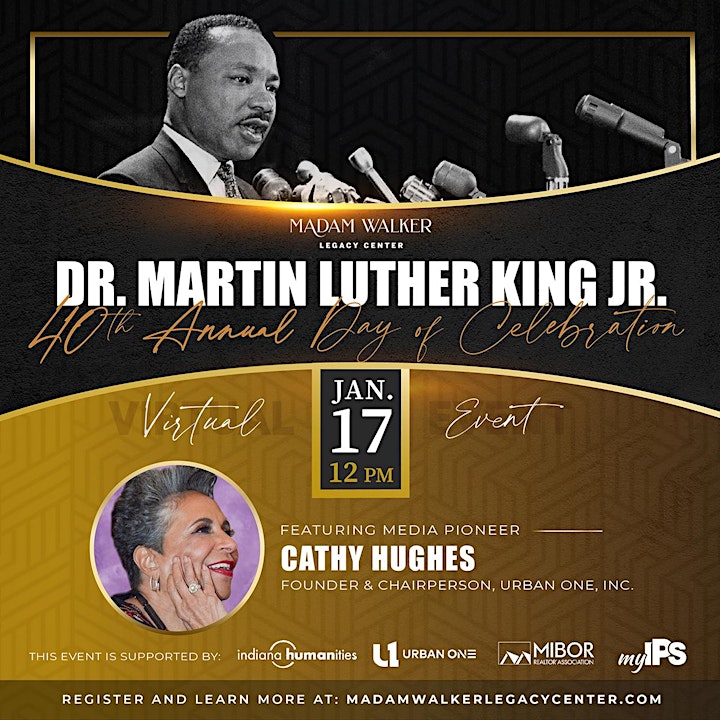 Organizer of 40th Annual "Day of Celebration" for Dr. Martin Luther King Jr.
The Walker building, once the headquarters and manufacturing plant of Madam CJ Walker Hair Care and Beauty Products, boasts much of its original 1927 architecture…but we are more than just a building. The Madam Walker Legacy Center is a 501 c3 non-profit organization dedicated to preserving the legacy of Madam CJ Walker by providing cultural education, promoting social justice, supporting entrepreneurship and empowering youth to become the next generation of entreprenuers and civic leaders. We use our historic building as a venue for celebrating cultural diversity, rich heritage and cultural traditions, primarily through art from the African-American perspective.