Description
2013 FESTIVAL DE BAMBULAÉ EVENT OVERVIEW
Bambulaé: Pronounced BAM-BOO-LAH-EY
-verb
1. to sing, to dance, to celebrate and to plant!
2. in 2013, to celebrate 40 years of NSNP and look ahead to 40 more!
DANCE! SING! CELEBRATE! PLANT!
Norris Square Neighborhood Project (NSNP) is hosting the Festival de Bambulaé, an annual vibrant, colorful garden celebration on June 15th, 2013. The event features amazing Puerto Rican food, Bomba dancing and dance lessons, art, and artisans. Our 2013 Festival de Bambulaé is going to be extra special because it's our 40th birthday party!
Join us in this unforgettable celebration of the past, present, and future of our beautiful Norris Square Neighborhood as we honor Founder Natalie Kempner and Founding Artist Indigo Raffel, Councilwoman Maria Quiñones-Sánchez, and Long-time Board Members Blaine Bonham and Sylvia Metzler!
Event includes:
- Bomba dancing by Familia Rojas
- Amazing Puerto Rican appetizers, dinner (including a hog roast), and drinks, AND dessert!
- Salsa lessons with Hector Serrano of Fuego Dance Company!
- Live vejigante mask making!
- Youth dance and spoken word performances
- Fun cultural crafts and planting activites for all ages!
- Live music by Amla's Youth Latin Jazz Ensemble!
Be sure to wear red and white to honor and celebrate Puerto Rico (or represent your favorite Latin country)!
To volunteer at this exciting event, please contact our volunteer coordinator, Lindsay Stolkey, at lindsay@myneighborhoodproject.org!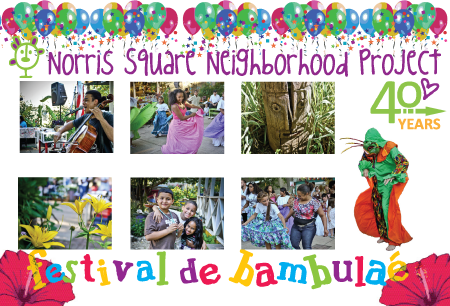 Special thanks to our sponsors: