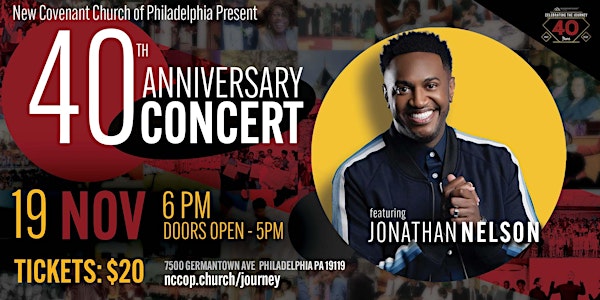 40th Anniversary Concert feat. Jonathan Nelson
New Covenant Church of Philadelphia is excited to celebrate 40 years of God's faithfulness with a special concert featuring Jonathan Nelson.
When and where
Location
New Covenant Church of Philadelphia 7500 Germantown Avenue Main Sanctuary Philadelphia, PA 19119
About this event
Interested in being a vendor? Claim your spot here: https://www.eventbrite.com/e/40th-anniversary-concert-vendors-tickets-425396762167
About our featured artist Jonathan Nelson:
Every few decades we are blessed with voices that are both undeniably and instantaneously classic. These artists go on to become cemented in the fabric of our hearts. This generation gave us the incredible talent in none other the critically acclaimed Jonathan Nelson. A Baltimore, MD native, Jonathan Nelson's inspiring nearly twenty-year career has exposed millions across the world to the electrifying sound of urban praise and worship music. 
Jonathan's musical roots started with a dream and a request. His father, Bishop James D. Nelson Sr, prayed to God to give him a song. God did answer his prayers! He birthed twin sons, Jonathan and Jason Nelson who were his song. Both Jonathan and Jason went on to fulfill the promise of God and both became highly gifted singers and songwriters. Jonathan's upbringing surrounded by the sound of music, and the Pentecostal church shaped his complex musical vocabulary and expression from an early age.
Jonathan is a lover of God, music and his family! He is the husband to Christina Nelson. They are the proud parents of two beautiful children, J. Andrew and Julianna. Jonathan takes his role as a husband and father very serious. He and his wife pride themselves on being balanced parents to creatively gifted children.
Over the years Jonathan has become one of Baltimore's leading voices. This afforded him the opportunity to build and cultivate one of gospel music's premiere ensembles, PURPOSE. PURPOSE, under the direction of Jonathan, would go on to record their first album, "Everything You Are". This independent album would feature the title song, "Healed" written by Jonathan himself. This song captured the attention of Grammy award winning and gospel music legend, Donald Lawrence, and countless other artists. This within itself catapulted his trajectory to the forefront of gospel music as a prolific songwriter, producer, and captivating worship leader. Connecting with some of America's most notable pastors, including Pastor Jamal Bryant and Bishop Henry Fernandez. Jonathan, solidified himself as a keenly effective worship leader connecting him with congregations both large and small weekly as a gifted leader of worship. 
Jonathan's impact reached far beyond Sunday morning, as an international recording artist, he has become a multi Stellar award and Dove award nominated gospel music powerhouse! His albums: Right Now Praise, Better Days, Finish Strong, Fearless, & Declarations have captured some of today's biggest gospel music hits! "My Name is Victory", "Expect the Great", "Called to Be", "Finish Strong", "Manifest" and the Caribbean inspired anthem island medley "I Believe" are only a few pieces in his chart-topping catalog. Jonathan Nelson has become a cornerstone in gospel music. Having pinned the sound of a generation, Jonathan continues to pave new ways for aspiring artists, singers and songwriters alike. 
Currently, the Director of Worship and Arts at New Birth Missionary Baptist Church in Atlanta, GA Jonathan inspires thousands  of congregants weekly through passionate and electrifying moments of praise and worship. Jonathan came back full circle and took the music industry by storm with the reunion of his famed group, PURPOSE. In May 2020 he released a Dual single release "Manifest" and "Thank You Lord". Listeners across the country have grabbed ahold of the new music and have deemed them instant classics. The highly anticipated new album Jonathan Nelson Ft. PURPOSE "The Reunion" released October 2020. Jonathan says "this record is a celebration of 20yrs in music, it represents years of friendship and family. It's a reminder that God gave us all a gift with a purpose and a reason. You must decree it, declare it, and claim it to be you yours… for it must come to pass and manifest on the Earth" and Jonathan is sure of this purpose to launch the next 20 years of his inspiring career to even greater heights.
E. Daniels
Authentic and fun loving...these are just a few words that describe Ernest Daniels Jr. also known as E. Daniels. Besides his infectious personality, he is known for striving to keep God in the center of his life, loving his family and modeling God's love. He is committed to seeking the presence of God and helping others encounter Him.His debut album, "The Journey" which was released in August 2011 was described by listeners as food for the soul. The album's heartfelt lyrics quickly usher listeners into the presence of the Lord.
E. Daniels sophomore project "I'll Go" captures the essence of true, heartfelt worship through a multi-faceted song list that joyfully and sincerely exudes God's truths. In addition, his rich, velvety sound fully engages listeners to humbly join him in complete adoration and reverence of our King. "I'll Go" is an essential album for any individual to own who desires to build their worship collection in a way that will enrich their devotion to God. E.Daniels gently ushers listeners into God's presence through his genuine spirit that resounds with praise and honor of God. This live CD recording serves as a compass that will lead you back to the heart of worship.
Singing since age seven, he has collaborated with many contemporary, classical, and gospel artists. He has had the privilege to open for national recording artist such as: Israel Houghton, Fred Hammond, Martha Munizzi, Mary Mary, Wes Morgan, Byron Cage, REILLY Band, Vicki Yohe, Anthony Brown & Group Therapy, The Clark Sisters, Brian Courtney Wilson, Anita Wilson, Erica Campbell, Tasha Cobbs, CeCe Winans, Jordan Feliz, Tenth Avenue North, and Mercy Me. His "satisfaction doesn't come from packed out concerts...it comes when lives are changed, relationships are restored, and true repentance takes place." He and his lovely wife Sharon C. Daniels reside in Delaware County, Pennsylvania with their children.
Tameka Ferebee
Tameka Ferebee, DFA (Honoris Causa) is a Billboard Charting Recording Artist, Songwriter, Organist/Keyboardist, Producer, Grammy Member, Voice & Piano Instructor of Philadelphia Pa. She is the CEO of Tameka Ferebee Productions LLC, Creator of Philly's Flip it Concert Series and Chapter Rep for the Philadelphia Chapter of the Gospel Music Workshop of America. For the past 12 years she has served as the Minister of Music of Church of the Redeemer Baptist in South Philadelphia. She now serves as the Music Teacher at Cornerstone Christian Academy & Choir Director of the Swarthmore Gospel Choir. She is a Graduate of Creative and Performing Arts High School where she majored in vocal music & music theory. She furthered her studies in Classical and Jazz Voice at Community College of Philadelphia. She received her Doctor of Fine Arts degree (Honoris Causa) from the Wayland Baptist Theological Seminary on June 12, 2021. Her latest single "I am with you" reached #21 on the Billboard Gospel Indicator charts and she remained in the top 30 for 5 consecutive weeks. The songs official video reached over 5K views in 2 days. Her life scripture is Mathew 6:33 "Seek ye first the Kingdom.....then all these things will be added.