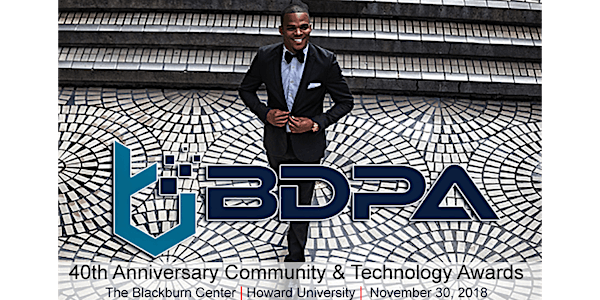 40th Anniversary Community & Technology Awards Gala
By BDPA National Capital Region
Date and time
Friday, November 30, 2018 · 5:30 - 8:30pm EST
Location
The Armour J. Blackburn University Center 2397 6th Street, NW Howard University Washington, DC 20059
Refund Policy
Refunds up to 7 days before event
Description
BDPA-DC | 40th Anniversary Community & Technology Awards
Black Data Processing Associates Of Washington D.C. Metropolitan Area

National BDPA's Greater Washington, D.C. Chapter (BDPADC) was Chartered in 1978 in the District of Columbia (DC). Join Washington, D.C.'s Small Business Development Center (DC SBDC), Community Leaders, and Executives from Academia, Government, and Industry on Friday, November 30, 2018 for a DC SBDC Welcome Reception and BDPADC Community & Technology Awards Gala commemorating this 40-Year milestone.

The Chapter's Lifetime Achievement Award recipients for 2018 are:

Ms. Andrea Roane,
TEGNA | WUSA Channel 9, Retired

Mr. Walter B. Sanderson, III,
Vice President, Human Resources
SiriusXM Satellite Radio

Mr. Victor S. Gavin,
Amazon Web Services (AWS)
Department of the Navy, DASN C4I/IO/Space and PEO EIS (SES Retired)
Host Chapter: BDPA Washington, D.C. BDPADC.org
FAQs
Q.1 - Do we have to bring printed tickets to the Awards Gala?
Yes. Please use this site for meal selections, seating and table reservations, or to pre-register guests, mentors, protégés, and interns. An RSVP for annual formal events are requested. Reserve corporate tables for your organization by Tuesday, November 20, 2018. Emailed confirmations, QRs, or printed tickets also are accepted during check-in. RSVP before close of business on Monday, November 26, 2018.
Q.2 - What is the attire for this year's Awards Gala?
This is an annual "Black-Tie Optional" evening business event featuring a Welcome Reception (5:30 pm) and Awards Gala (6:30 pm). Women guests may wear formal evening gowns or opt for cocktail dresses. Tuxedos are optional for gentlemen or they may opt for dark suits with a black tie.
Q.3 - Who are the Keynote Speakers this year?
Dr. Margaret Wood, President and CEO of WOOD Consulting Services, Inc. will provide a welcome keynote address during Industry's Welcome Reception. Mr. Jesse J. Holland will keynote Washington's 40th Anniversary Gala and sign your books with BDPA DC. Mr. Holland is an award-winning journalist and the author of "Black Panther: Who Is the Black Panther?" — the book Marvel Entertainment commissioned for the hit "Black Panther" film — which also accompanies your reservation.
Q.4 - We have never heard of "BDPA" nor the "Black Data Processing Associates". Who are you? What do you do? What happens during the Gala?
Since its founding in 1975, National BDPA and Regional BDPA Chapters continue to serve as catalysts primarily for professional growth and technical development to those in or entering information technology (IT) oriented fields of interest and related industries. Local BDPA chapters work with or support technology councils, chambers of commerce, industry trade associations, and minority-owned business enterprises (MBEs) in public sector, private sector, and academia.
Chartered in 1978, BDPA DC's programming includes local and regional high school coding competitons, local and regional I.T. Showcases with college and high school students, technology workshops wih HBCUs, and innovation summits in the District of Columbia, Central Maryland, and Northern Virginia.

BDPA DC has published bdpatoday (ISSN 1946-1429 | bdpatoday.com) since 2007. BDPA DC co-hosts PTTV (populartechnology.tv), coordinates public/private legislative activities with STEM mission-partners, and continues to support technology-inclusion programs across the National Capital Region.
The following vignettes showcase more about us.
Q.5 - Do we have to be BDPA Members to RSVP or attend this special occasion?
No. BDPA Memberships are not required nor a prerequisite for support and participation. BDPA Members from any BDPA Chapter; however, are afforded PROMO Codes, discounts, or complimentary seating to most events hosted or co-hosted by BDPA DC where applicable or when sponsored seating is available. Join or renew by visiting BDPA.org to update email addresses in your Membership Profile to receive event discounts and PROMO Codes for this Holiday Season.
Q.6 - Does this event serve as the Host Chapter's annual "Holiday Event?"
No, SAMSUNG Electronics USA and BDPA-DC will co-host a very special #TechandMedia Holiday Event on Saturday, December 8th, 2018 at SAMSUNG's new Solutions Center in Washington, D.C. Both are celebrating 40-year milestones. BDPA Sponsors, BDPA Mission-Partners, BDPA Members, and bdpatoday subscribers receive invitations from BDPA-DC and may invite additional guests.
Q.7 - Why should we support or join a local BDPA Chapter?
We live in an interconnected world driven by software-defined ecosystems. Industry needs our community's "world class commitment" surrounding our youth, our "franchise quarterbacks", our small businesses, new tech start-ups, and Junior Application Develpers (Jr. Devs.) In direct support of economic development, BDPA Chapters serve as local and regional "trade associations." Success stories from Industry and BDPA Chapters are chronicled by bdpatoday.
Q.8 - We really need to get more involved with BDPA—how may we contact local organizers to sponsor BDPA-DC in 2019, support this event, or sponsor new tech-inclusion engagements with BDPA?
Partners, Sponsors, attendees, and guests may email: events@bdpadc.org -OR- kia@bdpadc.org
About the organizer
Since 1975, BDPA's mission is to bridge cyber security,  information technology (IT) and telecommunications competency gaps across Industry and Academia with governments, under-represented tech organizations, and underserved communities. Local BDPA Chapter goals across the National Capital Region (NCR) are set forth to provide access to technology and career training programs. Mission sets with regional sponsors include educational outreach programs for professionals, young adults, and youth across the Greater Washington, D.C. metropolitan area (DMV) in direct support of economic development, technology inclusion, and workforce development initiatives.
Discover more by visiting BDPA-DC's landing page → https://bdpadc.org