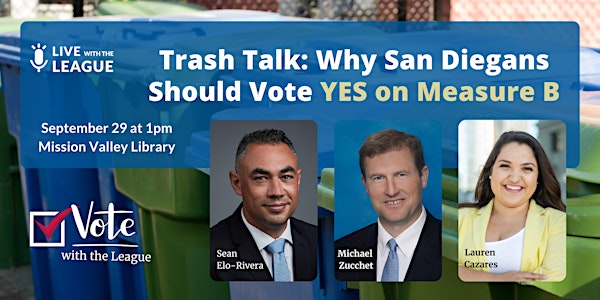 Trash Talk: Why San Diegans Should Vote YES on Measure B
Panel will advocate in support of Measure B in the City of San Diego
When and where
Location
Mission Valley Branch Library 2123 Fenton Parkway San Diego, CA 92108
About this event
For the last decade, the League has called out the unequal treatment of San Diegans by the People's Ordinance, which provides free trash hauling for only a portion of the residents. The League believes that all residents must contribute to the costs of waste management and that the government should maintain an equitable system of taxation. We support policies to reduce the generation of trash and to promote reuse and recycling.
The San Diego City Council placed Measure B on the November 2022 ballot to address these inequities. Voters will be asked to approve an amendment so that all City residents receive comparable trash, recycling, and other solid waste management services by allowing the City to charge a hauling fee and provide additional services, such as weekly recycling, bulky item pickup, and curbside container replacement and delivery, at no extra charge.
Three speakers will advocate for this measure:
San Diego City Council President Sean Elo-Rivera who represents the 9th City Council District.
Michael Zucchet, general manager of the San Diego Municipal Employees Association. He served as Councilmember for San Diego's second district from 2002 to 2005 and as Deputy Mayor in 2005.
Lauren Cazares, policy advisor for the San Diego Regional Chamber of Commerce.

If you'd like to get lunch before the 1pm meeting, there are several restaurants at Fenton Marketplace near the library, including Luna Grill which has some outdoor seating.
Transportation and Parking: The Mission Valley Library is very close to the Fenton Parkway Station of the MTS Green line trolley. There is ample parking in the library lot and nearby shopping center.
The League recommends wearing masks at indoor events for the health and safety of all.
Notice of Accessibility: LWVSD strives to create inclusive, accessible meetings and events that enable all individuals to fully engage with its programming. Please contact us if you need accommodations to access this event.