Location
Microsoft Technology Center
10900 Stonelake Blvd
#225
Austin, TX 78759
United States
Description
4000 Years of Social Engineering
Speaker: David Longenecker (@dnlongen)
Senior Information Security Engineer, AllClear ID

Event Details:
Date: April 7, 2017
Time: 12:00 – 1:00 p.m. with introductions beginning at 11:45 a.m.

Venue: Microsoft Technology Center at Quarry Oaks 2.

Address: 10900 Stonelake Blvd. Suite 225. Austin, TX 78759
Abstract:
In 25 years of information technology and security, I have dealt first hand with social engineering attacks, hacking, phishing, scams, and awareness training to address some of these threats. Seeing the same thing happen over and over again, tends to make one become jaded, cynical, always looking at the negative side of life, criticizing, and finding faults to make fun of, which I find myself victim to at times.
In this talk we will see that social engineering is not unique to modern times, and that the jaded feeling of spinning one's wheels is not unique to me. In fact, one of the earliest social scams is recorded in the Bible and it occurred about 4,000 years ago when between brothers (twins) from which different nations arose.
Come for an informative session on how social engineering, a old trick still have many applications in this day and age that we live in.

Speaker Bio: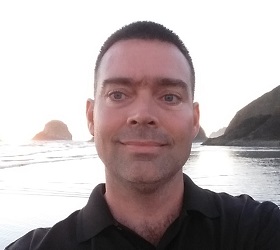 David is a senior information security engineer for AllClear ID, helping companies that have been breached take care of their employees and customers. Prior to that, he spent two decades at Intel Corporation
, winding his way through customer support, system administration, patch management, LAN and firewall implementation, threat intelligence, and security engineering.
A common comment David hears from friends and family is that complex security topics give them headaches. They want to know in simple terms how to stay safe in a connected world. Folks like us have chosen to make a profession out of hacking and defending. Others have chosen different paths - paths where we would be lost. Writing and teaching are David's effort to share this knowledge with those that are experts in something else.

When not in front of a digital screen, David spends his time raising five rambunctious teenagers - including two sets of twins. His family enjoys archery, raising animals, and simply enjoying life in the Texas hill country.
For a decade David served as either Commander or a division leader for the Awana Club in Dripping Springs, Texas; while he has retired from that role he continues to have a passion for children's ministry. At the moment he teach 1st through 3rd grade Sunday School.
To get more information about upcoming meetings and HackFormers, visit http://www.hackformers.org
Twitter: @hackformers
LinkedIn Group: http://www.linkedin.com/groups?gid=4239683