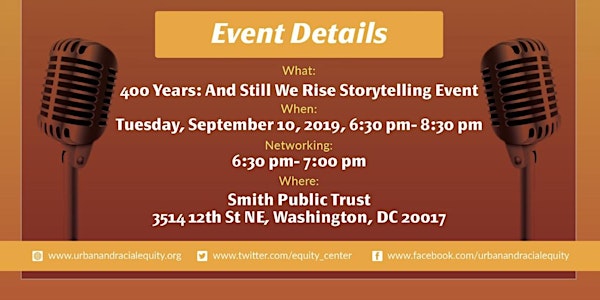 400 Years: And Still We Rise Storytelling Event|CBC
When and where
Location
Smith Public Trust 3514 12th Street Northeast Washington, DC 20017
Description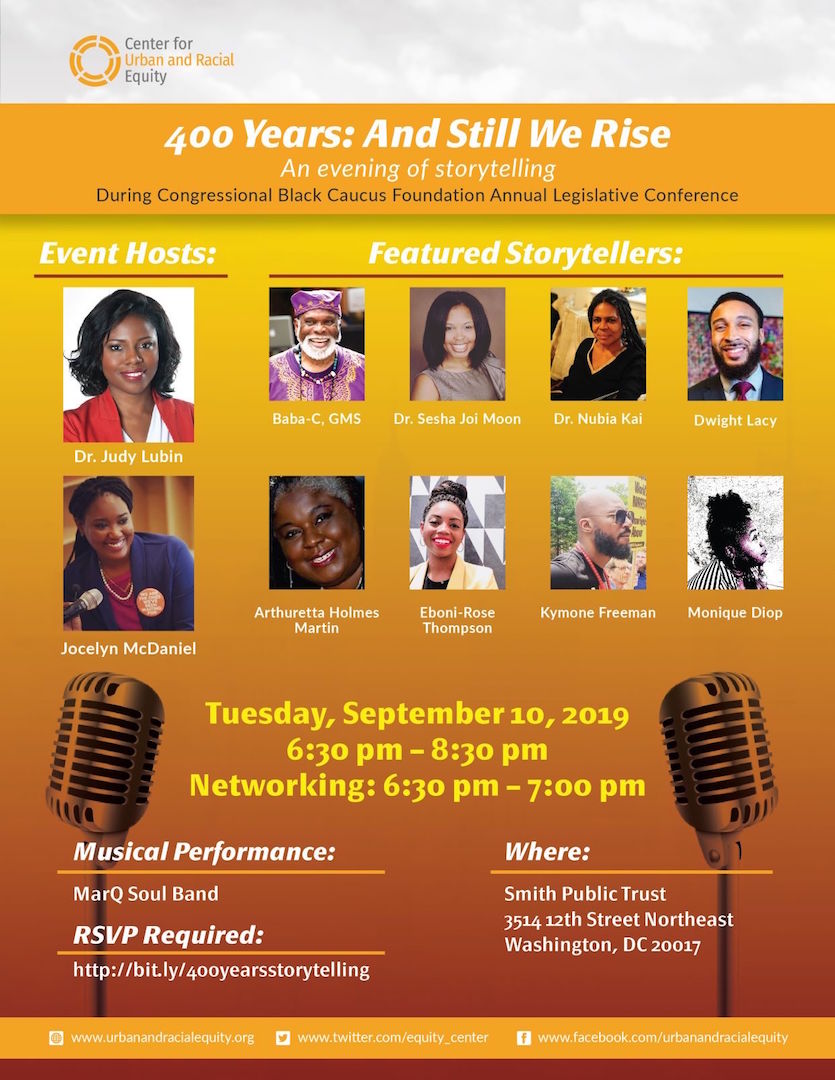 In August 1619, between 20 and 30 enslaved Africans arrived in present-day Hampton, Virginia. The 400th Anniversary of the landing of the first enslaved Africans in English-occupied North America marked the beginning of slavery in the U.S and a history of anti-black laws, norms and practices that continue to shape U.S. culture and society.
Despite these four centuries of struggle, still we rise.
We all have stories to tell. Stories about black history including historical figures and local and national events. Stories about living while black, including stories about gentrification and experiencing discrimination in housing, employment, policing, health care and education. But we also have stories of resilience--finding ways to survive and thrive, self-care, healing justice, and stories about black love.
The Center for Urban and Racial Equity invites you to join us on Tuesday, September 10, 2019 for an evening of storytelling, music, connection and celebration in honor of the strength, survival and resiliency of black people in America. The event will feature a local live band, MarQ Soul & Mercy Band, and eight dynamic storytellers who will help us lift up our collective stories of struggle, perserverance, triumph, hope and vision for a just future.
Appetizers and drink specials provided. Doors open at 6:30 and RSVP is required.
Storytellers
Monique Diop (Twitter: @MoniDiop)
Eboni-Rose Thompson
Baba-C (Twitter:@Baba-C, GMS)
Dwight Lacy
Kymone Freeman (Twitter:@guerillartist)
Dr. Sesha Moon
Arthuretta Holmes-Martin
Nubia Kai
Disclaimer: By registering for this event, you consent to receive periodic communications from the Center for Urban and Racial Equity. You may opt-out at any time by clicking the unsuscribe link in any of our messages. This event will be photographed and video-recorded. Images captured at this event may appear on CURE's social media, email and other communications platforms.