FREE online Literary Meetup for "40 Patchtown" novel on 1922 Pennsylvania Coal Strike
About this event
The Battle of Homestead Foundation proudly presents a FREE Zoom talk on 40 Patchtown, the new historic novel by Dr. Damian Dressick about the 1922 Pennsylvania coal strike that united immigrants and resident miners in a bitter struggle for decent wages and working conditions.
Writing historical fiction meaningful to our time and true to its original living characters is a special form of literary art. Dr. Dressick will share his insights on the methods he employed to recreate the vanished world of 1920s Pennsylvania coal town life for modern readers.
Please note: Upon registration for this event, participants are given a Zoom link and password. Read 40 Patchtown ahead of the discussion by visiting the publisher's page here.
*** FOR MORE INFO on upcoming programs at The Battle of Homestead Foundation, click here. ***
---------------------------------------------------------------------------
40 Patchtown follows fatherless 14-year-old Chet Pistakowski as he struggles to support his mother and siblings amid a corrupt company-town culture ruled by violence, poverty and manipulation.
"Many of the same issues workers face today drove the coal strikes of a century ago and have yet to be fully resolved," says John Haer, Battle of Homestead Foundation president. "History-based fiction like 40 Patchtown helps us see those important events from the perspective of the people who lived through them."
---------------------------------------------------------------------------
"DEFTLY PACED, gritty and poised, pitch perfect in its voice and historical rendering, Damian Dressick's debut novel 40 Patchtown accelerates from its opening pages with desperate energy. Set against the comfortless backdrop of the brutal 1922 coal miners' strike of Windber, Pennsylvania, the novel follows fatherless 14-year-old Chet Pistakowski as he struggles to support his mother and siblings in a setting dictated by violence, poverty and manipulation. Told in lean, convincing and clear-eyed prose, this historical and evocative coming-of-age story reveals a young man torn between family and morality, desperation and desire, circumstances and escape." — James Charlesworth, author of The Patricide of George Bernard Hill
"40 Patchtown is evocative, haunting, told with page-turning momentum, and reveals an insider's understanding of the societal complexities that keep miners returning to the earth's dark underbelly. Damian Dressick, a talented and thoughtful writer, is the freshest voice to come out of Appalachia since Wiley Cash arrived on the literary scene." — Karen Spears Zacharias, author of Mother of Rain
** WINNER OF THE Jesse Stuart Prize and the Harriet Arnow Award, Dr. Damian Dressick teaches writing at Clarion University of Pennsylvania and can be found online at www.damiandressick.com. He is the author of historical novel 40 Patchtown (Bottom Dog Press) and the experimental story collection Fables of the Deconstruction (CLASH Books). His fiction has appeared in more than 50 literary journals and anthologies including W.W. Norton's New Micro, Post Road, Failbetter, Cutbank, Hobart, New Orleans Review, Smokelong Quarterly and New World Writing.
----------------------------------------------------------------------------
The Battle of Homestead Foundation is an educational nonprofit promoting Western Pennsylvania's vibrant industrial and labor history starting with the 1892 Homestead Steel Strike and connecting with current labor issues involving economics, the environment, healthcare, racism and other social concerns.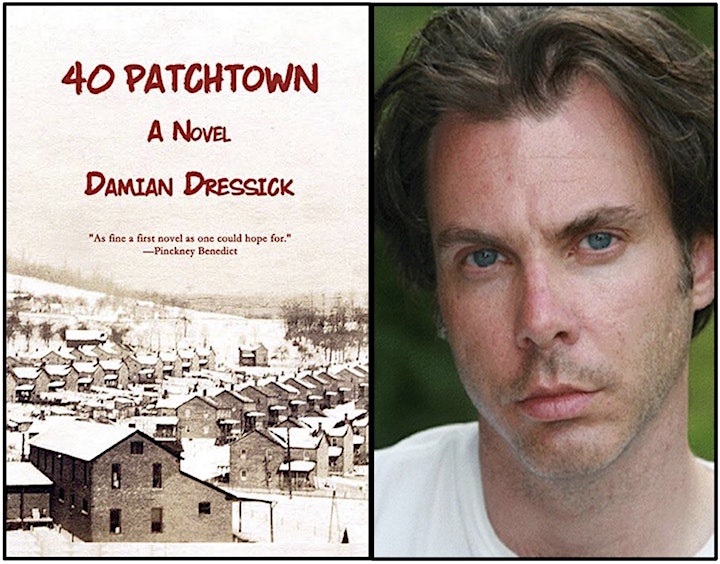 Organizer of "40 Patchtown" - Author Meetup with Damian Dressick
The Battle of Homestead Foundation is a non-profit, charitable organization of citizens, workers, educators, artists and historians. Its purpose is to preserve, interpret, and promote a people's history focused on the significance of the dramatic labor conflict at Homestead, Pennsylvania in 1892.  
The Battle of Homestead Foundation is exempt from Federal Income Tax under Internal Revenue Code Section 501(c)(3). All contributions are deductible from federal taxes under section 170 of the IRS code.