Description
Get FIT. Get POWERFUL. Burn calories!
Get a power workout with muay thai pad workout!

Learn punching and kicking techniques, blocking and countering drills.
Each workout includes: cardio, punching and kicking drills, pad work, strength conditioning and core. You will leave exhausted and asking for more!
The program will start from basic single techniques progressing to combination drills, Muay Thai pad work to develop power and speed to improve timing, reflex, and total body conditioning exercises.

K.O. Fit Kickboxing is a great way to get in shape, burn calories, improve your stamina, and have fun!
Learn how K.O. Fit system will help you:

Strenthen and tone your whole body

Learn practical skills to defend against attackers

Help you break develope endurance, stamina and confidence!
$99 for 4 Weeks (includes free boxing gloves and free 1x/week evening class)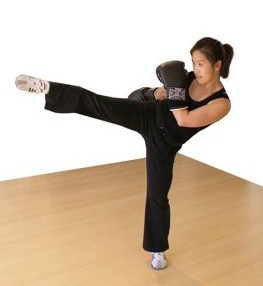 K.O. Fit Kickboxing is taught by Cindy Hom. Cindy has been training and teaching martial arts since 1997 and a certified Personal Trainer.

Limited spots available.