Description
This Basic 4 Week Tactical Training Course is designed for Law Enforcement Officers who needs to get a refresher course in Armed Combat Tactics. Most attacks happens at really close range, we are to help & train you how to survive and win if you are involved in this kind of situation.





Lack of Good Fundamentals & Consistent Training is a Big Problem in the LE Community. You must always keep your skill level up at all times. We are here to help you.



Course PREREQUISITE: You Must be an Active Law Enforcement Officer or Peace Officer status.


Course Date: Nov 27th to Dec 23rd
Registration Opens Nov 13th 7:00 AM & Ends Nov 19th, Sunday at 10:00 PM


Cost: is $150 for Active Duty Law Enforcement Officer,


Class size is Limited & always sold-out. All participants must complete a online registration form prior to being included on the training roster. Don't Delay & Sign-Up now!
Class Times are Monday & Wednesday @ 8:30 pm to 9:30 pm Tuesdays & Thursdays @ 9:00 am to 10:00 am and Saturdays 10 am to 11 am


Equipment List: Please wear your Duty Belt or whatever set-up you use on duty. NEED More Info: Info@TrigonTactics.com
Tel. No. 718.850.5501
Training Outline:
-Tactical Combat Casualty Care
-Combat Mind Set
-Shooting from the holster
-Shooting Grips
-Shooting Positions
-Reloading
-Malfunctions
-Cover Drills
-Shooting on the move
-Tactical Shooting Drills
-Force on Force CQB Training Drills
-Multiple Target Drills
-Shoot no Shoot Scenarios
-Throws & takedowns
-Wrist Lock & Arm Bars
-ASP Baton Drills


Equipment List:
-Duty Rig Belt or Thigh Holster if you are in patrol
-Duty Pistol & Spare mags
-Back up pistol if you carry one
-Belt keepers
-Comfortable clothes (T-shirt, Cargo/BDU pants & Sneakers)
-Sturdy Belt

We will be using dummy rounds for all reloading & malfunction drills on
your duty pistols, please specify the caliber that your agency uses.
Shooting drills are going to be run using the SIRT Training Pistols




Instructor Bio: Sonny Mayo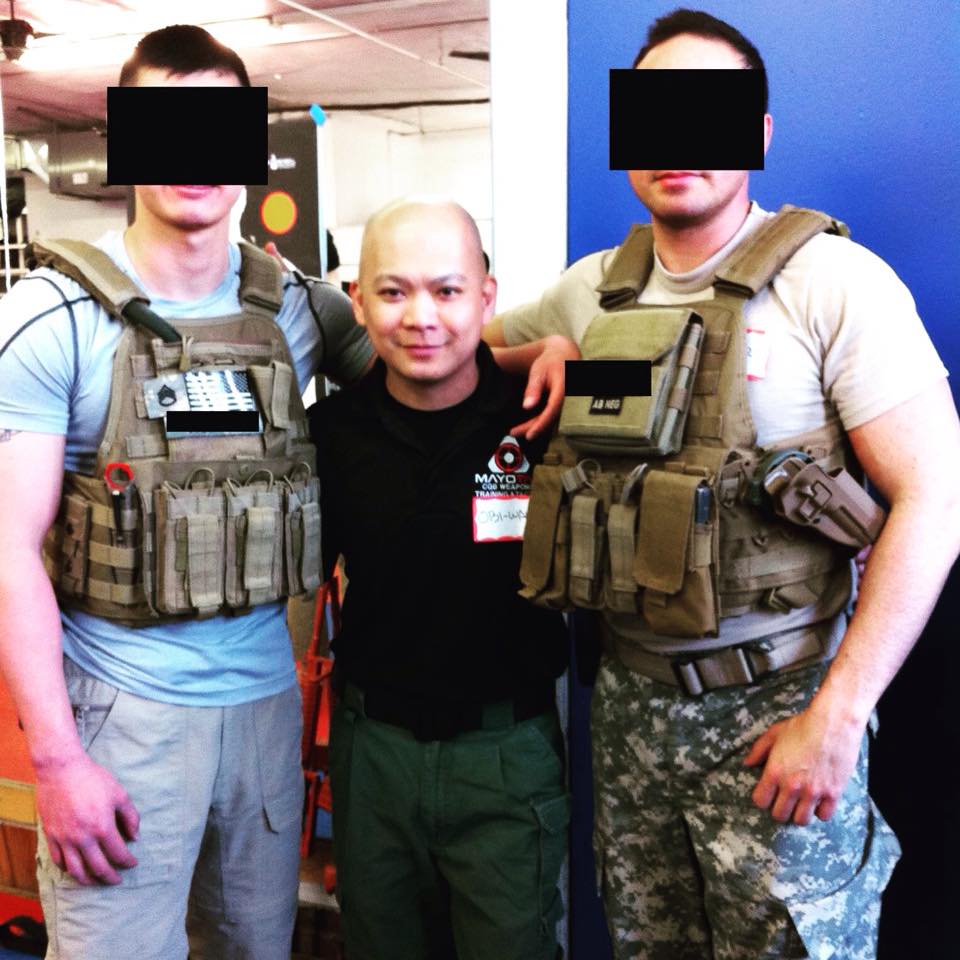 A little bit about me.
My name is Sonny Mayo, I was born and raised in the Philippines. I have been training in Weapons Cabatives for Almost 40 years. I have been very fortunate to study from the top Weapons Masters from the Philippines & here in the United States.



I run Trigon Tactics, one of the biggest Weapons Combatives Training School in New York City. Since 2010 Defensive Tactics instructors & Combatives Instructor have been training with us regularly to learn the latest in Weapons Force on Force Drills & Tactics.

Sonny Mayo is sought by different law enforcement agency & personnel to teach close quarter combat tactics in the use of edge, impact weapons & close quarter pistol. He is also the featured lead instructor in the 2010 & 2011 LAW ENFORCEMENT Expo in the Jacob Center in Manhattan, NY & Pittsburgh PA. Also a regular guest Combatives instructor at Camp Smith in Upstate NY to the 1/106 Military Police Battalion. To date Sonny has taught Defensive Instructors form city, state & federal agencies here in NYC. He comes highly recommended & endorsed from the instructors of most of the Law Enforcement trainers in New York City.


Testimonials:
"The training today just shows how perishable our past training is. Training like this builds on our foundation and is important in our field. Sonny's instruction is what assist us in our day to day operation. Sonny is a great instructor even though i have trained with him and his instructors for a few hours today. Many lessons learned today and makes me want more training… for me and to share with the men and women in my squad. Thank you Sonny."


-Name Available Upon Request-
US Marshal, Lead Tactics Trainer


"My experience with Sonny Mayo and his staff has been nothing but extraordinary. Sonny has welcomed the officers of my agency with open arms and have given us training that is practical out or in the street. His training was very real-world. Thanks Sensei Sonny and your staff for all your help."


-Name Available Upon Request-
ICE Fugitive Recovery, Team Leader


"The training was not only excellent but very practical. The techniques learned today were easy to use and not overwhelming to remember."


-Name Available Upon Request-
ICE Fugitive Recovery, Lead Tactics Trainer


"Very good, realistic training. Focus on weapons access was very practical."


-Name Available Upon Request-
NYPD, Defensive Tactics Trainer


"Sonny and his staff were very professional and well versed in their training all of them displayed extensive knowledge of the training. Every law enforcement officer should take this course."
-Name Available Upon Request-
NYC Corrections, Firearms Instructor


"A big Thank You to all at Trigon Tactics, I was one of your students in your Edged Weapon Defense Course and I cant thank you and your staff enough for the support you lend to helping emergency service workers stay safe. Your patience, breakdown of skills, and real-time sparring was impressive and definitely worth many visits..."


-Name Available Upon Request-
NYPD, Firearms Instructor


Just wanted to say that I took the Trigon Tactics Basic Grappling and Edge Weapon Course and it is a must for all Law Enforcement especially the edge Weapon course.
It was very realistic and intense !!!!!!! As a Warrant Officer in NYC I really enjoy the course and look forward to future training.
Sonny Mayo is a great trainer!!!!!!!!!
-Name Available Upon Request-
NYC Warrant Officer


Sensei Mayo and Trigon Tactics is a treasure-trove of defensive tactics knowledge located right in Queens, NY. As a Police Officer i can tell you that the CQB firearms training and edged weapons defense taught at this academy is absolutely necessary for anyone in the field of Law Enforcement. Sensei Mayo is a true professional and Patriot. Thank you and your staff for all you do for the Law Enforcement community!


-Name Available Upon Request-
Capt. NYPD Warrant Squad