4-H Zettiology Art Workshop
Description
Art Explosion Classes For the Entire Family
4-H has crafted a series of arts and crafts classes that can accommodate each family member. The whole family is encourage to attend together, tell your relatives, bring your friends, you do not need to be in 4-H to attend. Some classes do have some age restrictions because of difficulty, and others will require a parent to attend as their child's helper (at no charge). Please look for those details before signing up. All classes will be held at the Wicomico Extension Office, 28647 Old Quantico Rd. Salisbury.
---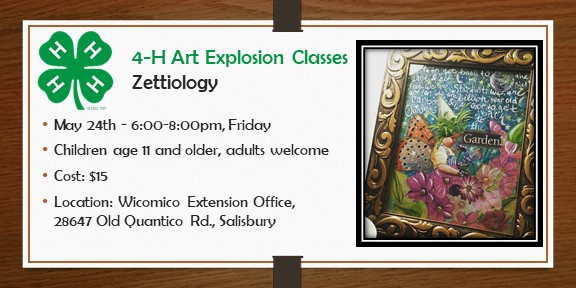 May 24 – 6:00-8:00pm, Friday

Children 11 and older, adults welcome
Cost: $15
Zettiology mixed media/collage: Learn about the artwork style of Teesha Moore and create your own artwork in her style "zettiology". We will be using mixed media and collage techniques to complete a creative piece of art. Bring some inspiration for your artwork such as lyrics to your favorite song, favorite quotes, poems, sayings, etc. Additionally you may also bring magazines, book pages, or other ephemera, that we can cut and use in your artwork! A picture frame will be provided to each participant for their finished zettiology - these will be various styles and sizes. Approx. class time is 2 + hours.
Payment is accepted by check, credit card or cash.