Youth will help solve the mysteries of bread and develop their own sourdough starters with just 5 minutes per day over 15 days!
About this Event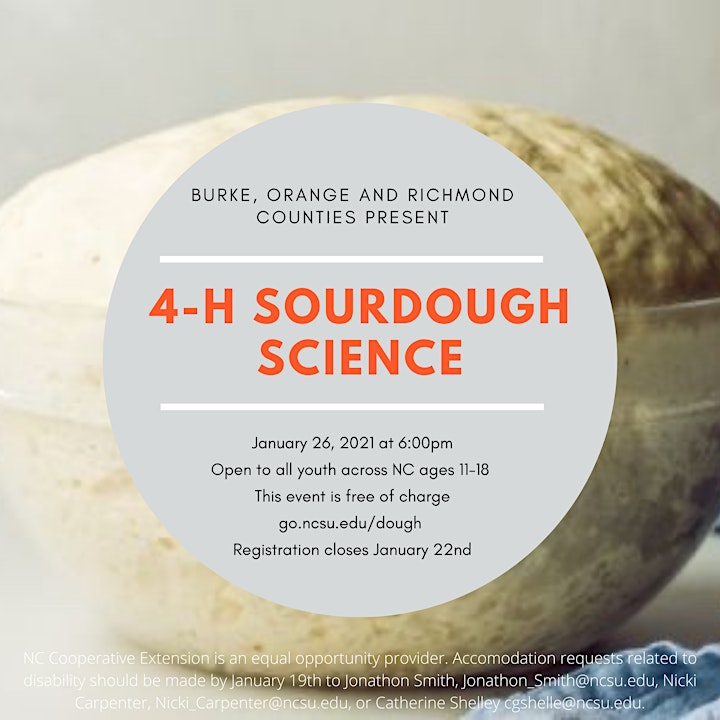 Humans have been baking bread all over the world for thousands of years, yet we know almost nothing about the microbes that make a traditional sourdough bread. In this activity, North Carolina students ages 11-18 will have the opportunity to solve the mysteries of bread! At the end of this workshop, you'll have everything you need to measure height and pH, track the growth of a microbial zoo over time, and share data with REAL scientists.
Hosted by the 4-H programs of Burke, Orange, and Richmond Counties. Open to all North Carolina students ages 11-18.
---
Supplies you will need for this workshop and sourdough activity*:
About 2 cups of flour (You can use any type you like except coconut. Rye, whole wheat, all-purpose, etc. all work fine.)- You may want to have more on hand in order to make your favorite sourdough recipe later after the starter activity is completed.
Dechlorinated water (You can use filtered, bottled, or tap water. If using city/town tap water, leave it in a clear glass overnight to dechlorinate it.)
Mason-style glass jar or similar (half-pint or pint-sized jar or regular glass drinking cup of the same size)
Cloth or paper napkins to use as jar covers
Rubber band
Ruler
Measuring spoons (teaspoon and tablespoon)
Spoon or butter knife for mixing
(On January 26, students will learn how to begin the process of creating a sourdough starters and then take about 5 minutes each day for 15 days to feed their starters. Further details will be shared in this workshop.)
*If you need assistance in attaining these supplies before the workshop, please indicate that on your registration form and we will have your county 4-H agent contact you.
---
IMPORTANT: Please read the liability, assumption of risk, indemnification language, and program expectations at the bottom of this page. You will be asked to agree to these terms in your registration. If you do not agree, the child you are registering will not be able to participate in the program. A photo/media release is also included below; you may opt out of the photo/media release and still participate in the program.
NORTH CAROLINA 4-H YOUTH DEVELOPMENT PROGRAM LIABILITY, ASSUMPTION OF RISK, PHOTO & MEDIA RELEASE, AND INDEMNIFICATION AGREEMENT
In consideration of NC State University allowing my minor child to participate in the North Carolina 4-H Program, (hereinafter "Program"), I, for myself and/or on behalf of the minor child listed below ("Minor"), agree as follows: I affirm and acknowledge that I am participating in the Program for my own personal benefit. I understand that I will participate in recreational and other activities as part of the Program and that such activities have inherent dangers and physical risks. I understand and acknowledge that the inherent dangers and physical risks involved in these activities are such that no amount of care, caution, instruction or expertise can completely eliminate them.
These dangers and risks include, but are not limited to, loss of or damage to personal property, strains, sprains, bruises, heat exhaustion, and other personal injuries, or even death, that could result from tripping, falling, contact with other individuals, and equipment failure, among other causes. I assume responsibility for all risks, known and unknown, involving my participation in the aforementioned activities, and I voluntarily authorize my participation in reliance upon my own judgment and knowledge of my experience and capabilities.
I represent that I am acting on my behalf or as the parent or legal guardian of the Minor and I have authority to enter this Agreement. I also represent that I am in proper physical and other condition to participate in the Program. I understand that it is my sole responsibility to determine whether I am sufficiently fit and healthy enough to participate in the Program, and if necessary, I will consult with my physician for appropriate guidance.
I hereby agree to indemnify and hold harmless NC State University and its trustees, officers, directors, employees and agents (the "Released Parties") from any liability, losses, costs, damages, claims or causes of action of any kind or nature whatsoever, and expenses, including attorneys' fees, arising from, resulting from, or relating in any way to my participation in the Program.
I further agree that if, despite this Agreement, anyone - on the Minor's behalf, makes a claim against any of the Released Parties, I will indemnify, defend and hold harmless each of the Released Parties from any liabilities which may be incurred as a result of such claim.I understand that I am required to be familiar with and abide by the Program's rules and regulations, including the 4-H Code of Conduct and/or the NC 4-H Volunteer Standard of Behavior and any safety regulations established for the benefit of all participants. I accept sole responsibility for the conduct and actions of the Minor while s/he is participating in the Program.
PHOTO/MEDIA RELEASE - YOU WILL HAVE THE OPTION TO 'OPT OUT' OF THIS IN YOUR REGISTRATION.
I do hereby agree to be photographed, audio or videotaped by the NC Cooperative Extension, 4-H Program, and NC State University. I further agree that my image or likeness in photographs, videos, or audio may be used for educational or promotional purposes, including posting on the Internet. I agree that the use herein may be without compensation to me. I hereby waive any right to inspect or approve the finished electronic, photograph, or printed matter that may be used in conjunction with them now or in the future. I am expressly releasing NC Cooperative Extension, North Carolina 4-H Youth Development, and NC State University, its agents, employees, licensees and assigns from any and all claims which I may have for invasion of privacy, right of publicity, defamation, copyright infringement, or any other causes of action arising out of the use, adaptation, reproduction, distribution, broadcast or exhibition of such recordings.
PROGRAM EXPECTATIONS
The Program has established standards of conduct for all Participants. It is the responsibility of the Parent/Legal Guardian and the Participant to review the Program rules and standards of conduct. Dismissed Participants may not be eligible for a refund of any fees or expenses.
The Program agrees to:
- Provide an agenda outlining the activities of the Program including the times, days, and how to access content.
- Collect registration information such as participant name, address, phone number, parents/guardian(s) name(s), phone number(s) and email(s).
- Provide a supply list and recommendations for setting up the home work space to help participants fully engage in the program.
- Take attendance and only allow registered participants to participate.
- Only communicate with participants through official Program platforms.
- Ensure that two or more Program staff are present for the duration of the program.
- Keep conversations and interactions focused on the Program goals and objectives.
- Create an environment where everyone is welcomed and given the opportunity to succeed.
- Ensure that all participants are treated with dignity, fairness and respect. Harassment will not be tolerated. Hazing of any kind is prohibited. Cyberbullying is prohibited.
- Address problems that are brought to their attention.
- Will not share personal information, email, or social media accounts with minor participants.
The Participant agrees to:
- Participate in the digital environment to the same standard as a physical environment, including participating when called on, listening attentively, and minimizing distractions to others.
- Not share links or passwords for Program meetings or content.
- Challenge themselves to engage, be present and learn.
- Complete assigned projects on time.
- Request help if needed.
- Mute when not talking.
- Dress appropriately when on video.
- Not take inappropriate screenshots or images.
- Assume good intentions and have fun!
The Parent/Legal Guardian(s) agrees to:
- Assist the participant in setting up the home environment to meet the goals of the Program.
- Ensure the participant logs in on time and is prepared for the Program.
- Limit distractions and keep the participant safe throughout the duration of the Program.
- Allow time for the participant to complete required assignments.
- Communicate with staff prior to Program start time if the participant must be absent.
- Work with Program staff to resolve issues that may arise.
- Report illegal or inappropriate online behavior by staff or program participants:
- Office of Youth Programs and Compliance Incident Report
- Contact protectionofminors@ncsu.edu or call 919-515-4256
- For emergencies contact NC State Police at 919-515-3000
The following may result in being dismissed from the program:
● Bullying, harassing or using derogatory language towards another person or group of people.
● Being under the influence of alcohol or drugs.
● Repeated absences or failure to meet agreed upon program work requirements.
● Violation of a University code, policy, or regulation.
What are the consequences if the participant does not meet Program expectations?
● Staff will give a verbal or written warning regarding behaviors and actions that are not allowed and in most cases give the participant an opportunity to correct the behavior.
● Depending on the behavior, they may also contact the parent or legal guardian.
● In some cases, staff may require a corrective action plan in order to stay in the program. Some behaviors may result in immediate suspension or termination.
Questions? Contact Jonathon Smith (jonathon_smith@ncsu.edu), Nicki Carpenter (nicki_carpenter@ncsu.edu) or Catherine Shelley (catherine_shelley@ncsu.edu).