Location
Proof Bar and Incubator
422 East Martin Luther King Boulevard
Chattanooga, TN 37403
Refund policy
Contact the organizer to request a refund.
Eventbrite's fee is nonrefundable.
The Tennessee Whiskey Festival & 4 Courses and Supper Club are joining with Uncle Nearest Premium Whiskey for "4 Courses and Whiskey Supper
About this event
THE TENNESSEE WHISKEY FESTIVAL AND 4 COURSES AND SUPPER CLUB JOIN FORCES FOR A VIRTUAL EVENT 4 COURSES AND WHISKEY SUPPER BENEFITING THE FUTURE READY INSTITUTE OF HAMILTON COUNTY'S
BRAINERD HIGH SCHOOL CULINARY ARTS PROGRAM.
CHATTANOOGA, Tennessee –– (September 1, 2020)
For the first time in seven years, like many other events, the Tennessee Whiskey Festival has postponed its annual festival until 2021. Pivoting in an effort to quench the thirst of its attendees, showcase culinary artisans and distilleries, they are excited to announce a partnership with 4 Courses and Supper Club to offer a virtual " 4 Courses and Whiskey Supper" on Sunday, September 13, 2020, with proceeds benefiting the Future Ready Institute of Hamilton County's Brainerd High School Culinary Arts Program.
"4 Courses and Whiskey Supper" features two Black chefs and a Black chocolatier preparing the 4-course meal alongside the first female Black Master Blender preparing the cocktails/whiskey paired with each course.
Mashama Bailey, the Executive Chef, and Partner at The Grey in Savannah, Georgia. James Beard awarded Mashama "2019 Best Chef of the Southeast" Chef Bailey creates dishes using Southern ingredients, African flavors, and European influences. She works with regional seafood, meat, and seasonal produce. Born in the Bronx, studied at the Institute of Culinary Educations's New York campus, and worked in NYC restaurants for many years, the chef's roots are in Georgia. One of her greatest influences, Chef Edna Lewis, Bailey serves as chairman of the board of the Edna Lewis Foundation, whose mission, according to its website, is to "revive, preserve, and celebrate the rich history of African American cookery by cultivating a deeper understanding of Southern food and culture in America.
Tanorria Askew, of Tanorria's Table in Indianapolis, IN is a passionate home cook turned chef. She is the proud owner of Tannoria's Table where she works as a personal chef and tv personality. Born in Chattanooga, TN, and raised in Indianapolis, IN. A 2016 finalist on Master Chef Season 7 hosted by Gordon Ramsay, Tannoria walked away as 4th best home cook in America. Tannoria was a champion and practitioner for Teachers Credit Union's (TCU) Diversity and Inclusion (D&I) Initiative, leading the charge in winning the Indianapolis Mayor's Celebration of Diversity Award. She blended her passion for cooking and her passion for D&I to create Unity Tables, a safe space for women of different races, cultures, and backgrounds to sit around a dinner table and share their heart as a way to create unity.
Ella Livingston, chocolatier of Cocoa Asante in Chattanooga, TN. Ella was born in Ghana but moved to the U.S. at the age of 3, where she says although she had strong ties to her culture, she had little connection with the actual land. After studying abroad, she decided to bring a true taste of Ghana to Chattanooga and started, Cocoa Asante, a chocolate truffle company that uses cocoa sourced from Ghana. Ella sells her handmade truffles directly to local businesses for resale and online to customers since 2018. For Livingston, making and selling Ghana-sourced chocolate is about more than just taste. It's about supporting the farmers there through equitable business practices.
Victoria Eady Butler, the first female Black Master Blender, of the Black Woman-owned, Uncle Nearest Premium Whiskey. Victoria, the great-great-granddaughter of pioneering distiller Nathan" Nearest" Green, is carrying on her family's legacy. After 31 years in law enforcement, Victoria was approached to be interviewed about her great-great-grandfather and his foundational yet nearly forgotten contributions to American whiskey. An emancipated enslaved man, Nathan "Nearest" Green is credited with perfecting what came to be known as the Lincoln County process of charcoal filtration distinctive ton Tennessee-style whiskey and, in the mid-1800s, teaching a young orphan named Jack Daniel how to distill spirits. When Jack Daniel's Distillery opened in 1866, Green was its first head distiller and the two remained close friends for life. Generations of the Green family have worked at Jack Daniel's, including Butler's two sisters and her youngest brother, and tours of the distillery now detail Green's role. Fast forward to 2016 when Victoria agreed to meet with Fawn Weaver, Black Author, and Black entrepreneur. It became clear that the best way to perpetuate Green's legacy was to put his name on a bottle of whiskey with the direct participation of the Green family. That plan has grown to become Nearest Green Distillery, maker of Uncle Nearest, the fastest-growing independent American whiskey brand in history.
To keep all participants safe during COVID-19 this will be a virtual event. The food and cocktail pickup will take place at Proof Bar & Incubator located at 422 East Martin Luther King Jr. Blvd. from 2:00 pm - 4:30 pm. We are grateful to Proof Bar & Incubator allowing us to utilize their space for preparation and pickup. Participate in the live-streamed conversation with all three chefs, chocolatiers, and master blender starting at 6:00 pm to learn more about their history, culture, southern roots, and how they incorporate it into their craft. Silent Online Auction will be available for additional support.
Tickets are available via Eventbrite at https://bit.ly/2FkVHxv
Thank you to the following sponsors and partners in helping to make this event a success.
Footprint Foundation
Benwood Foundation
Lodge Cast Iron
Sequatchie Cove Farms
What Chefs Want
Marithyme Seafood
Hoff and Pepper
Proof Bar & Incubator
RISE Chattanooga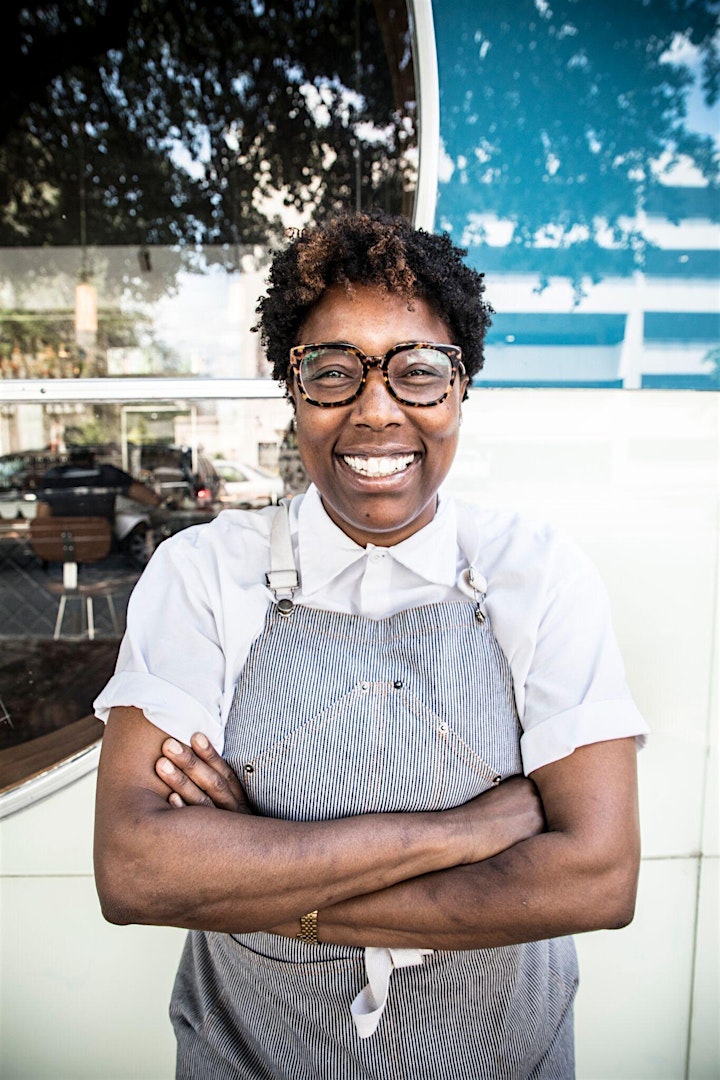 Chef Mashama Bailey-2019 James Beard Best Chef Southeast, Chef/Partner of The Grey in Savannah GA, Featured in Season 6 Netflix Chef Table Series.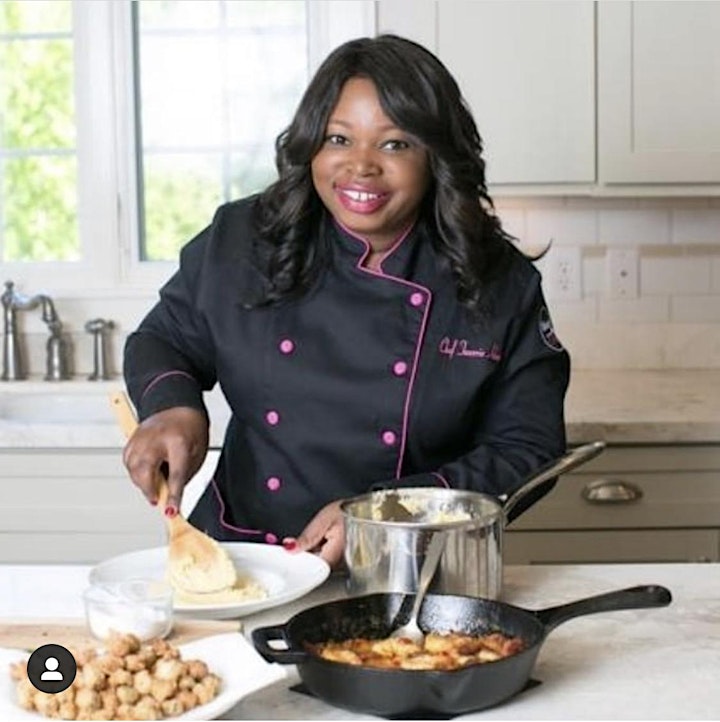 Tanorria Askew-Master Chef Season 7 Finalist and Owner of Tanorria's Table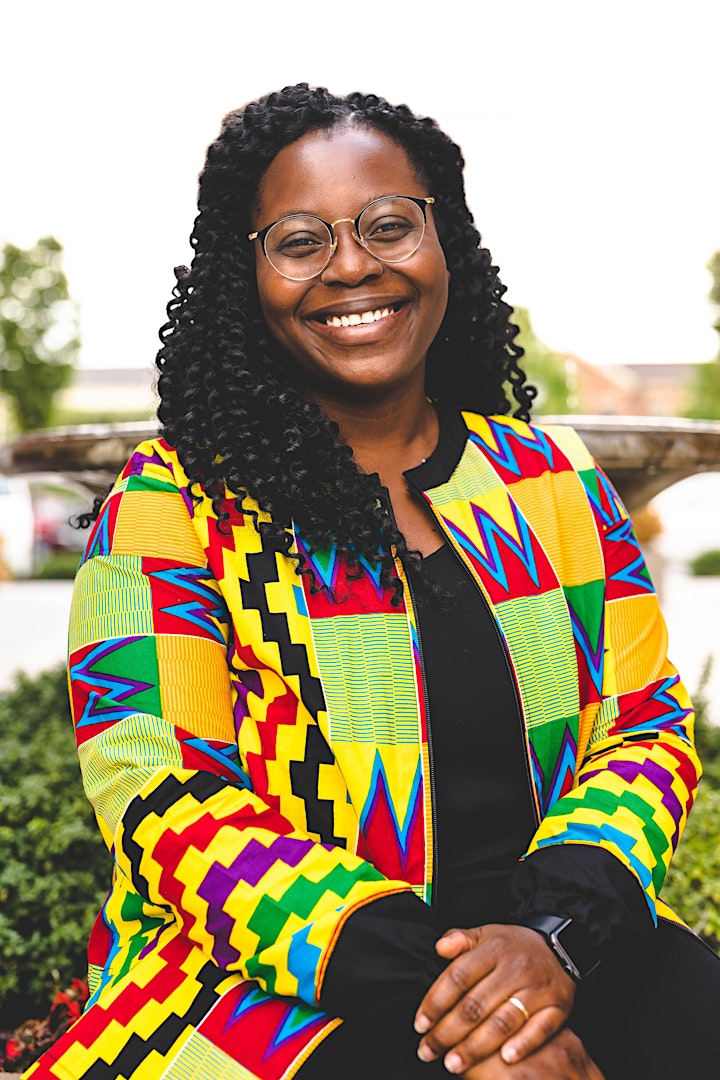 Ella Livingston-Owner of Cocoa Asante
Coco Asante is a local chocolate company that handcrafts premium truffles using fresh ingredients and cocoa beans sourced from Ghana. Including with your Final course is a limited edition dark chocolate truffle with a whiskey-infused caramel center. Featuring Uncle Nearest Premium Whiskey.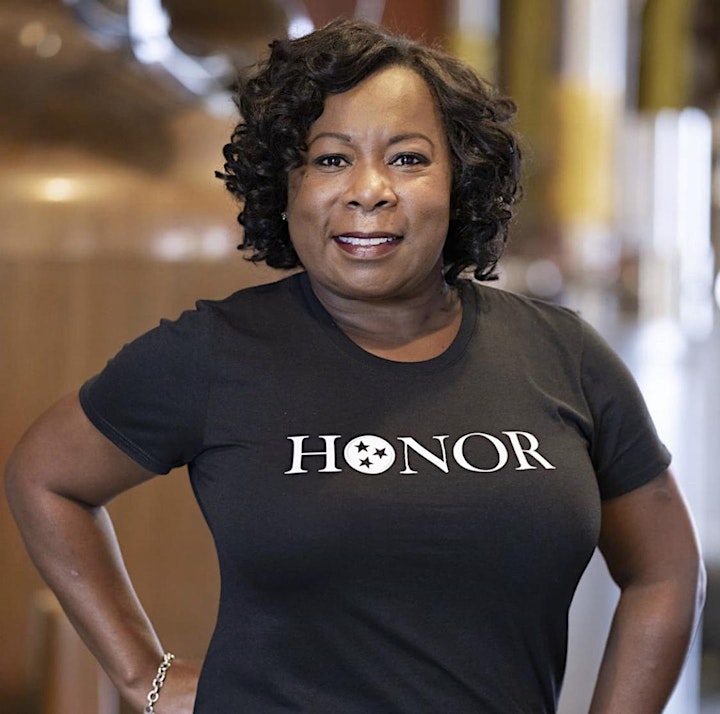 Victoria Eady Butler-Master Distiller of Uncle Nearest Premium Whiskey
1st Course
Farmers Salad-Sequatchie Cove Cremery Shakerag Cheese with Local Vegetables and Anson Mills Farro Verde
Cocktail Pairing-Lasting Impression
2nd Course
Shrimp & Andouille Over Stone Ground Polenta
Cocktail Pairing-Black Wall Street
3rd Course
Sequatchie Cove Smoked Lamb, Watermelon Molasses, Roasted Eggplant and Yukon Gold Potatoes
Cocktail Pairing-Copper Skies
4th Course
Ghanaian Chocolate Truffles Infused Tennessee Whiskey
Cocktail Pairing-Uncle Nearest 1884 Single Barrel Small Batch Neat (Victoria Eady Butlers Small Batch Toast)
Each course is paired with a Uncle Nearest Premium Whiskey Cocktail with flavor profiles to complement each dish.
4 Courses and Whiskey SupperShrimp and Grits Heating Instructions:
Place grits in the microwave for 30-60 seconds. Stir to ensure they are fully heated through. Heat shrimp separately for approx. 30-45 seconds. Heating for too long could compromise the texture of the shrimp.
It is recommended you heat the okra in a 400 degree oven for 5-7 minutes to keep them crisp.
Lamb Reheating Instructions:
place the lamb container in the oven at 325 for 15-20 minutes