Description
Award Winning Producer Matt Berky of Massive Productions Presents a 4-class

Voice-Over Training S

eminar.
Has anyone ever told you that you have an amazing voice? Or told you that you should try voiceovers?
Now is the time!
Take your voice to the next level with a 4-class Voice Coaching Seminar from Massive Productions, LLC. In today's world of on demand media content, voiceovers have never been more important. With voiceover classes from Massive Productions LLC, you'll be working with award-winning audio engineer and composer Matt Berky and learning from his 20 years in the industry.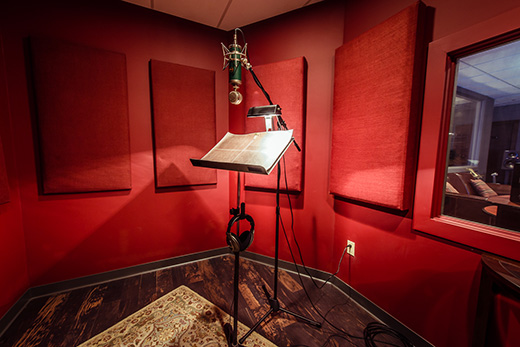 Session 1 - "The Industry" 3 Hour Group Class (Saturday October 12th)
In our first group session you'll get an in-depth look into the voiceover industry today, how it works, who hires you, how to establish yourself in the business, equipment needed to be successful, how to network yourself to clients and companies as well as brief history. We'll connect remotely to voiceover talents in their home studios and listen to them read various scripts in different styles. Rounding out this experience, we'll get you mic'ed up and into the booth for some hands on experience. This is where you'll get a feel of what it will be like to be a professional voiceover talent! Food will be provided, please let us know if you have any dietary restrictions.
Session 2 - "Rapid Fire" 2 Hour Group Class (Saturday October 26th)
In our second group session, will encompass a rapid fire in booth experience. Grab a script and into the booth you go with no preparation. The goal of this class is to get you as much booth time as possible. We'll also have George Ledoux, a CT based VO talent in studio to learn from his experience and listen to his voice styles. Snacks will be provided.
Session 3 - "Get in the Booth!" 1 Hour Individual Class (scheduled based on your availability)
In session 3 you'll get an hour of ONE-ON-ONE coaching time with Matt in the studio. We'll read a multitude of scripts ranging in complexity and voice style. By end of the session you'll have practice material for our final session, the demo recording.

Session 4 - "The Demo" Individual Professional VO Demo (scheduled based on your availability)
In the final session, you'll be presented with a custom script and we'll record your very own voiceover demo ONE-ON-ONE (a $1,000 value). We'll spend an hour in studio together making sure we capture the very best of what you can do!