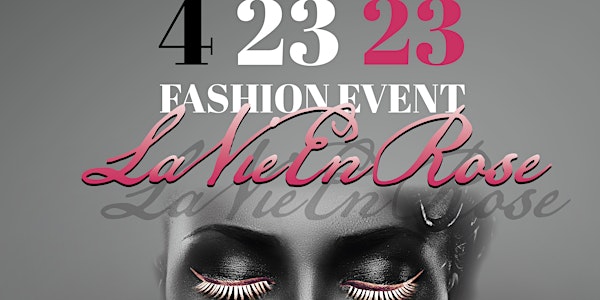 4 23 23 FASHION EVENT ( LA VIE EN ROSE ) SUNDAY APRIL 23RD 2023.
A Professional Styled Runway Show With High Stepping Models and Couture Designers on a 110 Foot Long Runway. Featuring Dr Dee Dee Freeman.
By FASHION ICON HARVEY STAR WASHINGTON
Date and time
Sunday, April 23 · 4 - 6pm EDT
Location
Walter E Washington Convention Center, 801 Mt Vernon Pl NW 801 Mount Vernon Place Northwest Washington, DC 20001
Refund Policy
Contact the organizer to request a refund.
Eventbrite's fee is nonrefundable.
About the organizer
Producer / Director / Fashion Designer / Stylist /  
Offering 40 years of specialized experience
Well qualified founder of Experts the Image with proven ability to deliver high quality work and excellent customer satisfaction.  Areas of strengths include the following:
Strategic Planning and Leadership

Site selection that provides safety and best revenue

Event Planning

Contracts and Vendor negotiations

Staging of venue

Event Marketing and Promotions

Superior multi-tasking talent with the ability to manage multiple high priority assignments and develop solutions to challenging problems.

On-site management
Qualification Highlights
Produced and Directed over 300 signature events which reflect impeccable attention to detail and a flair for grand entertainment.  Have earned an unmatched reputation for snatching audiences from their seat to their feet.

Maintain an excellent customer satisfaction rate that allows for repeat performances.

Handled various aspects of professional tour management wherein coordinated various activities and managed staff.

Handle every aspect of the road tour such as budget, hiring crew, freight, transportation, props, equipment, wardrobe, dressers, hair stylist, makeup artist, costume assistants, dancers and security.

Organize and maintain a team of dedicated and motivated individuals.

Ensured that every requirement of the tour was catered to and received applause for a well  handled tour.

Designed and sketched wardrobe for key clients for the Grammy's, videos and pageants.
Harvey Star Washington (cont'd p.2)
Production History
2012 - Designed six custom outfits for Oscar and Grammy Winner Jennifer
                Hudson  and was also the feature on a E news Segment
2010 – Be'Dazzled, Be You, Be Fabulous in Chicago, Illinois with guest model
                 and award recipient JuliaHudson
2009 – Embracing the Change " a pre-inaugural fashion celebration" in
                 Washington, DC
2009 – Be'Dazzled, Be You, Be Fabulous in Washington, DC

2008 – Styled and coordinated video for Grammy Award Winner songstress
                 Ann Nesby in Orlando,FL
2008 – Fashionology Tour "the art of fashion"
2007 – Red Carpet Event 12 city tour; 30,000 attendees
2006 – Bodylines 15 city tour; 25,000 attendees

2006 - Monique's Fat Chance; image producer and costume designer. 
                Considered for an Emmy Nomination for Best Costumes
2005 – Monique's Fat Chance; image producer.

2005 – Bon Voyage 10 city tour; 15,000 attendees

2005 – 29th Annual Congressional Black Caucus Fashion Show

2004 - 28th Annual Congressional Black Caucus Fashion Show

2003 - The Evolution of Fashion 12 city tour; 20,000 attendees
2002 – La Tour De Couture 12 city tour; 15,000 attendees
2001 – High Heels "the fashion frenzy" 10 city tour; 15,000 attendees
2000 – Vision 2000 "couture into the millennium" 10 city tour; 15,000 attendees
1999 – Back to Glamour 6 city tour; 7,000 attendees
1998 – Curtain Call "a Broadway fashion love affair" 2,500 attendees

1998 – Producer of the 22nd Annual Congressional Black Caucus Spouses
                Fashion Show; 2,500 attendees
1997 – Lady Legends at Washington Convention Center; 2,500 attendees

1997 – Going Hollywood Fashion Show, Chicago, IL; 1,200 attendees

1997 – Salute '97 Fashion Awards; 300 attendees

1996 – The DeAngelo Concert & Fashion Show at DAR Constitution Hall; 5,000
                 attendees
1996 – Going Hollywood Fashion Show at Washington Convention Center; 2,000
                      attendees
1995 – The Questers Annual Fashion Show Fundraiser Luncheon; 3,000
                 Attendees
Harvey Star Washington (cont'd p.3)
1994 – Curtain Call: The Broadway Fashion Love Affair Congression Black
                 Caucus; 4,200 attendees
1993 – Full-Figured Women on Broadway; 1,600 attendees

1993 – Magazine Cover '93; 1,000 attendees

1993 – Parade of Stars "fundraiser for children hospital"; 500 attendees
1993 – Notorious; 1,200 attendees
1992 – Salute '92; 1,200 attendees
1992 – Children of the World Fashion Showcase; benefit for neglected and
                 abused children
1991 – Front Page; 1,200 attendees
1990 – International Showcase; 1,500 attendees
1989 – Contagious "catch the fever"; 5,000 attendees

1985 - 1987 Lee Elder Golf Tournament Fashion Shows; 2,500 – 3,000
                attendees
1984 – Stardom Fashion Show benefit for Muscular Dystrophy; 2,500 attendees

1980-1983 – Various fashion shows