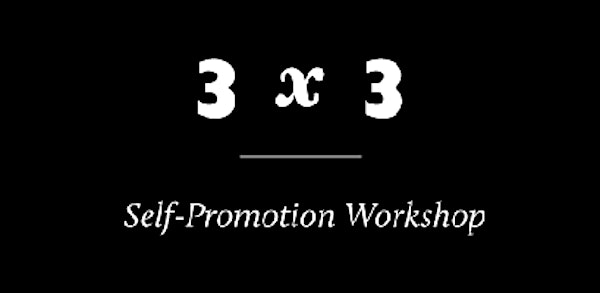 3x3 Self-Promotion Workshop
By 3x3, The Magazine of Contemporary Illustration
Date and time
June 15, 2013 · 10am - July 20, 2013 · 12pm EDT
Location
631 Vanderbilt St Brooklyn, NY 11218
Description
About the Workshop
We're opening our live/work studio in Brooklyn to a series of workshops this year; our first is on self-promotion. Open to all freelancers at all levels this intensive, interactive 6-session workshop (12 hours total) will help you better understand who you are and what you have to offer clients and who your best prospects happen to be.
Based on a series of marketing seminars and lectures these techniques have been used successfully not only to win new clients but also can be used in approaching each client project in a more scientific way.
Subjects we'll be covering: Personality Types, Strategy and Tactics, Perceptual Mapping, Advertising vs. Publicity and Campaign Planning.
We'll also touch on stronger email messaging, developing better mailing lists and exploring ways to help you promote yourself and your work. Read more about self-promotion on our blog.
Event Details
Date: Saturdays, June 15–July 20th, 2013
Time: 10am–12pm Noon
Place: Brooklyn, NY
Fee: $600 ($300 is refundable before June 12th, no refunds after June 12th. Missed sessions are non-refundable)
Registration includes all printed materials including our step-by-step workbook.
Seating is limited
Payment Plans are available, please contact us for details.
---
About Charles Hively
Charles has founded two award-winning advertising agencies and has worked as creative director for major international advertising agencies during his illustrious career. His interest goes beyond developing the creative concept, delving into scientific marketing research to better prepare for his client's needs—a rarity among most creative people. Using a scientific approach he's helped grow businesses large and small. Hively's most notable success has been for Subway Sandwiches when he created the attention-grabbing "6 grams of fat or less" positioning for this thirty-year old sandwich franchise that not only wowed consumers but lead to unprecedented sales across the country. As a results-oriented creative person, Hively makes sure the strategy is right before making it look beautiful. Hively has received over 450 creative awards from local, regional and national competitions, including two coveted EFFIEs presented by the American Marketing Association judged for campaign results.
Articles about Hively's work have appeared in the Wall Street Journal, the New York Times, and Graphic Design: USA and his work has been published in The Pun in Graphic Design, numerous advertising and graphic design annuals, and his work is included in the AIGA Design Archive.
He is currently a founding partner in Artisanal Medial LLC in New York City, which publishes 3x3, The Magazine of Contemporary Illustration as well as Creative Quarterly, The Journal of Art & Design in addition to various books on art, photography and graphic design. The two publications have been featured in shows sponsored by the Society of Publication Designers, the Society of Illustrators, Print, Communication Arts, Applied Arts and HOW International Design Annual. He also created the Nuts & Bolts Conference for young illustrators held annually at the Society of Illustrators.
Most recently he has lectured at important illustration industry events and universities here in the US as well as Canada, the United Kingdom and Germany and has taught senior-level graphic design courses at Parsons The New School for Design. In addition, he is the author of Nuts & Bolts: A Blueprint for a Successful Illustration Career and is currently working on his second book.
Hively is a member of the AIGA, Society of Publication Designers and is a former governor on the board of the American Association of Advertising Agencies.