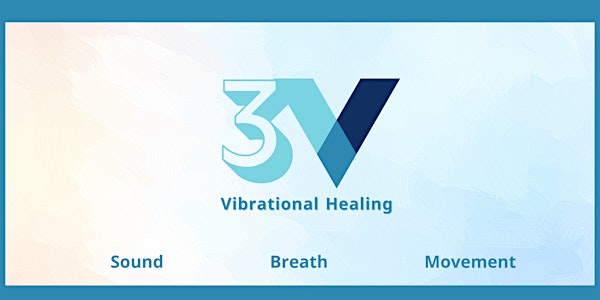 3V- Sound, Breath,Movement- Vibrational Healing
Join us for an evening of up-leveling your mind, body and soul through Sound, Breath and Movement.
When and where
Location
Pasadena Address will be shared to attendees Pasadena, CA 91104
Refund Policy
Contact the organizer to request a refund.
Eventbrite's fee is nonrefundable.
About this event
Hello beautiful Humans!
You may have heard by now that we are made of energy. (wink)
You may have also heard that often illness, anguish or chronic physical pain is caused by trapped energy.
However, did you know that trapped energy causes stagnancy that leads to inflammation, which in turn starts the imbalances we all suffer from. Since the flow of our nervous system is set in these repetitive patterns, we all get held in unhealthy symptomatic cycles.
Unfortunately, in this modern, hectic and often stressful world we live in NO ONE escapes this!
So, how do we retrain the nervous system so that the trapped energy moves, the electricity in our bodies flows, and chronic illness gets healed?
Welcome to 3V - a LIVE in person experience where we will guide you through a combination of Breathwork and Movement , capped off with a juicy Sound bath so you walk away feeling reconnected and rejuvenated.
If you'd like to:
Release stress & anxiety
Reduce emotional overwhelm
Alleviate depression, sadness, past pain
Improve creativity & focus
Restore emotional wellbeing
Still your mind & calm your body
Then join us in this community gathering to both heal deeply and magnetize fully - From the inside out.
Meet Your Hosts:
Jordana Toback (Core Energetics) is a professional dancer/choreographer, somatic psychotherapist, minister and movement coach of 30 years.
Tom Rossi (Sound Bath) is a minister of Music Healing, composer and songwriter.
Amie Barsky- Mind ~Body, Trauma Informed Master Coach & Breathwork Facilitator
We are super excited to see you there-
Jordana, Amie and Tom
PS. WE ADDED SOMETHING EPIC - Breathwork will be a FULL SURROUND SOUND experience through state of the art headphones (we provide them) for the most intimate and impactful journey.
If you have any questions please feel free to message Amie or Jordana on IG! @amiebarskycoaching @jordanache_
FREQUENTLY ASKED QUESTIONS:
WHAT DO I NEED TO BRING? Blankets, comfortable and loose clothing, pillow for under knees, eye mask, yoga mat, water bottle, journal and of course, yourself.
WILL THERE BE VIDEOGRAPHY AND/OR PHOTOGRAPHY? Yes, parts of the session will be filmed and photographed. The magic that is captured at these events will be utilized to inspire other people to feel safe and curious to also attend and experience possible transformation.
WHAT IS THE STRUCTURE OF THE SESSION? It is approximately 2.5 hours long. We will begin with an opening circle, answer any questions, then move into Core Energetics movement. From there we'll move into a guided and safe Breathwork practice, slowly transition into the Sound Bath And, finally, integration and sharing.
WHAT IF I HAVEN'T DONE BREATHWORK BEFORE?
Breathwork is open to all levels of education, experience, and practice. This particular style of Breathwork can result in intense physical and emotional releases. It not for those who are pregnant, have a cardio vascular disease, epilepsy, mental / emotional condition on the extreme end: bipolar 1, manic depressive, schizophrania, elderly with fragile bones.
CAN I BRING A FRIEND?
Yes, absolutely – space is limited, so book now!
I HAVE EXPERIENCED TRAUMA IN MY LIFE, IS THIS MOVEMENT & BREATHWORK SAFE FOR ME?
It can be, however, consulting a professional and physician first is always advised.