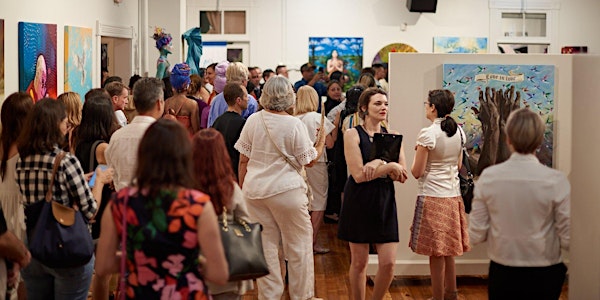 3rd Thursday Gallery Hop: CityArts January 2023
Join us for 3rd Thursday at CityArts. Check out the seven new exhibitions and meet the artists!
When and where
Location
CityArts 39 South Magnolia Avenue Orlando, FL 32801
Refund Policy
Contact the organizer to request a refund.
About this event
3rd Thursday Gallery Hop
Opening Night Reception
CityArts (39 South Magnolia Avenue)
Thursday, January 19, 2023
6:00 p.m. – 9:00 p.m.
CityArts is a proud partner of the newly expanded 3rd Thursday Orlando: Arts. Making. History.
____________________________________________________
ADD ON: ($10) 3rd Thursday Orlando Wristband
Support DAD and City District Main Street by purchasing a wristband for event night discounts on food and drinks from neighborhood favorites. Complete list of specials included at: https://citydistrictorlando.com/thirdthursdays/
- Wristband includes one free drink at CityArts, Bullit Bar, and Wall Street
PARKING
CityArts provides parking validations for the Plaza Parking Garage ONLY. The validation reduces the parking fee to $4. The Library Parking Garage is closer, but CityArts does not provide parking validations for that garage.
____________________________________________________
Featured exhibitions at CityArts include:
Austin Commercial Gallery
arya visage | noble face – solo exhibition by Peterson Guerrier
Upstairs Signature Gallery
The Corridor Project Billboard Exhibition: Curated by Pat Greene
The Mahesh Chaddah Family Trust Spotlight Gallery
An Abstract Life- A Jennifer & Paul Columbus Art Show
CityArts Cafe Gallery
The Art of Stephen Shooster
Side Gallery
The Art of Nelson Cardenas
Redefine Gallery
I WONDER- art by Chris Tobar
Orlando Magic Young Artists Gallery
Wristbands:
Stretching from Wall Street Plaza to City Arts 3rd Thursday Orlando features a night market, art exhibitions, and live painting! Purchase a $10 wristband to unlock drink and food specials across the district! Don't forget to stop by Wall Street for the night market and the History Center for free admission until 8:00 p.m. Wristbands can be purchased at CityArts and Wall Street Plaza. https://citydistrictorlando.com/thirdthursdays/
____________________________________________________
After you visit CityArts, make your way over to the History Center for FREE ADMISSION until 8:00 p.m.(65 East Central Boulevard). There is also an art market at Wall Street Plaza!
Thank you to our event partners:
Dr. Phillips Center for the Performing Arts
City District
Bazaar Botanica
Orange County Regional History Center