To every family, Father is always the front-liner. The symposium will give you insights & practical tips to help fathers overcome obstacles.
About this event
3rd National Symposium on Fathering - Fathers on the Frontlines
Date: 19-21 Nov 2021
Venue: Better Dads Malaysia FB page
Session 1 - Keynote Address
Date: 19th Nov 2021
Time: 8pm - 9pm
Speaker: Kevin Pace, Director of SUMO Foundations, UK.
Topic: Fathers, Families & Raising Resilience - How SUMO can help you Make A Difference
Session 2
Speaker: Parcsen Loke, Head of Programme, Centre for Fathering Singapore
Topic: 3Rs of Father-son Relationship
Date: 20th Nov 2021
Time: 10am-11am
Session 3
Moderator: Joshua Hong
Topic: Fathers on the Frontline: Managing work-related psychosocial risks during the COVID-19 pandemic
Date: 20th Nov 2021
Time: 8pm-9pm
Panelists:
1)Jason Leong, Jason Leong, Co-founder & Advisor of Better Dads Malaysia
2)Bryan Tan, CEO of Centre for Fathering Singapore
3)Dehumo Bickersteth, Principal Consultant of DTB Services
Session 4
Speaker: Dr. Sabariah binti Baharun, Deputy Head of Women's Wing of Pertubuhan IKRAM Malaysia
Topic: The Role of Parents in Nation Building
Date: 21st Nov 2021
Time: 8pm - 9pm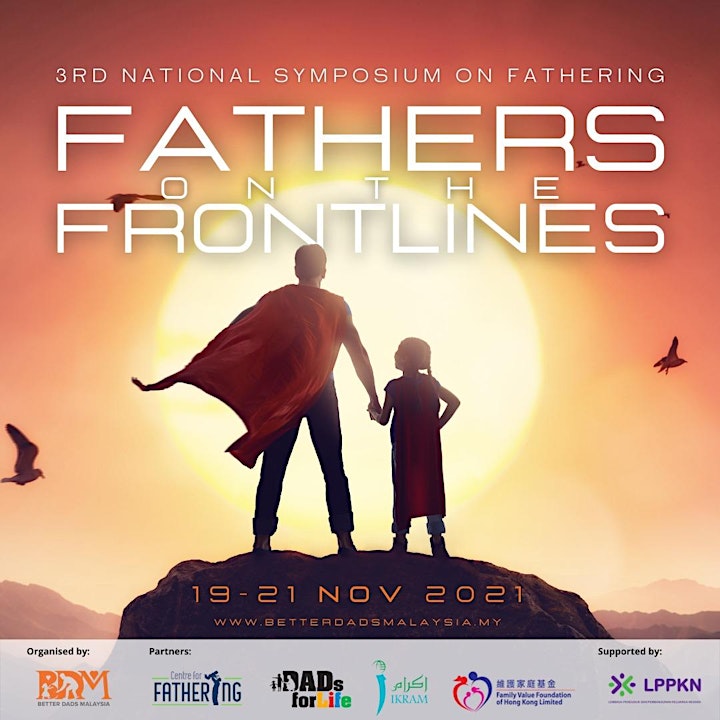 Organizer of 3rd National Symposium on Fathering - Fathers on the Frontlines