Sales Have Ended
Ticket sales have ended
Thank you for registering to attend the Latin America Ports Forum 2016 in Panama City, Panama. Should you need further assistance, please contact info@latamports.com
Sales Have Ended
Ticket sales have ended
Thank you for registering to attend the Latin America Ports Forum 2016 in Panama City, Panama. Should you need further assistance, please contact info@latamports.com
Description
3rd Latin America Ports Forum in Panama City, Panama on April 11-12, 2018
Projects, industry trends, technological innovation the evolving business opportunities within the port sector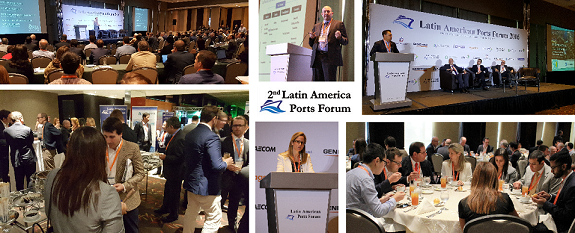 The annual Latin America Ports Forum (www.latamports.com) will gather regional port authorities, shipping companies, infrastructure project developers, construction companies concessionaires, operators, investors and government leaders to discuss opportunities revolving around the evolving port industry in Latin America.
To request agenda, click here.
Competitiveness and increased productivity are crucial in today's operating environment. Don't miss this unique opportunity to develop the strategic business relationships necessary to succeed in this market.
The evolution expected in the port and shipping business after the opening of the new set of locks at the Panama Canal is at the center of the conference agenda. Additional industry hot topics include ports productivity, multi-modal integration, new models of port governance as well as the region's most important brownfield and greenfield port projects.
Confirmed speakers include:
David Taylor,

Head of Engineering Latin America,

PSA

Oscar Bazán,

VP of Planning and Business Development,

Panama Canal Authority




Sean Strawbridge,

CEO,

Port of Corpus Christi

Teófilo Lemos,

CEO,

Turbo Pisisi Port

Juan Carlos Costron,

Vice President,

Caribbean Shipping Association and Manzanillo International Terminal

Murillo Barbosa,

President,

Asociación de Terminales Portuarios Privados de Brasil

Pablo Agudelo-Restrepo,

General Manager

, Darien Port International

Luis Felipe Lota,

Subdirector of Transportation and Planning,

Government of Colombia

Domingo Chinea,

CEO,

Port of Santa Marta

Miguel Bolinaga,

CEO,

AES Panamá

Ovidio Noval,

General Director,

Port of Coatzacoalcos

Darwin Telemaque,

CEO,

Antigua & Barbuda Port Authority

Alexei Oduber,

Director of Operations, Alliance Transport Logistics

Peter Lugthart,

South America Head

, Port of Rotterdam

Brian Blakely,

Lead Investment Officer,

Inter-American Investment Corporation (IIC)

Rommel Troetsch,

President,

Maritime & Logistics Group

Álvaro Ríos,

Director,

Gas Energy

Irma Garrido,

VP Corporate Development,

Banco Latinoamericano de Comercio Exterior - BLADEX

Julián Palacio,

Executive Director,

Latinports
The Latin America Ports Forum is supported by the Panama Canal Authority, Camara Martima and Latinports.

During the two day conference, industry experts and colleagues will discuss the evolving business opportunities related to the ports in Latin America. Significant attention will be placed on the infrastructure projects that will increase capacity in the region, and how ports and terminal operators are adapting to the continuous changes underway in the world and regional trade.
You are warmly invited to join us in Panama in April 2018. For those interested in sponsorship opportunities or group discounts, you can contact info@latamports.com
HOTEL INFORMATION - If you have already registered to attend and would like to reserve your room at the Sheraton Grand Hotel & Casino, there is a special rate of US$125 a night for LAPF delegates. CLICK HERE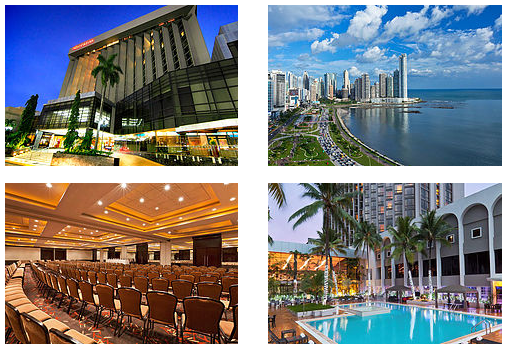 ESPAÑOL
El 3rd Latin America Ports Forum 2018 (www.latamports.com) se celebrará en Panamá los días 11 y 12 de abril en el Sheraton Grand Hotel y cuenta con el apoyo de la Autoridad del Canal de Panamá, Latinports, y la Cámara Marítima de Panamá.
Durante la conferencia se discutirá sobre el nuevo entorno que la ampliación del Canal de Panamá presenta para la industria portuaria de América Latina y el Caribe, la necesidad de mejorar la productividad y eficiencia de los puertos de la región, los desafíos de gobernanza de los puertos y sus áreas de influencia, la necesidad de transformar las terminales portuarias en nodos logísticos, las oportunidades que se presentan como centros para el desarrollo de áreas manufactureras bajo zonas francas o zonas especiales y las tareas pendientes en materia de integración multimodal. También dedicaremos un espacio al financiamiento de proyectos portuarios, a los puertos especializados en energía y a la evolución de la seguridad portuaria y naviera.
Entre los temas a tratar en la conferencia están:
Infraestructura: expansiones, nuevos puertos, nuevas terminales e hidrovías

Efecto de la consolidación en el mercado de líneas navieras

Tendencias en el tamaño de las naves y su impacto en los puertos de la región

Efectos de la expansión del Canal de Panamá

Cambios en las rutas marítimas

Proyectos de conectividad bioceánica

Productividad

Tecnología e innovación

Nuevos equipos

El factor multimodal y el rol de la infraestructura ferroviaria

Puertos secos y áreas logísticas

Terminales especializadas en energía

Evolución de los modelos de negocio: de puertos a complejos logísticos

Financiamiento y gestión de riesgos

Seguridad
Para descuentos grupales o información sobre oportunidades de auspicio se puede poder en contacto con nosotros a través de info@latamports.com
Organizer of 3rd Latin America Ports Forum 2018 - Panama