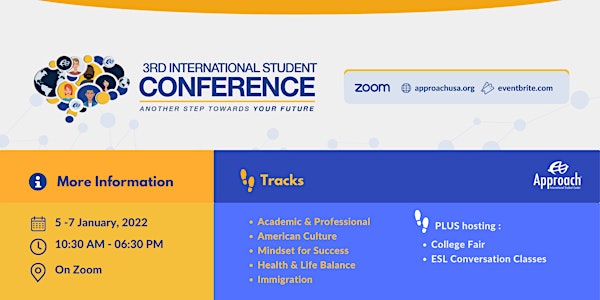 3rd. International Student Conference hosted by Approach ISC
The International Student Conference is back for a 3rd round, with the event opening its doors to the public this time around!
Refund Policy
Contact the organizer to request a refund.
Eventbrite's fee is nonrefundable.
About this event
Are you an international student living in the US? Or are you dreaming about becoming one?
Approach International Student Center® is thrilled to announce the 3rd International Student Conference to be held online from January 5th to January 7th, 2022. We are bringing outstanding speakers to share valuable information and to empower international students for future success. Connect from anywhere in the world and gain valuable knowledge on the following topics:
Academic & Professional Future
American Culture
Mindset for Success
Health & Life Balance
Immigration
During the conference, we will be hosting our Annual College fair and our University partners will be available to talk to you, explain the admissions process in the U.S. and tell you all about scholarships, fellowships, and much more!
Beyond that, you can participate in ESL conversation classes throughout the day and meet our teachers, who are certified and specialized in teaching English as a Second Language.
To find out more information about the conference and schedule, please visit our website.
The conference is FREE for Approach students. Non-Approach students, from as a little as $1, any donation you make will be the cost of your ticket. Donations of any amount are encouraged! REGISTER NOW and learn about different aspects of life in the United States, while planning your path towards a successful future!
PLEASE NOTE: If you have trouble registering for this event, make sure you have the latest Eventbrite App version. Or you can also DELETE Eventbrite app and use your WEB BROWSER to complete your order.
All proceeds will be donated to Baluarte in Nordeste and Baluarte in Luanda. Donate to qualify for a full scholarship to study at Approach full-time for one quarter!
Baluarte is a Brazilian NGO specializing in providing meals, school materials, and accessible education to impoverished communities. Alongside Baluarte, Approach has sponsored school materials and meals for children in Angola, as well as funded the building of a school in the Northeast of Brazil.
Thank you and see you there!
Learn more about BALUARTE