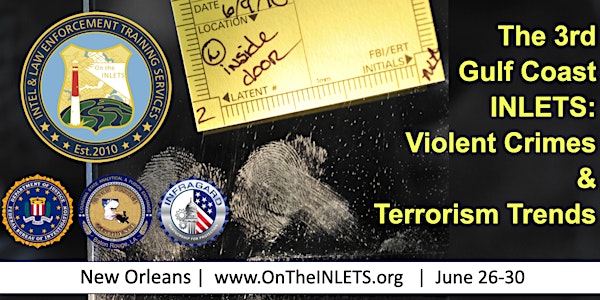 3rd Gulf Coast INLETS: VIOLENT CRIMES & TERRORISM TRENDS
The premiere law enforcement training seminar for investigators and analysts working violent crimes and terrorism.
Date and time
June 26 · 1pm - June 30 · 12pm CDT
Location
Marriott 555 Canal Street New Orleans, LA 70130
Refund Policy
Refunds up to 7 days before event
Eventbrite's fee is nonrefundable.
About this event
3 days 23 hours

Mobile eTicket
The 3rd Gulf Coast INLETS:
Violent Crime & Terrorism Trends
June 26-30, 2023
INLETS, partnering with the FBI, LA-SAFE - the Louisiana State fusion center, and InfraGard's Louisiana Chapter, invites you to the Violent Crimes & Terrorism Trends, annual seminar with experienced investigators and subject matter experts presenting on the most relevant topics facing law enforcement today. Join attendees from 100 agencies across 15 states who call INLETS the best training of their careers.
Presenters from London to New Zealand, from NY to LA, provide case studies, workshops, and breakouts giving attendees a look at violent crime and terrorism cases, investigative tools, and proven insight.
Presenters from New Zealand Federal Police, New Scotland Yard, LAPD, NYPD, Las Vegas Metro PD, FBI Profilers, with other Subject Matter Experts from the private sector.
CASE STUDIES:
The Christchurch Mosque Shooting (NZ)
The Salisbury assassination attempt (UK)
Murder in Westwood (CA)
1 October: the Las Vegas mass casualty attack (NV)
Digital Forensics in Homicide (FL)
KEY TOPICS:
Homicide Investigations
Investigative Genealogy
Social Media: finding people online
Jihadists & HVE Investigations
Managing Major Cases
Victimology
As always, registration includes two favorite elements of the weeklong program:
The Tribute to Heroes evening program:
The three-part evening program brings the attendees for liaison providing awards to recognize worthy peers, a remembrance for fallen officers, and a Keynote address by Clint Romesha, who will share his personal account of Battle of Kamdesh.
Outgunned and outmanned during an attack on a remote Afghanistan outpost in 2009, U.S. Army Staff Sgt. Clint Romesha led an improbable defense: Romesha led a firefight to reclaim a depot from a Taliban assault, organizing a five-man team to counterattack while still under fire. Despite being wounded, Romesha directed air support and provided suppressing fire to allow three other wounded American soldiers to reach an aid station and then recovered several American casualties while still under fire.
The Enrichment Visit: The National World War II Museum
Designated by Congress as the official WWII museum of the United States, The National WWII Museum is located in downtown New Orleans on a six-acre campus, where five soaring pavilions house historical exhibits, on-site restoration work, a period dinner theater, and restaurants.
Overnight Accommodations:
A special rate for INLETS attendees at the host venue. Reserve your overnight reservations here.
With Registration:
Registration includes access to all of the week's events, to include breakfast, lunch, afternoon snacks, the Tribute to Heroes evening program, the Enrichment Visit, over 30-hours of training for Law Enforcement, and much more. 
Designed for all levels of law enforcement, sworn officers and analysts, military and Intel personnel, FBINAA, and safety and risk leaders who are members in InfraGard, ASIS, and DSAC organizations.  
 FAQs:
Registration:  Attendees MUST register with their official work email address. 
Parking:  Plenty of free parking is available.
Attire:  The attire for the week is business casual.  Please do not wear shorts, jeans, or T-shirts.
For more information, updates, and information:
On Twitter: @OnTheINLETS
"Like" us on Facebook: On the INLETS
About the organizer
On The INLETS (INtelligence and Law Enforcement Training Seminar) began in 2011 and has been offered in seven states in the greater Mid-Atlantic region, including the five-day seminar in Annapolis as the Mid-Atlantic INLETS, as well as New Orleans, LA as the Gulf Coast INLETS, and the Hawaiian Island INLETS in Honolulu, HI.  
Referred to as the best training in law enforcement, it has welcomed nearly 10,000 attendees from over 1,000 agencies, 500 companies, 75 K-12 and Institutions of Higher Education, and 18 InfraGard chapters from more than 40 states across four time zones and seven countries. 
A collaborative training program, On the INLETS partners with the FBI offices in Washington, DC and Baltimore and the Maryland Coordination and Analysis Center (MCAC - the state fusion center).