3rd global conference of the Sustainable Food Systems Programme
The 3rd global conference of the Sustainable Food Systems Programme will provide substantial input to the 2021 UN Food Systems Summit
About this Event
The conference
The 3rd global conference of the Sustainable Food Systems Programme will be a major milestone in the preparation of the 2021 UN Food Systems Summit, strengthening cohesion among major initiatives and leading actors in the area of food systems and recommending widely supported game-changing actions and implementation mechanisms to promote sustainable food systems.
The conference will also be hosting the very first Food Systems Summit Global Dialogue, which is an invitation only event. Registration to the 3rd global conference does not grant access to the Food Systems Summit Global Dialogue.
The expected outcomes of the conference are:
To provide science-based recommendations on the range of actions that can advance food systems transformation within the priority areas identified in the outcome of the 2nd global conference, in contribution to the Action Tracks of the Food Systems Summit 2021; and
To provide recommendations that can help define the implementation mechanisms (including accountability mechanisms) for such recommended actions.
More info here.
Conference program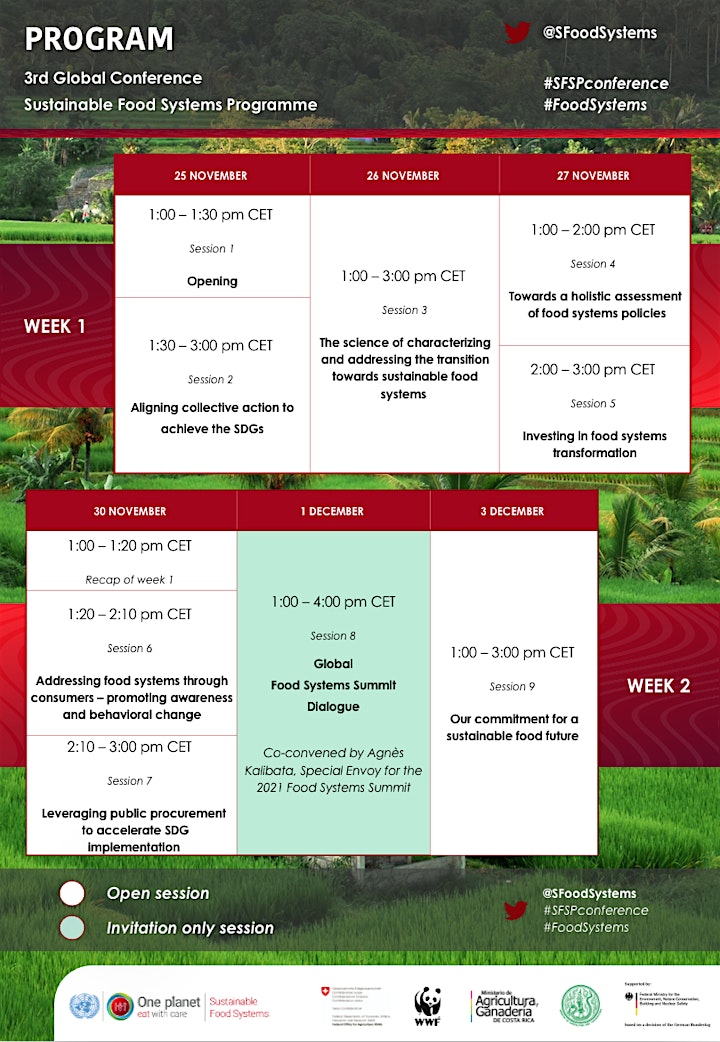 Confirmed speakers
Renato Alvarado, Minister of Agriculture and Livestock, Costa Rica
Agnes Kalibata, UN SG's Special Envoy for the Food Systems Summit
Thanawat Tiensin, the Chair of the Committee on World Food Security (CFS)
Elizabeth Mrema, Executive Secretary Convention on Biological Diversity (CBD)
Maximo Torero, Chief Economist, FAO
Jessica Fanzo, Bloomberg Distinguished Professor of Global Food & Agricultural Policy and Ethics, Johns Hopkins University
Christophe Béné, Senior Policy Expert, CIAT
Kisa Mfalila, Lead Specialist on Environment and Climate for Asia Pacific, IFAD
Joao Campari, Food Global Lead, WWF
Marion Jansen, Director, Trade and Agriculture Directorate, OECD
André Nel, General Manager Sustainability, Pick n Pay
More info here.