Description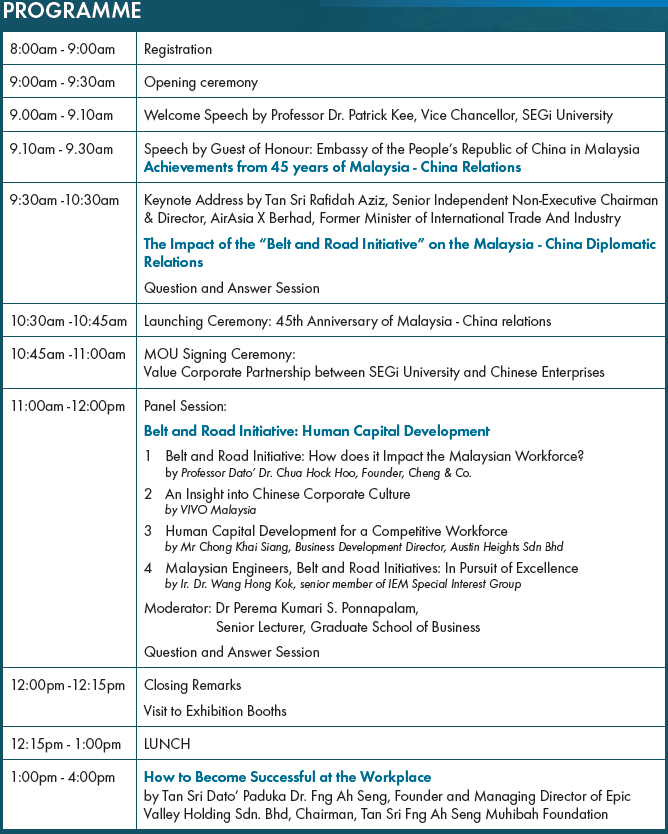 The Confucius Institute at SEGi University Kota Damansara is pleased to warmly invite you to our forum entitled Belt and Road Initiative: 45 years of Malaysia – China Relations: A Journey Towards Excellence.
Malaysia is the first country in the ASEAN countries to establish diplomatic relations with China in 1974 and played an important role in the process of opening the China-ASEAN dialogue. In 2013 the two countries upgraded their relationship to that of "Comprehensive Strategic Partnership." At the same year, Malaysia also supported the Silk Road Economic Belt initiative introduced by President Xi Jinping. Malaysia is strategically located along the Belt and Road link connecting the vibrant East Asia economic circle at one end and developed European economic circle at the other. To benefit from economic opportunities under this initiative, the economic development plans, strategies and policies at the national and regional level need to be well coordinated and publicized to facilitate implementation of the Belt and Road initiatives.

Malaysia, as part of the BRI countries, stands out as an attractive BRI destination as it provides an investment environment that offers opportunities and relatively lower levels of risk. The "China Going Global Investment Index 2017" report by the EIU stated that Malaysia has jumped to fourth position in 2017 compared with 20th in 2015 even though ODI flows from China fell by over 40% year-on-year in the first ten months of 2017. This has raised Malaysia's aggregate investment demand and therefore the country's gross domestic product growth, and in turn will boost the economy's production capacity and its growth potential.
To date, Malaysia has seen tremendous growth in outward direct investments (ODIs) from China in recent years, largely attributed to China's Belt and Road Initiative (BRI). Partnerships between Malaysia and China have grown in the areas of infrastructure building, as well as investments and collaborations in energy and information technology, and the new growth areas such as tourism, food and beverages, hotel, recreation, education and healthcare sectors. Bilateral trade between Malaysia and China hit an all-new high in 2018, growing 13% to US$108.6 billion (RM443 billion) from US$96 billion (RM392 billion) in 2017.
The Confucius Institute serves as an important platform for the social, economic and cultural interactions between China and the Belt & Road countries. Therefore, we are honoured to host this public forum with details as follows:
Draft Programme: Belt and Road Initiative Forum: 45 years of Malaysia –China Relations: A Journey Towards Excellence.
Objectives:
1. To heighten the public awareness on how people of countries along the Belt and Road can benefit from this initiative;
2. To equip the youth with the knowledge and skills to contribute to the social and economic development of the participating countries along the Belt and Road;
3. To promote communication between youth and Chinese enterprises.
Who should attend this public forum?
1. University students
2. University academics
3. Professionals
4. Trainers / Teachers
5. Engineers
6. Business owners/ Entrepreneurs
Parking:
There is limited parking at SEGi University. Participants are encouraged to commute via MRT to the Kota Damansara station which is located at the back of the university. Access is via the back entrance of the university. Optionally, if parking is full in SEGi University, you may park at Cova Square opposite. There is a choice of basement parking and podium parking, which are with different rates.