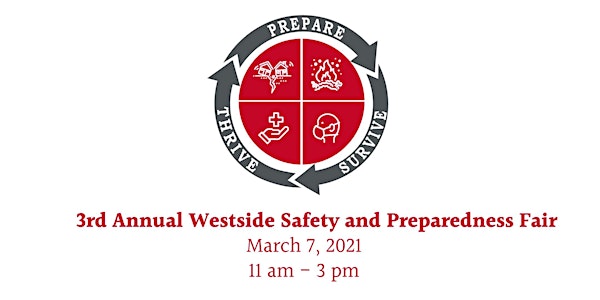 3rd Annual Westside Safety and Preparedness Fair (Los Angeles)
This is a FREE virtual event for West Los Angelenos to learn from local experts how to prepare for and survive a major disaster
About this event
IT'S TIME TO PREPARE!
As Southern Californians we know all too well the vicious cycle of wildfires, followed by rain which causes mudslides and flooding in burn areas, which results in faster brush growth, which provides fuel for the next round of fires, and the cycle repeats. The Covid pandemic enteed the forefront of this picture and turned our lives upside down for the past year. Are you prepared for another disaster like a major earthquake?
Learn how to "prepare, survive and thrive"
All presentations are virtual and each will be followed by live Q & A sessions.
Our keynote speakers are:
Dr. Anne Rimoin, PhD, Professor of Epidemiology at the UCLA Fielding School of Public Health answering questions about Covid, vaccines and variants
Mark Benthien, Executive Director, Earthquake Country Alliance (USC), speaking about earthquakes and what a major earthquake could mean for you, your family and Los Angeles as a whole
L.A. Fire Dept. Capt.ll John Ignatczyk, Disaster Preparedness Officer, will show you how to prepare for and what to do during an earthquake
Learn potentially life-saving skills through our online presentations about:
Hands-only CPR
"Stop the Bleed"
How to use a fire extinguisher
Pet first aid and CPR
And more
Meet our local police and learn :
How to protect your home and your car by making them less attractive to criminals
Find out how registering your bicycle can lead to its return if stolen
Learn how neighbors working together will be essenrial after a disaster such as a major earthquake
Ready your L.A. Neighborhood (RYLAN)
Neighborhod Team Program
CERT -- Community Emergency Response Team
Plus special programming for kids, pre-school to teens
Walk 'n Rollers: Bike safety and pedestrian safety skills
Red Cross: "Prepare with Pedro" for young kids
Red Cross: "Pillowcase Project" for elementary school-age kids
Tips for Teens, Preparedness Isn't Just for Parents
Discounts: Visit vendor booths and get attendee-only discounts to purchase emergency preparedness supplies
FREE preparedness items for attendees
Attendees will be eligible to receive a free give-away bag containing some supplies to start or add to your preparedness kit. Free items will be distributed via curbside pickup approximately 2 weeks after the fair at a date to be announced. One give-away bag per family, while supplies last.
Fair schedule and link to event
You will receive the link to check-in for the fair from Eventbrite in the next couple of days. The schedule can be accessed here:
SAFETY FAIR SCHEDULE -- see the schedule by clicking this link. But be sure to register for the fair here on Eventbrite