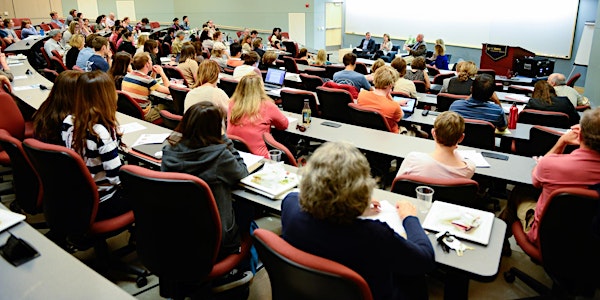 3rd Annual UC Davis One Health Symposium
When and where
Location
UC Davis School of Veterinary Medicine Gladys Valley Hall Davis, Ca 95616
Refund Policy
Contact the organizer to request a refund.
Description
Contact the UC Davis One Health Institute at onehealth@ucdavis.edu or +1 (530) 752-7526 with any questions.
The theme of this year's symposium is Collaboration in the Face of a Changing Environment. Discussion topics range from Zika virus and the distribution of mosquitos and other vectors, to planetary health, to disaster preparedness and response. We will follow the program with a networking reception.
The day's Agenda:
---
Welcome

Dr. Jonna Mazet

, DVM, MPVM, PhD, Executive Director, One Health Institute, UC Davis Veterinary Medicine

Environment and One Health

(Opening discussion, 9:00 - 9:30 AM)

Dr. Patricia Conrad

, DVM, PhD, Associate Dean, Office for Global Programs, UC Davis Veterinary Medicine

Dr. Michael Wilkes

, M.D., M.P.H, Ph.D., Director of Global Health Sciences, UC Davis Health System

Planetary health: Treating our biggest patient and the economics of collaboration

(Panel, 9:30 - 10:30 AM)

Dr. Woutrina Smith

, DVM, MPVM, PhD., UC Davis, Co-Director, UCGHI Planetary Health COE

Dr. Federico Castillo

, BA, PhD., UC Berkeley, Associate Director, UCGHI Planetary Health COE

Food animals and sustainable agriculture - feeding a future that is facing climate change (Panel, 10:45 - 12:00 PM)

Dr. Deanne Meyer, MS, PhD, Professor & Livestock Waste Management Specialist, Dept. of Animal Science, UC Davis

Dr. Frank Mitloehner,

MS, PhD, Professor and Air Quality Extension Specialist, Dept. of Animal Science, UC Davis

Mr. Spencer Smith

, BS, Founder, Jefferson Center for Holistic Management

Dr. Kenneth Tate

, MS, PhD, Russell L. Rustici Endowed Chair of Rangeland Watershed Science

Zika (Panel, 1 - 2 PM)

Dr. Lark Coffey, BS, PhD, Assistant Professor, UC Davis Veterinary Medicine
Dr. Anne Kjemtrup, DVM, MPVM, PhD, Research Scientist II, California Department of Public Health
Dr. Koen Van Rompay, DVM, PhD, Full Research Virologist, California National Primate Research Center

Emergency preparedness & response - threats from impending climate change

(Panel, 2:15 - 3:45 pm)

Dr. Bennie Osburn

, DVM, PhD, Dipl. ACVP, Dean Emeritus of UC Davis School of Veterinary Medicine, Director of Outreach and Training, UC Davis Western Institute for Food Safety and Security

Dr. Michael Ziccardi

, DVM., MVM, PhD, Director, Oiled Wildlife Care Network, Co-Director, Karen C. Drayer Wildlife Health Center UC Davis School of Veterinary Medicine

Dr. D

avid Bunn

, MS, PhD, Director, California Department of Conservation

Provocative new directions in One Health

(Closing discussion 3:45 - 4:30 pm)

Dean Michael Lairmore

, DVM, PhD; Dean and Distinguished Professor, UC Davis School of Veterinary Medicine

Dr. Jonna Mazet, DVM, MPVM, PhD, Executive Director, One Health Institute, UC Davis School of Veterinary Medicine
---
This symposium has been approved for 6 AMA PRA Category 1 Credits™ and 4.5 CE Credits. Full details of continuing education credits can be found on our website at http://www.vetmed.ucdavis.edu/ohi/symposium.cfm
Continuing education sponsored by: