2021 BWS Exchange is confirmed for April 3, 2021, at the Greenwood Cultural Center, 322 N. Greenwood Avenue, Tulsa, OK.
About this Event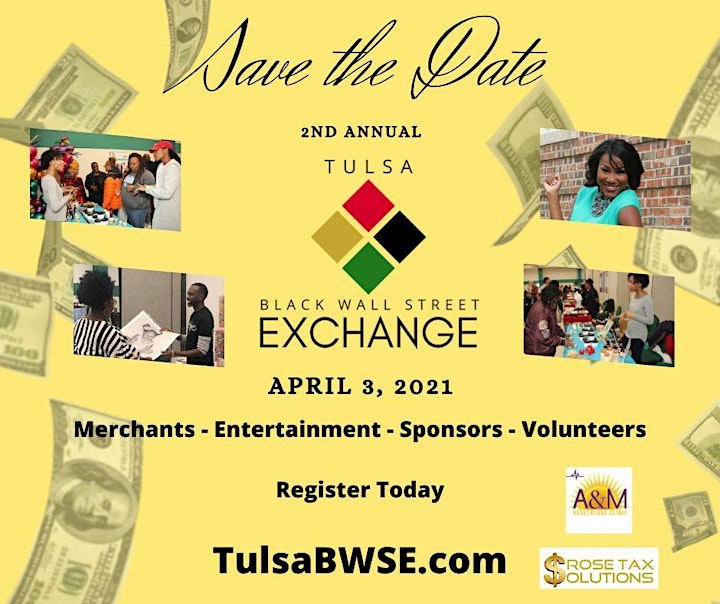 The 2nd annual Black Wall Street Exchange (BWSE) is a signature program of Rose Tax Solutions to encourage the circulation of currency- money, human capital, and development- during its live demonstration in an expo style event. The outcomes of the Black Wall Street Exchange include, but are not limited to:
- Exchanging resources and theory to improve our operations.
- Exchanging methods to strengthen our community, family, business, and self.
- Exchanging funds to stimulate our community.
- Exchanging intellectual conversations to mend our ethnic communities.
- Exchanging positive vibes to promote local talent and entertainment groups.
- Exchanging hate for unconditional love- we all have red blood vessels.
The BWSE features local entertainment, networking, State of the Union panel discussions, a speaker's gallery (breakout workshops), and the main exchange floor to circulate dollars! Attendees will not only exchange money with our vendors but will have the opportunity to gain meaningful information to strengthen their family dynamics, self-awareness, and business operations. This event will increase your organization's branding in BWSE's diverse network and community to serve as an outlet for your organization's social, entrepreneurial, and community targets.
Some FAQs from our 2020 event which may be helpful to clarify your questions:
1. Can I share my table with another person? No
2. Can I get a refund for my merchant table if I cannot make it? No, the fee is non-refundable, however, if notification is made more than 30-days before the Exchange we can discuss potentially transferring the table to someone else (varies by situation to ensure non-compete of merchants already paid and attending)
3. I sell food, what else do I need? You will need to e-mail a copy of your valid food handlers permit, business license, and liability insurance to our team no later than 30-days before the event.
4. Is there any merchants you are not accepting? At this time, we want to be inclusive; however, this is a family friendly event; therefore, we will use discretion with Merchants exchanging items that promote violence, sex, illicit drugs, or any other types which our committee and/or Founder deem beyond the BWSE Standard.
5. Can I barter instead of paying the fee for the Merchant table? At this time we are looking for partners; therefore, as a paid merchant you have priority to offer your services to BWSE for a reasonable rate if not free in return to be promoted during our marketing efforts throughout the year. If you are interested in assisting in the areas of social media, photography, graphic design, street team, or an Ambassador let us know before you have completed payment.
6. My child owns and operates the business but I also help with operations, do we still purchase a youth table? Yes, as long as tables are available. However, please note we are depending on your integrity. Should it be discovered any deception related to this, you will be asked to leave without a refund of your money. Let's be a great example for our youth.
7. I usually don't pay for vendor spaces, in lieu of I usually just contribute giveaways and gift certificates can I do that with Tulsa BWSE? Absolutely not. The reason is that you will after the exchange earn some form of compensation from the exposure at the exchange which we do not ask nor require a "cut;" therefore, it is in the best interest of all involved for you to purchase a merchant table early so you can get the best rate.
8. I waited and missed the Founder's rate and Early Bird rate, what can I do? To participate in the Tulsa BWSE, you must take action at the rate available when YOU take action.
9. I need electricity for my table? There are limited outlets available on a first come first serve basis. You must let us know as soon as you know you need "juice"
10. I paid for a table but cannot attend, may I have a refund? No refunds are offered.
11. I want to share my table with someone else? This event has a standard which does not permit sharing tables with multiple companies/organizations at this time.
12. I want to be a corporate sponsor of the Tulsa BWSE franchise, how do I do engage? Select the level you are interested in sponsoring. For more information, contact BWSExchange@gmail.com or call LaToya Rose at 918-812-8525.