3rd Annual Swing Into Spring Event "Comedy Night" Don Jamieson & Friends!
Description
3rd Annual Swing Into Spring Event
Saturday March 18th - "COMEDY NIGHT"
Supporting Spring Reins of LIFE 501c3
FLEMINGTON, NJ
Doors Open at 5:30PM (Buffet/Cash Bar)
7pm Comedians Take Over!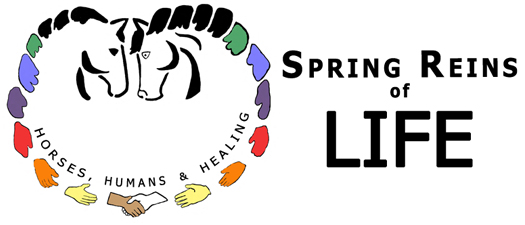 JOIN US!
Help us WELCOME Spring 2017 on the night after St. Patrick's Day....
LIVE COMEDIANS!
Appetizers - Buffet - Dessert - Coffee/Tea - Cash Bar!
PRIZES! (maybe you'll get Lucky)

Live Performances by ~
DON JAMIESON
- Headliner!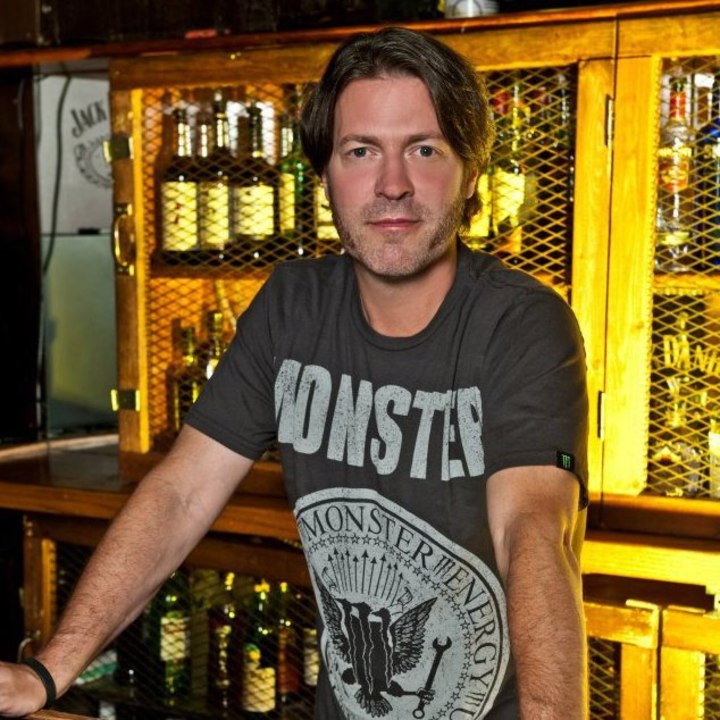 MARK RICCADONNA


JESSE THOMAS





BUDDY HARRIS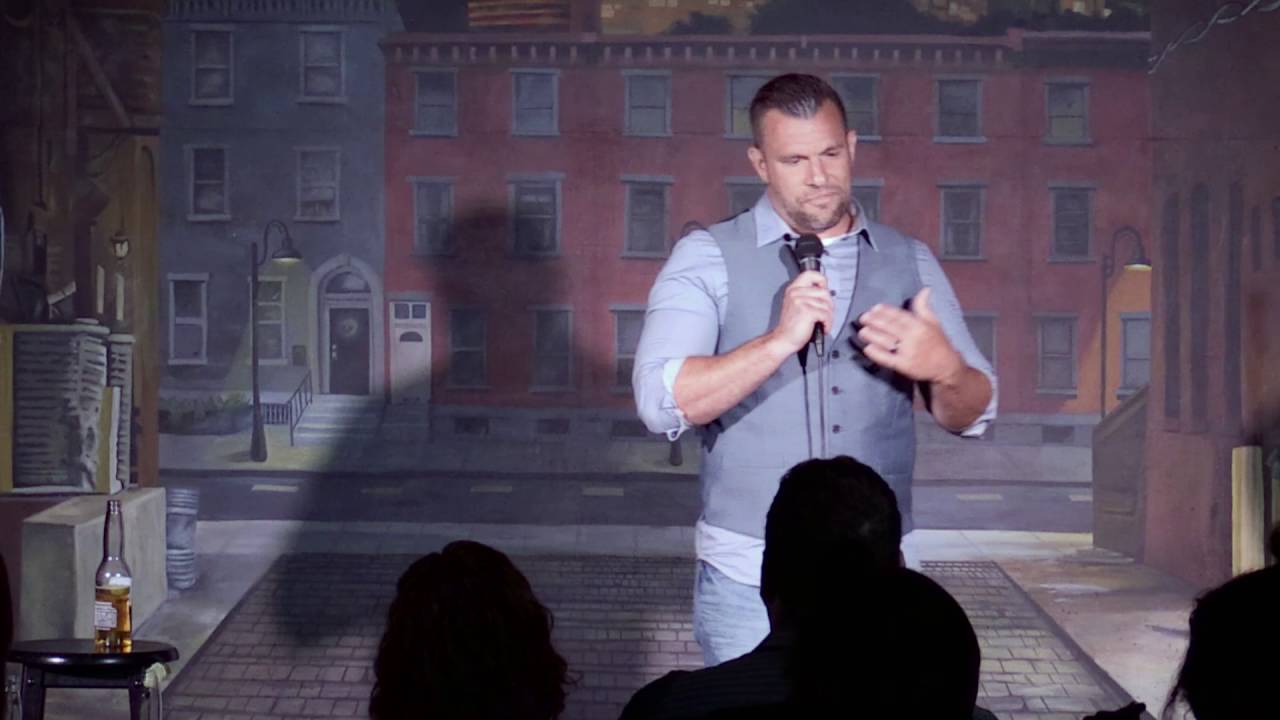 WHEN:
Saturday, March 18th!
5:30 PM Doors Open.
Ticket Includes - Appetizers, Buffet, Dessert, Coffee/Tea.
Full CASH Bar - All night long!
7:00 PM The Comedians take over!
(*winning prize tickets will be announced at the end of the performance)

*Tickets will be sold at the door ONLY if seats are available.
**Full tables (seats 10) can be "RESERVED" in advance - please comment or private message us for details.

WHAT:
45 Minute Set Headliner: Don Jamieson
30 Minute Set Feature: Mark Riccadonna
30 Minute Set: Jesse Thomas
10 Minute Opener: Buddy Harris

WHERE:
Flemington Elks Lodge, 165 Route 31 South, Flemington, NJ
TICKETS:
$35.00 EACH
$350.00 FULL TABLE (Seats 10)
Includes Appetizers, Buffet, Desserts, Coffee/Tea & Laughs Out Loud!
*Full tables can be RESERVED in advance, please contact us for details.


Consider an Additional Donation as proceeds raised on 3/18 will go to supporting trauma survivors (PTSD veterans, at risk/high risk teens and childhood bereavement) in New Jersey.
[Additional donation: __$10 __$20 __ $ other]
By Mail:
Send check/money order to: Spring Reins of LIFE, P.O. Box 5311, Clinton, NJ 08809
Please SPECIFY how many tickets you are purchasing (each ticket is $35.00), and if any additional donation. List your NAME, Phone and Email so that we can confirm receipt. Tickets will be held for you at the registration table at the entrance) *Mail to us by 3/11/17 to ensure arrival.

Online with Credit or Debit Card: RIGHT HERE ON EVENTBRITE!
SEE YA THERE!

JOIN US FOR - FOOD! CASH BAR! LAUGHTER!

If You Cannot Attend on March 18th – Please Consider Supporting SRoL:
Any and All monetary donations are most appreciated. Your tax deductible gift is direct support of our EAP programming which changing and saving lives in NJ.
Live Out of State? Buy a ticket anyway! We will offer your ticket to a local Veteran or a Volunteer who gives all year
Donate Goods or Services: See our Wish List / Needs for Skilled Volunteers
Sponsor an EAP Group Session (Cost $635.00)
Help the Horse Therapists on our Team: Gifts of Feed & Supplies / Gently Used Tack
Do you Shop Online? SRoL is listed on iGive and AmazonSmile. Designate Spring Reins of Life as your charity and a % of all your purchases will accumulate for SRoL EAP programming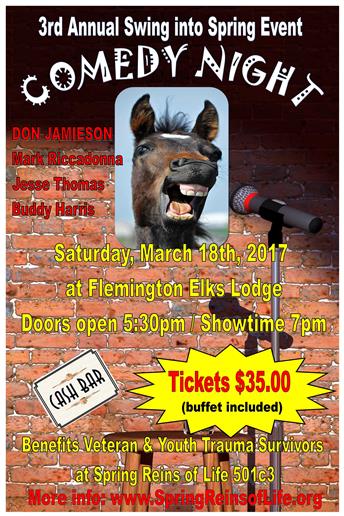 Check out this video on SRoL's Operation Horse - where 2 OIF veterans speak about Why Horses from their point of view: UPWORTHY Veterans Day 2015 "Operation Horse"
Radio interview about SRoL (Veterans, Teens, Horses and Fundraisers!)
NASH-FM 94.7 "Nash Matters with Kelly Ford" *(see our website for more media posts)

*Spring Reins of Life is:
An EAGALA Model certified program (HIPAA Compliant)

First and currently only program with "Military Services Provider" certification in New Jersey (working with Lyons VA Hospital, 3 PTSD Units)

Works with at-risk/high-risk teens from NYC, NJJJC and Central New Jersey

Partnering with Good Grief Princeton providing services to 6-9yr old groups
HORSES Heal the Internal Wounds of Trauma and Despair without...Having to "Talk About It"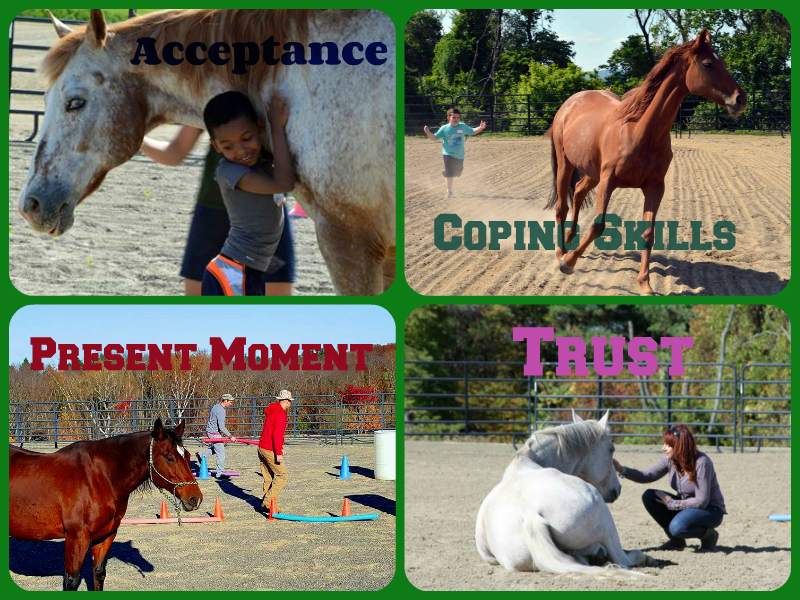 Special Thanks to our Sponsors, Donors, Board of Directors, Volunteers, Foxx Creek Farm, and EAGALA.
Gratitude and Love in our Hearts for our Clients and our Horses!

---
YOU ARE INVITED TO OUR 4th ANNUAL OPEN HOUSE/DEMO.
Come Out and Meet the Herd. Witness How EAP is done. *SRoL is in process of relocation our home base, we will know by April 2017. Stay in touch. And if you know of an empty horse facility in Central NJ please speak up! (Somerset, Hunterdon, Mercer counties).
- Brand new story about our needs for a new home on UpWorthy
- Please see more information on HorseNews

###
ABOUT Don Jamieson (Headliner)
"He's a sarcastic, caustic rib-splitter who can wind up any audience and splatter them hysterically" – The Village Voice
Don is currently co-hosting VH1 Classic's hit heavy metal talk show series, "That Metal Show" where legends of rock hang out to discuss their past and current projects in front of a live studio audience full of metal maniacs. Rolling Stone Magazine dubbed "That Metal Show" one of the 50 Best Reasons to Watch TV! He is also a co-host on "Beer Money," a fast-paced, non-traditional sports quiz show airing on SNY (SportsNet New York). Amongst his many accomplishments, Jamieson's stand-up CD "Live & Hilarious" on Metal Blade Records hit the Top 20 on iTunes and Top 10 on the Billboard comedy charts. He also recently performed stand-up at Metallica's Orion Music + More Festival and was introduced by drummer Lars Ulrich. He is proudly sponsored by Monster Energy Drinks. Jamieson's proudest moment is becoming an "Emmy Award-Winner" for his work on HBO's "Inside The NFL." Don and long-time comedy partner, Jim Florentine, lent their brand of humor to the popular sports show; writing, producing and performing sports-themed comedy sketches. The two have also collaborated on the hidden-camera DVD and Comedy Central web series, "Meet The Creeps" as well as a series of prank call CD's, "Terrorizing Telemarketers," which get a lot of airplay on the Howard Stern radio show. He is also a joke writer for the country's best celebrity roaster, Lisa Lampanelli and has lent his voice to MTV2's "Crank Yankers." Don's stand-up act brings his everyday take on life with an added dash of sarcasm for good measure. He's able to make people laugh at things they wouldn't normally laugh at and then laugh again at that realization. Besides performing at clubs in New York City, Don tears it up at clubs and theatres all over the country. For the last seven years, he has been the regular opener for Andrew Dice Clay. www.DonJamieson.com
ABOUT Mark Riccadonna (Feature)
Mark Riccadonna is a professional comedian who is somewhat of specialist in reading audiences and making them feel comfortable. He has toured globally playing theatres and clubs as well as with the USO and Armed Forces Entertainment (which landed him his Travel Column "Dad Trippin" in Today's Man Magazine). Over ten years of touring Mark found time to thrive as an on-air host for talk radio out of Atlantic City, performed in an Off Broadway hit "Happy in the Poor House", did three films in three years; "The Devils Tree", "The Days of Power" and "Game Night" (winner of Best Director at The International Film Festival). Mark worked as a voice-over actor, and directed the play "The Boom" for the NYC Dream Up Festival and Now is Directing in a pilot he co-wrote called "Radio Gods" with Paul Provenza, John Fugelsang, Rich Vos and Rick Overton. Because of his attitude, he is considered fun, lovable, and easy to work with, landed him shows on FOX, MTV, SPEED network, SPIKE TV, The CW, NBC and The Food Network and a contributing writer for "Weekend Update". Mark is a gifted storyteller, with a charisma that makes you feel like you've known him forever, unique delivery, signature voice and likability; you will see why he is a favorite at clubs and theatres everywhere. www.MarkRiccadonna.com
ABOUT Jesse Thomas
Since 2007, Jesse Thomas has established himself as a solid working comedian. He is fast becoming a comedy standout, opening sold out shows for comedians such as Jim Breuer, Tom Arnold, and Jim Norton. In 2009, Jesse performed at the popular Brew Ha-Ha Comedy Festival in Cincinnati, Ohio. He's smart, but not overly intellectual. He's crude, but not distasteful. In a nutshell, he's the cleanest dirty comic there is. Some say Jesse Thomas was born without an inner monologue. Some say he was just born without shame. The truth is Jesse's unabashed honesty allows him to effortlessly discuss a variety of topics, both taboo and mundane. Jesse is able to point out flaws in the world around him by way of pointing out flaws in himself. Jesse isn't perfect, but reminds audiences across the country that perfection is overrated. The truth is whatever people say is close enough. www.jessethomascomedy.com
ABOUT Spring Reins of Life, 501c3
Spring Reins of Life (Horses, Humans & Healing) is a 501c3 nonprofit public charity offering Equine Assisted Psychotherapy (EAP) to trauma survivors in New Jersey, NYC and Eastern PA. Spring Reins of Life (SRoL) was founded in 2012 and is dedicated to serving PTSD veterans & their families, at-risk/high- risk youth and children in bereavement. In 2013 SRoL became the first and still currently the only program in New Jersey to earn the "Military Services Provider Certificate". SRoL's clients include: Lyons VA Hospital, Lakewood Vet Center, Bonnie Brae, Misunderstood Youth Development Center, New City Kids, Hunterdon Youth Services, NJJJC, NJTS and Good Grief Princeton. EAP services are offered under the EAGALA Model adhering to code of ethics and HIPAA compliancy. SRoL is a volunteer run organization allowing nearly 90% of all funding to be directed to programming costs and providing as many groups offerings as possible. Public/private funding is both necessary and greatly appreciated; all donations are fully tax deductible. www.SpringReinsofLife.org