3rd Annual Summer Solstice Festival - Oddities and Curiosities Night Market
Sales Have Ended
Ticket sales have ended
****Please be sure to be mindful of your Ticketed Time Slot.**** Arrive 30 minutes before ticket time to insure you have the complete Live Show and market experience. No exceptions can be made if you do not arrive at your select time. _______ All visitors must abide by CDC regulations and must wear face coverings and remain 6 ft apart during the entire event. NO EXCEPTIONS. Those who do not follow event regulations will be removed and ticket fees not refunded. _______ Additional parking available across the road at local business lots and venues next door. Please be courteous to our fellow visitors. DO NOT PARK ON THE LAWNS
Sales Have Ended
Ticket sales have ended
****Please be sure to be mindful of your Ticketed Time Slot.**** Arrive 30 minutes before ticket time to insure you have the complete Live Show and market experience. No exceptions can be made if you do not arrive at your select time. _______ All visitors must abide by CDC regulations and must wear face coverings and remain 6 ft apart during the entire event. NO EXCEPTIONS. Those who do not follow event regulations will be removed and ticket fees not refunded. _______ Additional parking available across the road at local business lots and venues next door. Please be courteous to our fellow visitors. DO NOT PARK ON THE LAWNS
We invite you to experience all of the hidden dark treasures of our live entertainment, unique crafters, magick makers & soothsayers...
About this event
🌟🌟🌟LIVE OUTDOOR EVENT🌟🌟🌟
🌟Our Summer Solstice Festival is Back! 🌟
🌟 IN-PERSON MARKET 🌟
🌟 IN-PERSON READERS 🌟
🌟 LIVE PERFORMERS 🌟
🌟 BOTH Indoors & Outdoors 🌟
🌟 PLUS Virtual Market & Performances 🌟
Moon, Serpent and Bone
Oddities and Curiosities Night Market
3rd Annual Summer Solstice Festival 2021
Friday, June 18th, 2021
6pm to Midnight EST
at
Locust Grove Estate
2683 South Road
Poughkeepsie, New York 12601
$13 admission fee per person
Advance ticket purchase required.
Time slots available:
6pm to 7:45pm
8pm to 9:45pm
10pm to Midnight
🌟🌟 Come one, come all! 🌟🌟
We invite you to celebrate the height of the Summer Solstice and the element of Fire!
Our Oddities and Curiosities Night Market is being held both indoor and outdoors on the picturesque grounds of the historic landmark Locust Grove Estate located in the Hudson Valley and set near the scenic Hudson River.
Join us and experience all the excitement and allure of our one-of-a-kind Oddities and Curiosity Market. Discover the hidden dark treasures of our enticing live performances, delectable concessions, unique crafters, magick makers, skilled artists, taxidermists, psychics, and all other delightfully unusual as they display their wares and talents for one unforgettable night.
Due to crowd control and Covid, tickets will be sold by time slot.
Time slots available:
Time Slot 1: 6pm to 8pm
Time Slot 2: 8pm to 10pm
Time Slot 3: 10pm to Midnight
👉👉 PLEASE NOTE: There will be a 15 minute change over period built inbetween time slots for attendees to exit the event for Covid safety. Staff will be ushering attendees out of the venue during the last 15 minutes of their designated time slot. Thank you in advance for your understanding and cooperation.
•••• LIVE PERFORMANCES BY••••
Obsidian Moon Bellydance
Sarah Chix - Snake Charmer
Opal Raven - Fire Dancer
Anna Oh! - Flow and Lights
Errant Space - Atmospheric Electronica
Carl Welden - Carnival Barker
_______
Assorted snacks and beverages will be available for purchase at both the Moon Serpent and Bone concession stand in the outdoor portion of the market and by (Official food vendor here.)
No alcohol will be sold as this event.
Assorted merchandise (t-shirts, totes, light up accessories) will be sold at the Moon Serpent and Bone shop stand.
_______
👉👉18 YEARS OR OLDER ADVISED👈👈
Some subject matter may not be suitable for persons under the age of 18 years.
_______
👉👉NO PETS ALLOWED👈👈
_______
👉👉ALL ATTENDEES MUST FOLLOW CDC GUIDELINES WHILE ATTENDING IN PERSON MARKET👈👈
Face Coverings and Social Distancing REQUIRED throughout the market.
​NO EXCEPTIONS
By purchasing an in person ticket, you agree to these terms.
Violators will be asked to leave. NO refunds will be given.
_______
👉👉SPECIAL NOTE👈👈
****Please be sure to be mindful of your Ticketed Time Slot.****
Arrive 30 minutes before ticket time to ensure you ​are able to enjoy the complete Live Show and market experience.
No ​time slot exchanges can be made. Please arrive ​for at your selected time ​slot. ​We are unable to adjust or extend time slots if you arrive earlier or late. Doors will open promptly at the beginning of each time slot. The last 15 minutes of your time slot will be used for exiting the venue.
_______
Additional parking available at local business lots and venues next door ​and across Route 9. ​Please use caution if you choose to park on the opposite side of Route 9.
Please be courteous to ​your fellow visitors.
DO NOT PARK ON THE LAWNS.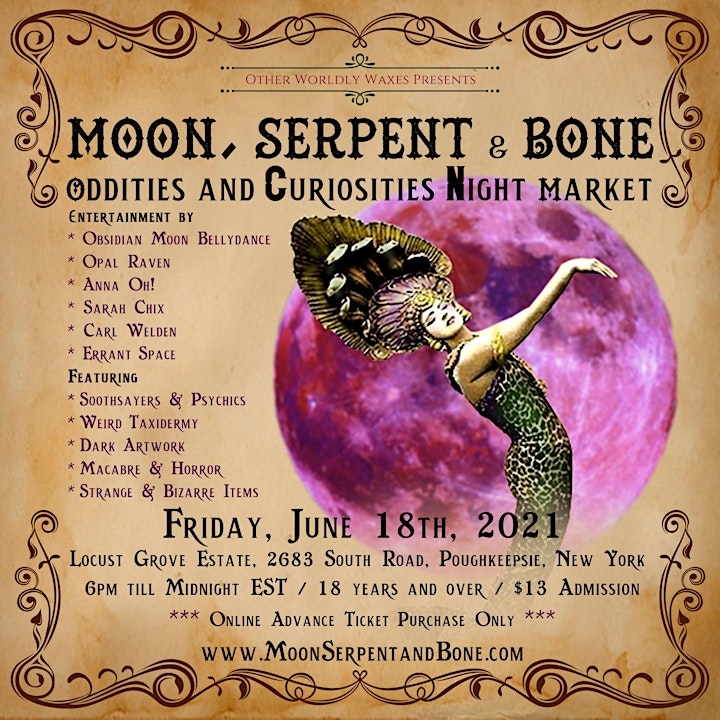 Organizer of 3rd Annual Summer Solstice Festival - Oddities and Curiosities Night Market