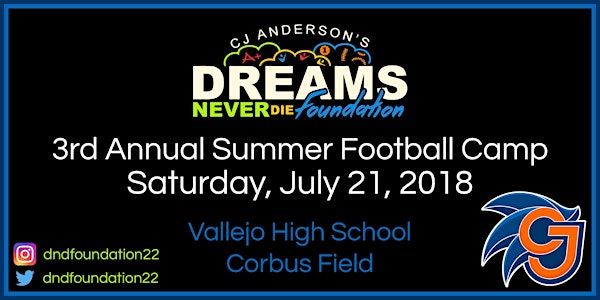 3rd Annual Summer Football Camp
When and where
Location
Vallejo High School, Corbus Field 840 Nebraska St Vallejo, CA 94590
Description
CJ Anderson's 3rd Annual Summer Football Camp
Session #1: ages 7-12 Registration 8am-9am
Session #2: ages 13-17 Registration 11:30am-12:30pm
REGISTRATION CLOSES JULY 15th!!
T-shirt & lunch will be provided
For more information call (707)644-8288 or email CJACamp@yahoo.com
---
PLEASE READ!! WAIVER/MEDICAL RELEASE
I. PARENTAL CONSENT I, the parent/legal guardian of _____________, do hereby grant permission to participate in the C. J. Anderson Summer Football Clinic and activities.
II. RELEASE FROM LIABILITY
I agree to assume all risks and hazards, incidental to participation in the football clinic "Activity". I do hereby waive, release, absolve, indemnify, and agree to hold harmless the C.J. Anderson Summer Football Clinic, C. J. Anderson, coaches and volunteers, for any claim arising out of an injury to my child, whether the result of negligence or any other cause.
I hereby grant C. J. Anderson permission to use photographs or likeness of the above named participant for use in the Clinic approved publicity, including, but not limited to, brochures, newspapers, magazines, radio and television.
III. "HIGH SCHOOL PARTICIPANTS ONLY"
It was recommended that I consult with a physician before engaging in any activities associated with C. J. Anderson Clinic. Having read the preceding, I acknowledge full understanding of those risks set forth herein and knowingly agree to accept full responsibility for my own exposure to such risks and to waive full responsibility and liability on behalf of C. J. Anderson Clinic. I also acknowledge that I am physically fit and healthy for the activities offered and presented by C. J. Anderson Clinic. I acknowledge that football and exercise has an element of risk and assertion and that I have received medical clearance for such activities and know that I am in the proper physical condition. I also understanding that proper hydration is critical to safe and proper participation in outdoor activities in July of the calendar year and that I will take all precautions to stay and remain hydrated at all times for all such outdoor activities.