Description
The SOAR Community Summit is an annual leadership conference that brings together business owners, corporate executives and executive directors of growing corporations, nonprofits, associations and agencies throughout the Washington, D.C. area.
This year's Summit will take place on Thursday, September 20, 2018. Our presenting sponsors WUSA9/TEGNA will host the event at their DC headquarters located at 4100 Wisconsin Ave NW, Washington, DC 20016.
Topics will include:
• Vision, Mission and Values Alignment for Social Impact
• Talent Management and Organizational Development
• Courageous Leadership
• Employer Branding & Employee Advocacy
• Authentic Messaging, Branding and Marketing
• Clarity of Purpose: How it Can Transform Your Business
Meet our Speakers.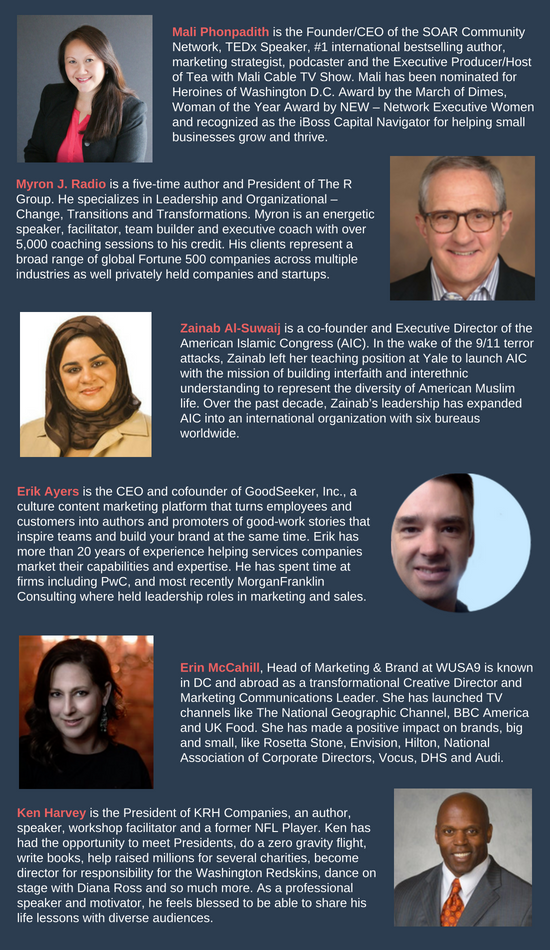 Sponsorship Opportunities are available. Learn more at https://soarcommunitynetwork.com/summit2018.
Contact Mali Phonpadith or Victor Cora Nazario at info@soarcommunitynetwork.com or 571.403.0565 for additional information.