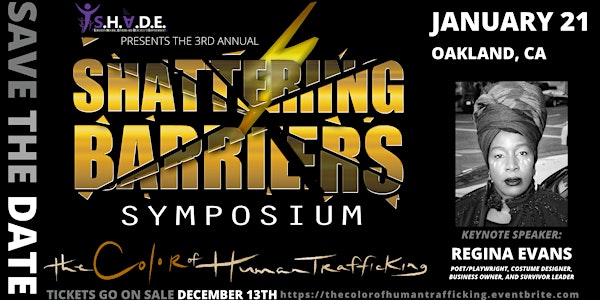 3rd Annual Shattering Barriers Symposium: The Color of Human Trafficking
When and where
Location
Trans Pacific Center (Cal State East Bay Conference Center) 1000 Broadway Suite 109 Oakland, CA 94607
Description
S.H.A.D.E., (Survivors Healing, Advising and Dedicated to Empowerment) Movement is a survivor based advocacy organization that empowers survivors of sexual exploitation, human trafficking, and domestic violence. We believe that Survivor Leadership is paramount to creating positive change and empowerment within and outside of the anti-trafficking movement.
On Tuesday, January 21, 2020, we are holding our 3rd Annual, Shattering Barriers Symposium: The Color of Human Trafficking. This symposium continues to be the first of its kind provided to the public, in that it is 100 percent Survivor-thriver led, Survivor-thriver organized, and it features all Survivor-thriver speakers. We are excited to have secured a roster of Survivor-thriver expert speakers who possess years of experience as Abolitionists in the fight against human trafficking.
This is guaranteed to be a day full of inspiration, deep dialogue and innovative learning!
This training symposium will be focused on the effects of sexism and racism upon various cultures, as well as upon society as a whole.
All are welcome to register and attend this event, it is open to students, community members, service providers, law enforcement, the healthcare industry, and etc..
Light breakfast refreshments and lunch will be provided.
Registration starts at 8:30 am. The program starts at 9:30 am!
Masters of Ceremonies:
Sarai Smith-Mazariegos, Executive Director, S.H.A.D.E Movement
Venus Morris, Peer Advocate, S.H.A.D.E Movement
Keynote Speaker:
Regina Y. Evans: Poet/Playwright, Costume Designer, Business Owner, and Survivor Leader

Featured Speakers/Trainers Include:
Panel Moderator: Leah Albright-Byrd, Activist, Author, and Artist
Dae'Jahnique Seward, Children's Law Center
Josie Feemster, Trainer, Consultant and Case Manager, Weave Inc.
Jazmyn Brown, Advocate, and Trainer, S.H.A.D.E Movement
Sara Kruzan, Founder of IAMSJK
Stacy Jewell, Founder, 7 Layers Captive and Survivor City Radio
Ummra Hang, Advocate, and Trainer, S.H.A.D.E Movement
MORE SPEAKERS AND MODERATOR TO BE ADDED, STAY TUNED!


Program Includes:
Morning:
Keynote Speaker


Panel Discussion: Why Black and Brown Girls and Women are Endangered? The panel will focus on why Black and Brown sex trafficking victim are seen as prostitutes and not as victims, someone needing help. As well as, a radical examination of the core beliefs American society is currently based on that allows ingrained racist and sexist stereotypes.
AfterNoon:
Breakout Presentation 1A: Generational Effects of Southeast Asian Trauma and Sexual Exploitation -This workshop invites participation from individuals with interest, knowledge, and/or personal experience as children of Southeast Asian war/genocide refugee families, and the correlation of trauma and domestic sex trafficking. A combination of presentation, exercises, discussion, and Q&A will be facilitated to explore the linkage between refugee experiences, and the effects it has on a child's life, and the vulnerable opportunities it provides for traffickers. Individuals and facilitator will examine together the societal impact of war/genocide of Southeast Asian countries overseas, the displacement, and the mirroring trauma in US States.

Breakout Presentation 1B: The Cultural and Societal Impact on Males of Color involved in Sexual Exploitation- This presentation will cover how men of color may experience trafficking differently depending on their role and how societal and cultural influences have impacted this population as it relates to trafficking. The material will include interview responses from men of color who were previously involved in sex trafficking either as a victim or an exploiter. As well as information collected from agencies and providers who serve at-risk youth, men and males involved in the criminal justice system. Participants will leave the training with a deeper understanding of the experiences of males involved in human trafficking and the role society and culture plays in their experience.

Awards Recognitions

Closing of Ceremony Song
Starting this year we are giving out Three Awards to recognize selfless individuals working, making effective changes that benefit victims, survivors of sexual exploitation, human trafficking. Award Recipients:
Advocate Award, Amara Tabor-Smith
Ally Award, Dr. Kimberly Chang
Integrity Award, Alameda County Honorable Judge Jennifer Madden
If you are a survivor of trafficking, commercial sexual exploitation and would like to attend please contact us at info@shademovement.org for an access code for free admission!
If you are interested in having an outreach table at the event, please contact us at info@shademovement.org. Once approved you will be provided a code to register.
We are truly grateful for our Event Co-Sponsors: STAY TUNED FOR ADDITIONAL SPONSORS TO BE ADDED!!
If you would like to become a sponsor please contact us at info@shademovement.org to make a contribution.
GOLD SPONSOR:

Silver Sponsor: FIVE TEN BAND
Open Contribution Sponsors: