Description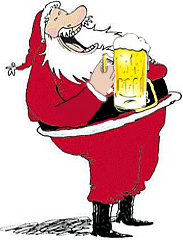 The 3rd Annual SANTA Monica Pub Crawl will take place on Saturday, December 17, 2011, at 5PM in Santa Monica, CA. The city's best bars and restaurants will come together to help raise money for those in need during the holidays through a partnership with the Westside Food Bank.

This year, crawlers need to sign up online and choose their favorite SANTA route. In lieu of canned goods, participants are asked to pay a $10 donation/entrance fee.* A large portion of all proceeds will go to the Westside Food Bank to feed the less fortunate over the holidays.
Participants must purchase the official SMPC wristband in order to receive the holiday food & drink special and gain free entry into the Official After Party, where all the routes will join forces to dance, celebrate, win prizes, and spread good cheer. All ticket holders will also be automatically entered into the SMPC raffle for the chance to win a ton of amazing prizes, including dinner for two at all of the participating locations. Wristbands can be purchased and picked up at one of the official starting locations along each route.

All SMPC participants are asked to dress in Santa/Holiday attire, either individually or in teams, so that the streets of Santa Monica will be filled with merry cheer, such as: Santa, Mrs. Claus, Elves, Reindeer, Carolers and Santa's Helpers. The Pub Crawl will include bars on Wilshire, 4th St., Santa Monica Blvd and Main Street and conclude with the Official After Party at Yankee Doodles (must have wristband for access).


Don't Drink & Drive! All routes are walkable but should you decide to use transportation, hope on the BIG BLUE BUS. Purchase unlimited ride pass for $4 here. Or Cab it! Yellow Cab is donating a portion of all proceeds from the night to the Westside Food Bank.


Download the official SMPC Mobile App for map, routes, bars, specials, extras and up to the minute crawl updates.

If you'd like to participate in the SANTA Scavenger Challenge Hunt, please register your team name and number of people by emailing smpcrawl@gmail.com.


For questions or to sign up to be a SMPC volunteer or a SANTA Route Leader, please email smpcrawl@gmail.com.


SPECIAL THANKS TO OUR 2011 SPONSORS: Santa Monica Chamber of Commerce, Buy Local, Striker Media, Jack FM, Santa Monica Daily Press, Santa Monica Mirror, Big Blue Bus, Yellow Cab, Yelp.com, MenusGoMobile, Skuuzi, VivaLAFoodies.com, Equinox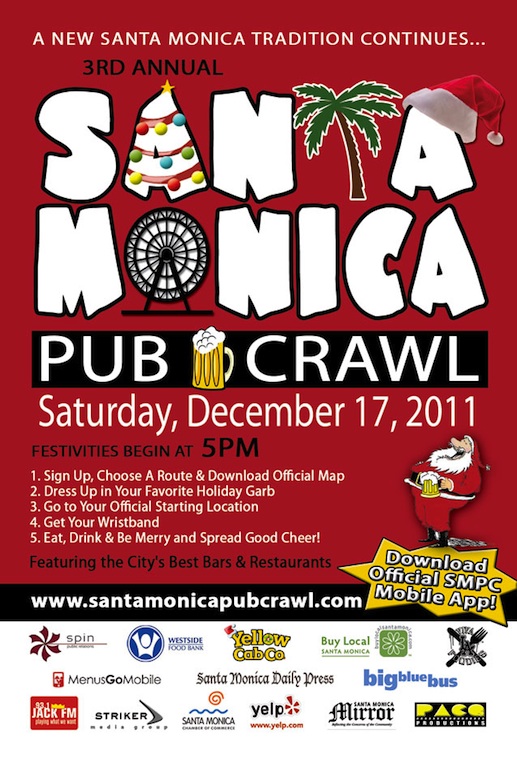 SAFETY DISCLAIMER
The SANTA Monica Pub Crawl is a community event that encourages responsible drinking by participants. When taking part in any events that involve drinking, always keep safety first. Don't DRINK and DRIVE, and assign a designated driver at the beginning of the night, call a taxi, or use public transportation.
For more information go to:

www.santamonicapubcrawl.com
RAIN OR SHINE
*NOTE: Tickets are non-refundable