3rd Annual Rob Ingram Youth Summit Against Violence 2014
When and where
Location
Ambridge Event Center 1333 NE Martin Luther King Jr Blvd Portland, OR 97232
Description
THIS IS A YOUTH DRIVEN SUMMIT FOR YOUTH, BY YOUTH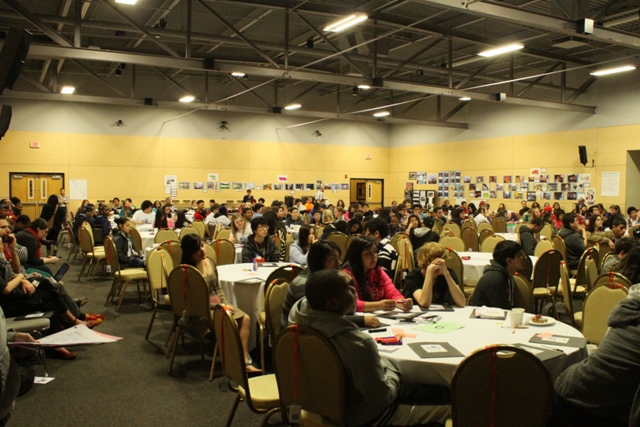 We, the Multnomah Youth Commission, established the Youth Against Violence Committee (YAV) in 2011, in response to the growing violence directed towards young people. We are currently focused on Anti-Gay and Gender, Cyberbullying, Gang, Home/Family, Police, School (Bullying), and Sexual/Dating Violence. As the official youth policy body for the City of Portland and Multnomah County, we will not tolerate these acts, which create a hostile and unsafe environment for all youth throughout our city and county.
We are hosting our 3rd Annual Rob Ingram Youth Summit Against Violence on April 5, 2014 from 10:00am-5:00pm (breakfast and registration start at 9:15am) at the Ambridge Event Center (1333 NE MLK Jr. Blvd).
THINGS TO BRING: comfy clothes/shoes, water bottle, pen
Adult policymakers and community leaders are invited to attend the summit from 2:30 to 4:15pm. Our intention is to integrate youth and adults in the work our community does to prevent violence. New aspects of this year's summit include more hands-on activities and in-depth exploration of Gang/Police, School, and Sexual/Dating violence. Youth survey responses at past summits and events led us to focus more on these three forms of violence. In collaboration with community youth, we hope to continue the work from our past two summits by expanding our action steps to create change.
The first section of the summit is dedicated to youth, to caucus, build community, and further develop action steps in different mediums. We encourage youth to attend the summit independently, to engage with other young people around these topics. Adult chaperons (teachers, counselors, youth coordinators, etc.) are permitted to accompany a group of young people interested in attending the summit. The presence of invited adult policymakers and community leaders is requested in the afternoon (from 2:30 to 4:15pm), to listen to youth stories of violence and engage young people in dialogue around how we can take steps together to reduce violence in our community.
The goals of this year's summit are to
Provide resources for youth to deal with violence they experienced and/or currently experience in their lives

Inform policymakers with the experiences youth face regarding violence and strengthen our youth-adult partnerships to implement our policy recommendations and actions.

Educate youth and adults about Our Bill of Rights: Children + Youth and the importance of its implementation into all decision-making areas in our community

Bring diverse youth from across the region together to share ideas and experiences regarding violence and build a youth movement for social change
Currently, our formal partners include State Farm Insurance Youth Advisory Board, Penney Family Fund (as a member of Common Council Foundation), Multnomah County's Office of Diversity and Equity, City of Portland's Office of Neighborhood Involvement, STRYVE (Striving To Reduce Youth Violence Everywhere), Defending Childhood Initiative, Local Public Safety Coordinating Council, and Multnomah County's Department of County Human Services.