Description
Idle Hands Bar proudly presents our 3rd Annual Pumpkin Picking Party!
Friday, September 28, 2012
7 pm until we run out!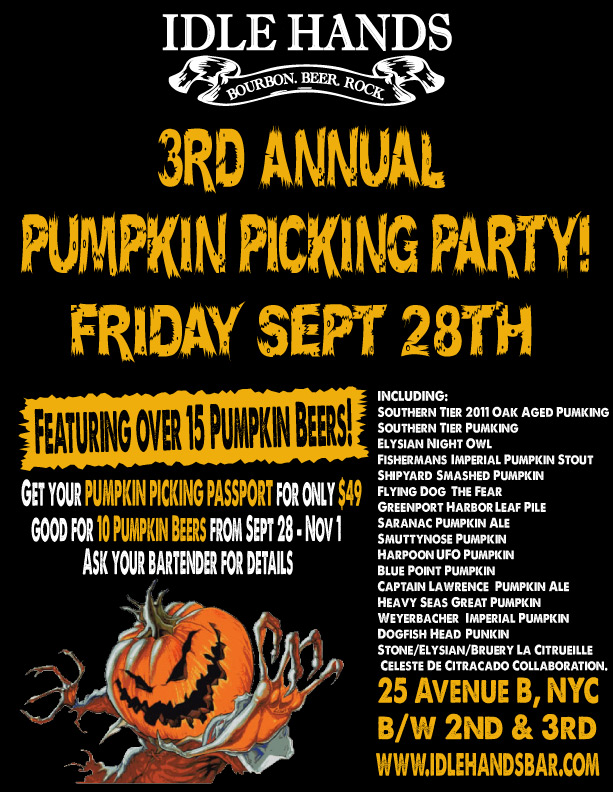 We know you love pumpkin beers and so do we. We've once again called every beer distributor in NYC and collected the last bottles and kegs of this delicious seasonal style. We are pouring 16 of the most awesome pumpkin beers in NYC and once we run out, there might be NONE left in NYC.
Pre-buy an Idle Hands Pumpkin Picking Passport to get 10 pumpkin beers for only $49!!!
THE FINAL LIST:
Southern Tier Pumking OAK AGED!!
Southern Tier Pumking
Elysian Night Owl
Fishermans Imperial Pumpkin Stout
Shipyard Smashed Pumpkin
Flying DogThe Fear
Greenport Harbor Leaf Pile
Saranac Pumpkin Ale
Smuttynose Pumpkin
Harpoon UFO Pumpkin
Blue Point Pumpkin
Bruery / Elysian / Stone - La Citrueille Celeste De Citracado
Captain Lawrence Pumpkin Ale
Heavy Seas Great Pumpkin
Weyerbacher Imperial Pumpkin
Dogfish Head Punkin

How it works:

Buy your Pumpkin Picking Passport here.

Bring your receipt to Idle Hands to pick up a passport starting on September 20, 2012

Passport is redeemable starting September 28, 2012 at the Pumpkin Picking Party, drink 10 pumpkin beers from the full Idle Hands Bar beer menu.

Present your passport to get each beer.

Pumpkin Beers are available while supplies last. When pumpkin beers run out you can choose any craft beer $7/under for all remaining credits through November 1st.

Redeemable over as many visits as you want, any day or night, through November 1, 2012

Passport is transferable / sharable because drinking with friends is better!
Organizer of 3rd Annual Pumpkin Picking Party
Idle Hands is bringing "Bourbon. Beer. Rock." to the East Village in NYC. Whether you are on the search for a rare bourbon or that new craft beer, you'll be able to enjoy it in a comfortable bar with a rock 'n roll twist. Idle Hands is now open as your new destination for post-concert parties and bourbon & beer tastings.