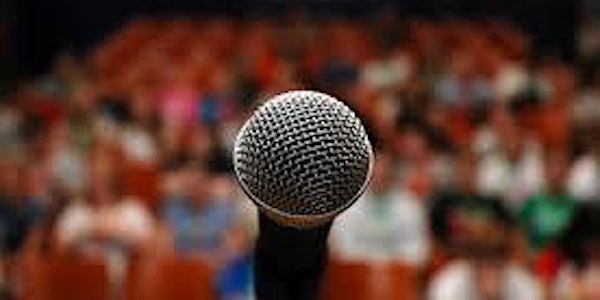 3rd Annual Public Speaking Symposium
When and where
Location
South Suburban College - Oak Forest Campus 16333 S. Kilbourne Ave. Oak Forest, IL 60459
Refund Policy
Contact the organizer to request a refund.
Description
Perhaps the most important skill for the career minded is to develop is his/her public speaking skills. Every public speaking opportunity is an opportunity to grow your leadership, your influence and your career. However, not all of us are born with the knack or comfort level to speak in public. The Chicagoland Speakers Network wants you to succeed in your business and our seasoned speakers will offer you important tips and ideas to hone your skills in this half-day symposium. What do you have to lose besides doubt and uncertainty? You have much to gain - confidence, sure-fire ways to present a successful speech, an opportunity to enhance your public speaking knowledge and skillset and much more!
Please see below for specific break-out session descriptions.
Date: Thursday, January 28, 2016 Check in: 9:00 - 9:20 am Program: 9:20 am – 1:00 pm
Location: South Suburban College ~ Oak Forest Center 16333 Kilbourn Ave. Oak Forest, IL
Cost: $39 per person through January 15th, $49 thereafter
RESERVATIONS REQUIRED
For additional information, please e-mail Takeisha Gary at tag@integrity1stcpa.com
SESSION INFORMATION:
Sabrina Schottenhamel ~ Four Keys to Unlocking Your Speaking Abilities
Have you ever felt the fear of public speaking? Do you want to feel more confident speaking and communicating? Are you looking to expand your comfort zone? In this presentation, Sabrina will share keys to unlock a great speaker within you, tips on how to increase your confidence when you speak and how to harness the power of breathing in order to speak with assuredness and power.
Lori Klinka & Felicia Houston ~ What NOT to WEAR and What NOT to DO When Speaking
The problems that plague most presentations largely are simple, basic things that could easily be remedied. In order to perfect a skill, we must learn what not to do. In this interactive session, veteran speakers Lori and Felicia will provide you important do's and don'ts that you can incorporate immediately, making your presentations much more effective and pleasing to your audience.
Mary Erlain ~ Before You Speak: Tips on Preparing for a Speech
Long before you take the stage, public speakers need to focus their efforts on preparation. This presentation will give a speaker some insight into what goes on in advance. Mary will take you on a journey that includes researching and refining the topic, knowing your audience, preparing the room; dealing with those dreaded equipment failures and other presentation day blunders, preparing your bio, and warming up with crowd.
Colleen Klimczak ~ Feedback: How to Ask for Feedback, How to Give it and What To Do With It
Feedback can be a useful tool for communication and improving our performance, both personally and professionally. Yet, as useful as it can be, it is often misunderstood! In this session, Colleen will teach you how to ask your clients and audience for meaningful feedback, effectively use the feedback that you receive; and constructively give feedback to others.
Mary Erlain, Felicia Houston, Colleen Klimczak, Lori Klinka & Sabrina Schottenhamel ~ Panel Discussion/ Q & A
Whether you need an in-depth response or just a quick answer, this session allows you to ask questions of each of the presenters.