Dare 2 Dream Leaders Inc, is hosting it's 3rd Annual Youth Business Pitch contest. This event FREE and open to all youth 6th - 12th grade.
About this event
This year more than ever has taught our youth that they all have the power to do anything they put their mind to. If you are reading this, you survived the 2020 Pandemic. During this time, youth were exposed to police brutality, depression, and some sparked the interest of entrepreneurship. They thought about how they could change the world, and their community.
If this was you, then we want to hear from you. What ideas do you have? Did you start a business? Do you have an idea for a business? We want to hear from you. Your idea or business could help you win start up funds to get started.
Our two previous winners used their funds to start educational programs for youth in their communities. It doesn't matter what idea you have, as long as it is positive and has the ability to help someone other than you.
Here are the guidelines to apply:
1. Visit Instagram and follow @dare2dreamleaders
2. Register for this event and share the event with your social networks.
3. Upload 2 - 3 minute business pitch via our Instagram DM (Dare2DreamLeaders or via email dare2dreamleaders@gmail.com by August 6, 2021 11:59pm.
4. Must attend business pitch entrepreneur 1 hour workshop Auguest 6, 2021. This will be facilitated by our 2020 pitch contest winner Daniela Palacios, Founder of Para KIDS! Contestants will receive an email with the invite to this workshop.
Up to 3 winners will be selected. 1st place winner will receive laptop and cash prize. 2nd and 3rd place will receive cash prizes.
We are looking for organizations and schools who have youth that will enter our contest. Share this with them. Feel free to reach out to me with any questions dare2dreamleaders@gmail.com
Lastly, this event will be hosted on Zoom. The link will be sent to all participants who enter and register as a guest.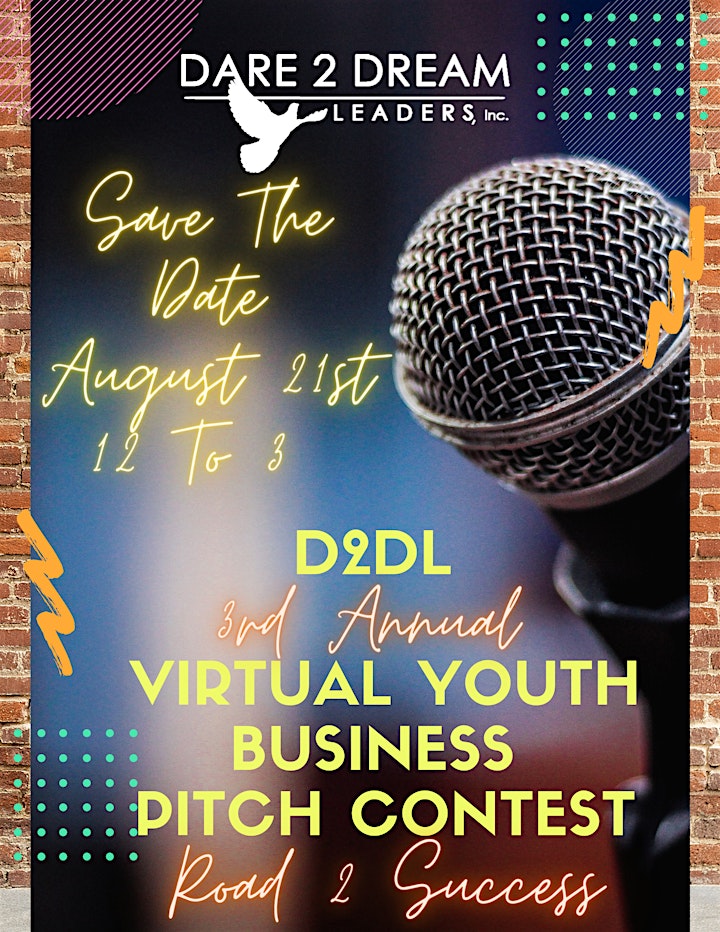 Organizer of 3rd Annual Pitch Contest & Youth Conference "Road 2 Success"
Dare 2 Dream Leaders Inc. (D2DL), is a 501(c) (3) youth empowerment organization that serves youth ages 11-18 in the East Flatbush area of Brooklyn, NY. Established in December 2010, our mission is to empower youth by providing education, skills and resources that will help build them into dynamic future leaders who are economically and socially independent. Since our inception, we have developed various programs which include community building, career development, recreation through the arts and internships through various community organizations and businesses. 
 
Our organization provides educational workshops to the most vulnerable youth.  We have five core programs that include Creative Arts, Entrepreneurship, Financial Literacy, Etiquette and Community Service. Our youth populations consist of 85% African Americans, 10% Hispanic/Latinos and About 5% Asian/Pakistani.  We are not gender focused we believe all students are in need of programs such as this.  About 85% of our participants are young girls and the remaining 15% are young boys eager to learn and have fun.  In the East Flatbush section of Brooklyn the median income level is $43,000 per household of three or more family members.  In this area the crime rates are high and most of the violence against this age group occurs after school hours or during the weekend when youth are not in a safe place.  My organization provides youth with education and tools that will help them academically, but mainly it will help then gain skills needed to get an education, career and tools on how to start and run their own business to help their community.  Through our program we also offer a safe place for youth to learn and grow during after school hours and weekend hours as well.